Microsoft has announced that the next major update to Windows 8 will make the operating system easier to use with a keyboard and mouse – as well as promising a return of the sorely-missed Start Menu.
Although Windows 8 offered perhaps the most substantial changes to the company's operating system for several decades, the software has not proven popular, with recent figures suggesting that even the soon-to-be abandoned Windows XP is more widely used.
This was mainly due to the introduction of the new Start Screen, a landing page which offers a grid of tiles displaying various programs and slices of live information about the weather, for example, or news updates.
Unfortunately, the Start Screen was primarily designed with touchscreen devices in mind, and the lack of customization and awkward navigation made the technology difficult to work on regular PCs. These latest revisions from Microsoft show that the company is doing its best to remedy the miss-steps of its over-ambitious operating system.
These changes include restoring more functionality to the taskbar with users now able to pin Windows Store apps to it, and access it within full-screen apps by moving the cursor to the bottom of the screen. This makes it easy to switch between programs as well as reducing the 'locked in' feeling of full-screen programs.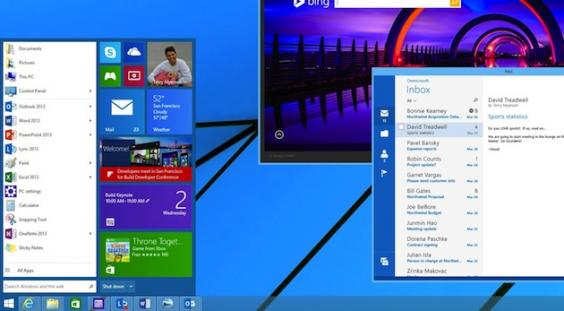 There's also more functionality on the Start Screen itself, with the power and search buttons moved to the top right-hand corner and a new tile available for quick access to PC settings - rather than forcing users to hunt these out via a panel on the right.
And as for the start menu, well, this won't be available in Windows 8.1 Update (a free download for Windows 8.1 users) but it will be arriving sometime in the future. From the sneak peek that Microsoft offered at its Build conference, it looks like the feature will blend the start menu from Windows 7 with the Windows 8-style tiles (see above).
All in all these revisions do a lot to bring Windows 8 back from the brink, making it more customizable and easier to navigate like the Windows desktops of old.
It also means it's less like the prescriptive, full-screen, all-about-the-apps experience that Microsoft had been trying to rip from iOS - and that can only be a good thing. Windows may be trying to make an OS that works on tablets, but they shouldn't neglect their core users.