Windows Phone users in the UK can now get their hands on Cortana – Microsoft's virtual assistant designed to beat Apple and Google's smartphone helpers at their own game.
Unfortunately, this isn't the full version of the software, but a UK beta released as part of the Windows Phone 8.1 Update 1 OS (yes, Microsoft's naming policy for these things is terrible).
Microsoft has worked on localizing Cortana to different regions, and the UK version comes with a UK-accented voice while a Chinese edition has its own cartoon-faced avatar (as opposed to the animated halo used in the US and UK).
So how does Cortana stack up against its competitors? Like Siri and Google Now there's all the basic voice-activated features such as searching the web, setting alarms, getting directions and the like but Cortana does have three stand out features that Apple doesn't.
Firstly users can set geographical reminders such as 'remind me to buy flowers when I'm near a florist'. In this scenario Cortana will search for flower shops around you and when you pass one, hey presto, you get a buzz and reminder.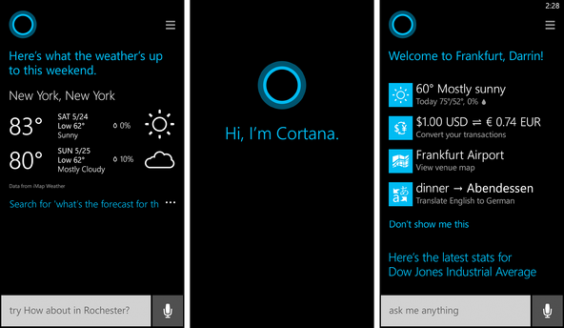 A similar system works with people-based reminders, allowing you to set up notifications for anything you like ('Wish X happy birthday' or 'Ask about Y's job') which will appear on your phone whenever X or Y next get in contact.
Microsoft are also touting Cortana as a "truly personal" assistant, which means that you can enter your 'interests' (such as supporting Chelsea or being worried about Microsoft's stock price) and in return Cortana will ping you whenever relevant information pops up.
This last feature works right across Microsoft's services, so that when you're using Windows Phone's news app (a slick feature that doesn't get enough praise) you can tick a box to remember a particular subject and then when something new pops up you get notified.
Windows Phone 8.1 Update 1 also brings some smaller tweaks, the most useful of which are Live Folders – an addition to the home screen that lets you group apps together. It's simple enough but it helps to de-clutter Windows Phone's often hectic homescreen.
If you want to get the update click here to see Microsoft's how-to guide, but if you're waiting for the 'full' version of Cortana then it might be some time. Microsoft say it's arriving in the "coming months" but more than that we just don't know.
Reuse content