Yahoo CEO Marissa Mayer is reportedly investigating another major acquisition in the form of image-sharing site Imgur, and reportedly began "serious talks" with the site earlier this year.
Business Insider cite a source "with first-hand knowledge" of the situation, though a recent uptick in publicity for Imgur and the site's own qualities suggest that there may be some credence to the rumours.
Imgur was created in 2009 by Ohio University student Alan Schaaf. Schaff declared that the site was "a gift" to the users of Reddit, a popular content sharing site where users upvote and downvote submitted content.
Since then Imgur has grown massively and is now larger than Reddit. It passed the 100 million user mark in September (Reddit has roughly 85 million) and has implemented its own internal voting system to bring popular content to the fore.
Yahoo's interest in the company would follow on from the company's recent acquisition spree spearheaded by CEO Marissa Mayer. The former Google-executive moved to Yahoo in July 2012 and has since overseen the purchase of 23 companies between October 2012 and October 2013.
The largest of these was US-based micro-blogging platform Tumblr, which Yahoo paid $1.1bn for in May this year.
The similarities between Tumblr and Imgur strengthen the idea of a possible acquisition for the image sharing site, with both companies offering users an extremely simplified platform for sharing content whilst building up a social network of younger users. The only questions are: how much is Mayer offering and are Imgur eager to cash in.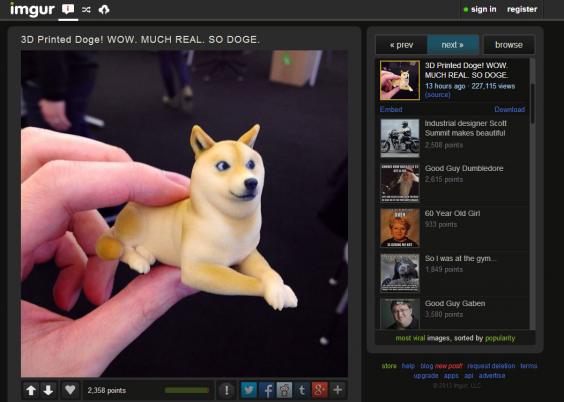 Reuse content