YouTube has released a sort-of competitor to Spotify with a new "premium service" that offers ad-free music, offline play and background listening on smartphones and tablets.
YouTube Music Key is currently available as six-month free trial in the UK, US, Ireland, Spain, Portugal, Italy and Finland, and will be followed by a free ad-supported version and a paid version costing £9.99 a month.
More importantly perhaps, paying Music Key subscribers will also get access to Google's Play Music library and vice versa – expanding their music selection and making it easier to find room on devices for offline playlist (after all, downloading tracks from Music Key will include the size of the video file as well).
The big competition for Music Key will be Spotify. Although YouTube is a mammoth among tech sites (more than one billion users visit every month), Spotify is still the leading streaming service with 50 million users, 12.5m of which are paying.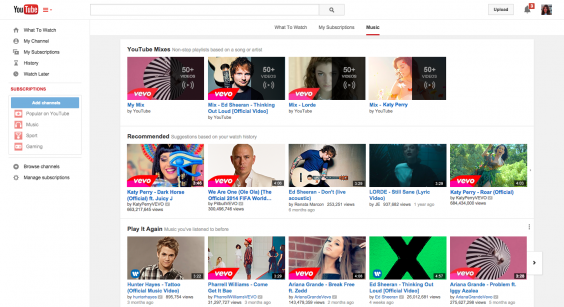 YouTube may have a bigger online footprint, but it's unclear whether user will be happy organizing their music library on what is primarily a video platform. The partnership with Play Music could be the solution to this – but it might also confuse customers.
In addition, Music Key is also facing challenges from artist and labels who continue to complain that they're getting a raw deal from the new streaming paradigm. Growth of streaming services has been impressive, but revenue in no way competes with sales of downloads and CDs.
Streaming providers like Spotify argue that they provide music for free only in order to tempt users to pay, but some haven't agreed with these tactics. At the beginning of this month Taylor Swift removed her entire back catalogue from Spotify and its rivals, supposedly because they would not let her restrict the music to paying customers only.
But Music Key doesn't offer a different model, and some independent labels have even claimed that YouTube is even offering worse deals to small bands and musicians. More services in the streaming industry should certainly boost overall revenue, but it remains to be seen whether the current model offer by tech companies will be palatable.
Reuse content