"Please don't call me a blogger!" Jack Monroe implores me halfway through our conversation. Fair enough - she may be known by many for her blog, A Girl Called Jack, but since its launch in February 2012 she has gone on to be an author of two books, journalist, campaigner, chef and award-winner, as well as being a mother.
Not that any of that seems to worry her detractors - Monroe regularly gets inundated with tweets from trolls telling her to "get a job". "It's odd - which one of my jobs do you think is invalid?" she wonders aloud. "I guess people don't let facts get in the way of a good bit of trolling, do they?"
And the facts do speak for themselves - this is an incredibly busy woman. Monroe originally set up her blog in response to a local councillor who claimed that "druggies, drunks and single mums are ruining the high street" and it quickly picked up momentum, with budget recipes and tips on living on a scant food budget piquing the interest of national media. Monroe is outspoken and no-nonsense, and her recipes (19p minestrone soup, for instance) reflect that. She has had no formal food training, but has garnered enough skills along the way to fill two cookbooks.
"I do live with a chef with 25 years' experience [Leon founder Allegra McEvedy]," Monroe laughs, "so I've picked up a few things along the way. I occasionally work at Blackfoot restaurant at Exmouth Market. The staff there have been brilliant - they show me how to do simple things like chopping onions. Every time I learn a new skill I want to share it with my readers."
If you're still tempted to take time out of your busy day to troll Monroe, you might also want to take into account her charity work, with Oxfam, Child Poverty Action Group and the Trussell Trust to name a few. She has most recently teamed up with Groupon to offer five exclusive recipes ("six, actually - I couldn't resist sneaking in an extra one") costing less than £5 to make, raising money for Oxfam. The recipes can be downloaded from the Groupon website in exchange for a small donation to Oxfam.
"It's a cause close to my heart - in my worst periods I relied so much on charity," says Monroe. "Every time I get asked to do something for a great cause I say yes, no matter how busy I am. I think if you can give something back, do."
Monroe's lowest point saw her struggling to survive and feed her son on welfare. "Before I started my blog, I'd go to the supermarket, buy a 77p mac and cheese meal, give my son half for lunch and half for dinner, and often go without." When Baroness Anne Jenkin in December said "poor people don't know how to cook", she came in for a lot of flack, but Monroe has a bit more sympathy. "It was well intentioned, I think, but came out wrong. The reality is, when you're poor it's scary. You don't want to experiment when you've got a food budget of £10 a week - what if it goes wrong?" In fact, Baroness Jenkin's words were part of a parliamentary group study into hunger - she was quoting the people she had spoken to at food banks around the country - and the 78 recommendations they made were ignored in the media melee.
Monroe has certainly enjoyed phenomenal success since her days of 77p ready meals - her first cookbook, A Girl Called Jack, topped the paperback charts last year, and her follow-up, A Year in 120 Recipes, was published last October. But she hasn't forgotten past predicaments, and takes part in Oxfam's annual Live Below the Line challenge, living on less than £1 a day. "It's a hugely happy series of accidents that has got me here today - part luck, part hard work," Monroe says. "Some of it's great - my son leafs through magazines in the supermarkets to see if I'm in them (I subtly point out the right ones so we're not standing there for hours). A lot of people have held my hand throughout the whole process - everyone's been really kind."
Even the trolls? "I have developed quite a thick skin - I know I have to expect it," she admits. "Sometimes, though, if I'm reading my son a bedtime story and something flashes up on my phone, I do think, 'How dare you put that in my personal space?'"
And woe betide anyone who trolls her at a bad time. "I like trolling trolls back! If I retweet them, they soon go away. It's like squeezing a spot. You can put up with it and leave it on your face or pop it, stick some Sudocrem on it and get on with your life."
It seems this particular author, chef, mother and campaigner has done just that.
To take part in Oxfam's Five for Five campaign, visit gr.pn/jack. Each dish costs less than £5 to make (serving 4 people)
Kale, barley and cumin soup recipe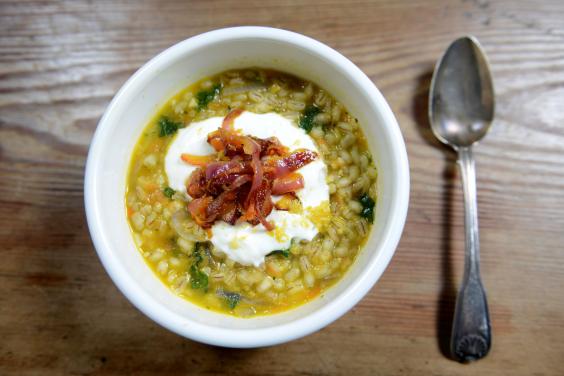 Barley is one of the cheapest grains currently available in shops and supermarkets, and my mum made pearl barley soup for us when I was a child, loaded with tiny chopped spring vegetables, carrots, spring greens and nutty pearl barley. I've taken her Northern Irish heritage and added some of my favourite spices for a warming, wholesome soup. Soaking your barley overnight isn't essential, but it softens it a little, which shortens the cooking time needed. If you forget to soak it, or decide to cook this off the cuff, just add half an hour to the cooking time from when you add the barley.
Serves 4 hungries or 6 lighter portions:
200g pearl barley, rinsed and soaked (an hour will do)
3 onions, red or white
6 fat cloves of garlic
a little butter or oil for frying
1 tsp cumin
2 large carrots, grated
1.5l good vegetable stock (or chicken, if you prefer)
1 tbsp sugar
½ tsp turmeric
1 tbsp vinegar
zest and juice of a lemon
100g sour cream, or lightly salted natural yoghurt
A good handful of kale
First, rinse your barley, then cover with cold water and leave to soak for an hour or so, ideally overnight, but I know I'm not always that organised! When soaked, drain and rinse it, and set to one side.
Then grate your lemon zest – it's easier to do it with a whole lemon than one that's been halved and squeezed, so do it now and set to one side – you'll need it later!
Finely slice 2 of your onions and peel and chop your garlic, and toss into a saucepan with the oil or butter, cumin, and a pinch of salt. Cook on a very low heat for 20 minutes, stirring occasionally to cook evenly. When the onion and garlic are softened, grate one of your carrots and add to the onions and garlic, and stir. Add the barley, pour over the stock, squeeze in the lemon juice, and bring to the boil.
Cover the pan and reduce to a simmer for 40 minutes, checking every now and again that there is enough liquid – if the soup starts to dry out, add a cup of water and stir well.
After half an hour, start to prepare your garnish for the top. Finely slice your last onion and grate your carrot, and pop into a frying pan with a little oil. Fry on a medium heat until soft. Add the sugar, cumin and vinegar and crank the heat up high to caramelise, stirring all the time to stop it sticking and burning.
To serve, chop the kale and stir through. Ladle into bowls, and top with sour cream, spiced carrots and onions, and a pinch of lemon zest. Enjoy!
As part of the 'Five for Five' campaign, the seasonal recipes will be available for download exclusively on Groupon from January 20th until January 27
Reuse content