I'm used to answering questions on whether I'm undergoing chemotherapy, or responding to comments about how I'm bald. This is because I have a condition which causes hair loss, called alopecia areata. It is thought to be an autoimmune disease that causes the body to attack the hair follicles, resulting in hair loss.
It is not known precisely how many people in the UK suffer with alopecia areata but some studies show it to be somewhere in the region of two per cent of the population. This would equate to over one million people in the UK affected by alopecia areata at some point.
When I originally went to see my GP in 2007, I had two small bald patches about the size of a 50p. My GP  told me immediately that it was alopecia areata, but advised me not to worry (easier said than done when your hair is falling out!) and explained that it was likely my hair would grow back. 
My hair continued to fall out and I was referred to a dermatologist. By the time I received my appointment six weeks later, I had sustained hair loss of about 50 per cent. I was given a steroid cream and told to apply twice daily. But my dermatologist handed over the prescription with a warning that it was quite likely it would have no effect as my hair was falling out so rapidly. This was all that was offered to me. My dermatologist was the one to break the news that there is no known cure for alopecia areata.
A couple of months later I was completely bald. I found it really hard to adjust to my new appearance but the hammer-blow came a couple of weeks later when my eyelashes and eyebrows fell out too. Nothing can prepare you for sudden hair loss. I was absolutely devastated.
I experienced so many different emotions: grief over the loss of my hair and sense of identity; anger that this had happened to me; frustration that nothing could be done; sadness about being a bald woman and feeling like a freak. I became depressed.
It was many months later that I reached a turning point. I attended an exhibition by photographer Daniel Regan called "The Alopecia Project", which was advertised and supported by the charity Alopecia UK. I found myself in a studio in London surrounded by other people with alopecia. I instantly felt better knowing I wasn't the only bald woman in her twenties.  Sharing experiences with others who had been through the same helped immensely.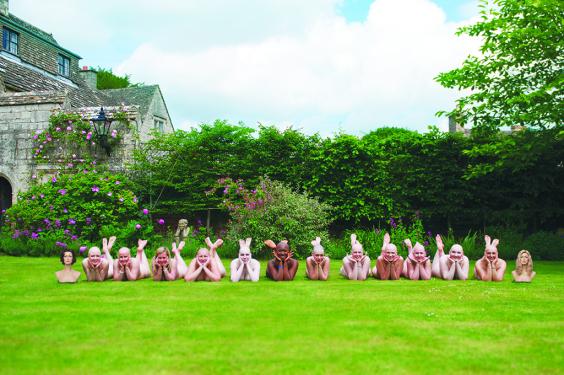 Today is the final day of Alopecia Awareness Month 2014, something that is really important in helping sufferers come to terms with alopecia, and awareness of the condition for those around them. One project is the 'Pretty Bald' calendar, organised by Victoria Short who also has alopecia. The calendar is in the style of 'Calendar Girls' and includes 11 models with alopecia. I am one of the models, albeit I was a very reluctant participant once I realised what the theme was!
Alopecia areata can affect anyone of any age or gender, and how deeply it affects a person completely depends on the individual. Many women find it extremely hard due to the stigma that still remains around female hair loss. It is often assumed that it must be so much worse for women, but I don't agree with this, men can suffer equally as much and can struggle to come to terms with the drastic, and often sudden, change to their appearance. I just think there are further challenges faced by women as it can be harder to face the world with a bald head, whereas society is familiar with seeing bald men.
It's worth noting that alopecia areata can often result in a 'patchy' head rather than a bald one. This can make a person stand out from the crowd even more, and I know that I certainly struggled more with my alopecia in the 'patchy' stage rather than when I was completely bald.
Many women with alopecia choose to wear wigs instead of showing their hair loss. For many with the condition, wigs become a way of life and an essential item in managing the condition. Personally, I have never been able to get used to the idea of wearing 'hair' but being bald underneath. As someone who has sensitive skin, I also find wigs to be itchy and uncomfortable. And I couldn't overcome the feeling that I am hiding. Wigs aren't for me.
Awareness of alopecia is key to making it easier for those with the condition to live with their hair loss. It's amazing the difference it can make simply knowing you're not alone. The greater awareness of alopecia, the fewer misconceptions when seeing a bald person and greater understanding of how many people are affected. It would be great if all GPs would recognise the psychological impact that hair loss can have on a person as I regularly hear from people who are disregarded by their GP. Alopecia may not be life threatening but it can be life altering.
Recently, research from Columbia University was widely reported in the press as perhaps being the potential cure of alopecia areata. The research has been around the use of JAK inhibitors; Ruxolitinib and Tofactinib. Andrew Messenger is a Professor of Dermatology from the Royal Hallamshire Hospital, Sheffield and a member of Alopecia UK's expert advisory panel. Of the latest research, Professor Messenger says:
"This is a great example of translational medicine – taking an idea generated by basic laboratory research into clinical practice – and the first time this principle has been applied to alopecia areata. We need to see the outcome of treatment in a larger number of patients before we can be confident that JAK inhibitors are truly effective in treating alopecia areata but there is a sound scientific basis for their use and preliminary results are certainly promising. But these drugs are very expensive and can have serious side effects and we will need cheaper and safer versions before they are likely to find a place in the routine treatment of alopecia areata."
As much as I would like to see a cure for alopecia areata, I would want to be certain that any treatment I used was guaranteed not to cause me any other health concerns. I would prefer to have no hair and be otherwise healthy, than have my hair back and a number of other symptoms or side effects. From speaking to others, however, some would do almost anything to get their hair back, and would put up with a number of side effects as long as their hair returned. This just highlights the massive impact the condition can have, and why the medical profession as a whole should recognise just what a huge thing hair loss can be to the person experiencing it.
Amy Johnson is Communications Manager at Alopecia UK, which is a registered charity with aims around support, awareness and research of alopecia. For more information on alopecia areata visit www.alopecia.org.uk
To find out more about the Pretty Bald project visit www.prettybald.co.uk. Calendars are priced at £10 and all proceeds go to Alopecia UK