If you want to be on trend in the world of the built environment, then microarchitecture is about as hot as you can get. From George Clarke's and Kevin McCloud's television series about titchy building projects to the Shed of the Year competition and the rapid rise of the tiny house movement, small is once again being seen as good when it comes to construction.
Indeed, back garden buildings have moved on quite a bit since the first primitive huts. The kind of small shed which once only housed lawnmowers and pots can now be insulated from the cold, fitted with its own electrics, and can link techno-commuters to anywhere in the world.
Many of these buildings – whether they are garden offices, gyms, chill-out pads, or simply additional room space - are variations on the theme of a box, attractive variations with appealing cladding and pleasant little verandahs to be sure, but still quite squareish. Some, though, are rather special. 
Take for example the winner of the first Shed of the Year competition in 2007. Tony Rogers, from Berkshire, took first place with his Roman Temple shed. "It is a folly," he says. "All the best stately homes can look across their estate and see a temple in the distance. It's just that this one is a bit nearer to the house, that's all."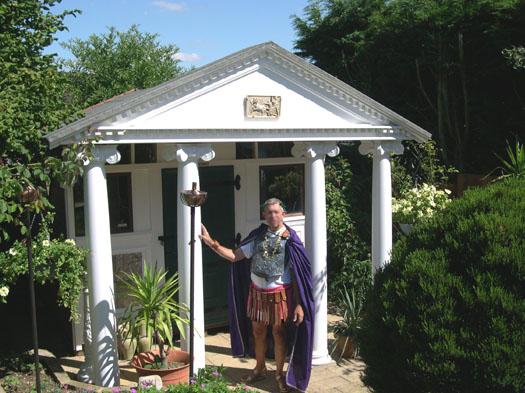 Or how about the Tetra Shed, once described (I think a little unfairly) as Darth Vader's shed. It's an intriguing modular building system which has a hexagonal footprint of 10.4m² (4m at its widest) and an overall height of 3.3m. It has been designed to be a modern garden office for one or two people, built around a timber frame with rubber cladding, a plywood interior and LED strip lighting. It's the kind of atmosphere any home worker would be proud to show off to business clients.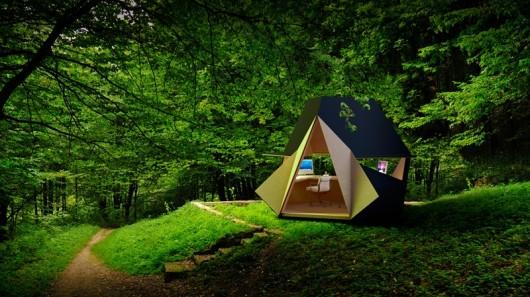 Less futuristic and more like the kind of thing that colour supplements in the 1950s suggested we'd all be living in by 2020 is one of my favourite designs from the last 10 years, The Orb. Sadly no longer in production, this was a lightweight oval structure with a lovely retro twist produced using boatbuilding techniques. It had four adjustable legs - great for uneven ground - and a minimal foundation requirement,  as well as optional extras including solar panels and underfloor heating.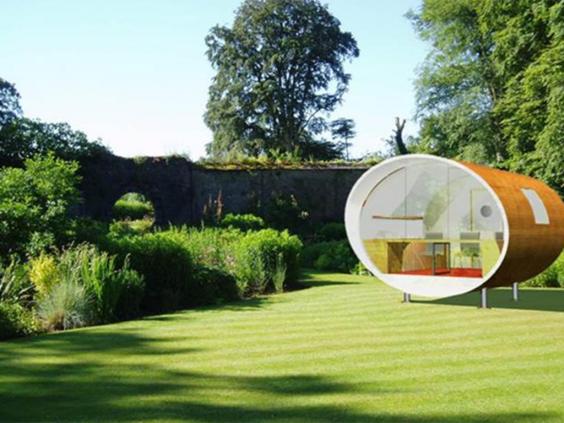 There's certainly no need in the 21 century for these buildings to even have right angles. The spherical design from York-based Archipod is an insulated, prefab, curved plywood space roughly 3m in diameter (there is also a 'Fatpod' which is slightly larger). Features include the pleasing roof dome, double glazed stainless steel porthole window with Western Red Cedar for external cladding.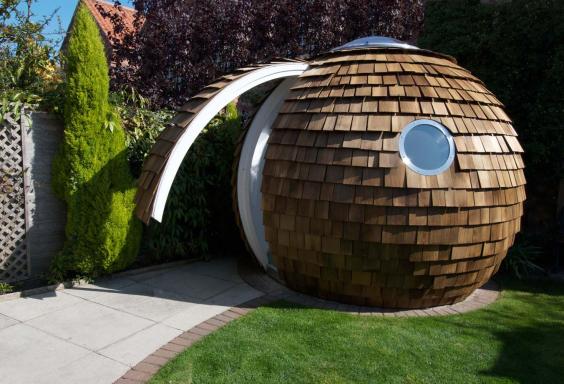 Of course some of the more expensive bespoke designs come at a price – a realistic starting level for something decent is around £10,000, and after that then the sky is the limit.  The cheapest way to do it is buy a shed structure from a DIY store and then insulate it and decorate yourself. You could do this for a couple of thousand, though as always it depends on the complexity of what you want. Smart Garden Offices do a good model called a Micro for £4,990.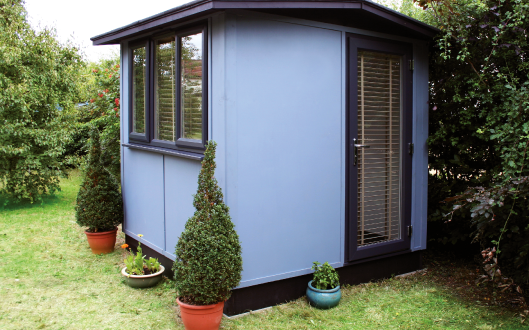 The other limit is planning permission. This is a very thorny area and it's vital to talk to local planning officers before you go ahead with any build, but if you want to do anything noisy from your shed or want to build something enormous (or want to essentially build another tiny house at the bottom of your garden), then be prepared to be disappointed. You can have a toilet, a sink and a bed, but anything with plumbing means you need planning permission as well as meeting building regulations.
But don't be put off by red tape. Shedspace is 'me space'. Decorate it how you like, listen to your music in it as loud as you like, wear whatever you like inside it (or indeed nothing). You'll feel happier.
Alex Johnson is the author of Shedworking: The Alternative Workplace Revolution published by Frances Lincoln and runs www.shedworking.co.uk
More information
Reuse content