When the 1970 World Cup kicked off, I was seven years old, living in a children's home in a village in Surrey. I wasn't aware of who my parents were or even where they were from. I was living in constant fear of beatings and lashings from those who supposedly were my guardians. Whenever I interacted with the local community in church services, fetes or Cub Scout meetings, I was called the "N" word and worse. It was imprinted into my mind on a regular basis that I was mentally and physically inferior because of my black skin and "jungle ways".
Venturing out to play football with my friends was my refuge from the never-ending emotional and physical abuse. My heroes were Bobby Charlton, George Best, Bobby Moore and Peter Osgood. Our goalposts were mounds of pullovers and our touchlines were stinging nettle bushes. We played with a laced-leather ball that seemed to contain inside all the worst dumplings in the world. But we didn't care. While we played, we forgot what brand manufactured our trainers or plimsolls, we cared not what class we belonged to and what race we descended from. Football was the great equaliser. We read the football magazines, swapped soccer cards and stole glimpses of newspaper back pages read by the staff. On the way to school we would sing the England team's World Cup theme, "Back Home". Older boys spoke of 1966 and all that. We mimicked Kenneth Wolstenholme's commentary And They Think It's All Over! It is now! We awaited the 1970 World Cup with almost unbearable anticipation.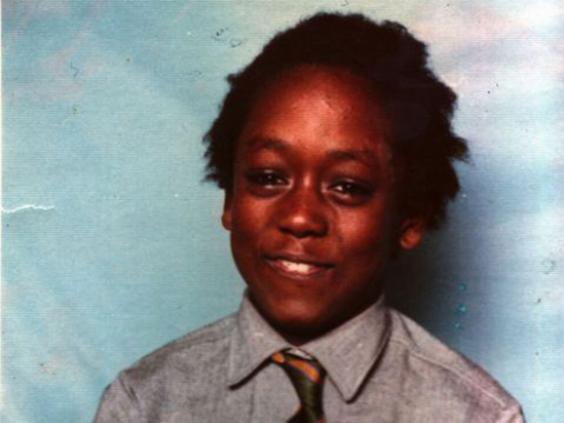 A housefather of a pal of mine had bought and installed a new colour television set and we all relentlessly badgered this mate until we were allowed to watch the tournament in glorious colour. The effect was startling. To view Pelé, Jairzinho, Tostão and Rivelino and co in their golden shirts, blue shorts and white socks was like watching them live in our local recreation ground. We marvelled at Banks' impossible save from a Pelé header, were in awe at Bobby Moore's defending, were inconsolable when Gerd "Der Bomber" Müller scored the winning goal against England in the quarter finals and sympathised with Franz Beckenbauer, who was forced to play with his arm in a sling, as his fine West German side lost to Italy in a thriller.
My mates and I all wanted Brazil to beat Italy in the final. For me, how could I be considered so inferior and utterly worthless by my tormentors when the best footballer on the planet was black? During the tournament, Pelé had attempted to score from beyond the half-way line, performed the most outrageous dummy I had ever seen on a football pitch and, by scoring a sublime goal, by controlling a long pass with his chest before slotting home, sent my mates and me scurrying out into the park to try to reenact what we had just seen in mesmerising, vivid colour. Of course, Brazil won the final 4-1 playing the "beautiful game", and as Pelé was carried off the field, minus his golden shirt but wearing a sombrero, my friends and I jigged with delight before we went out to the field and tried to emulate Carlos Alberto's fabulous fourth goal.
For me, Brazil's victory meant much more. I still woke up every morning fearing the belt, the shoe and the wooden-handled brush, I overheard mutterings of the "N" word when I attended church and Sunday school. They continued to say that I wouldn't amount to much. But I had Pelé, Jairzinho, Rivelino, Gérson, Tostão and the rest of the Brazilian side. In my seven-year-old mind I knew my suffering wouldn't last forever. In the face of cruelty, I could lift my head a little higher. Suddenly, the world was full of possibilities. I believed that one day I would clutch my version of the Jules Rimet trophy. I now had hope and hope cushioned many of the blows aimed at me.
I can understand the anger and injustice that many Brazilians feel as this World Cup in their home country nears. There is an argument about the way that Fifa is now totally corporate, money-obsessed and many would allege, corrupt. My socialist core wants me to stand with the protesters and roar my disapproval at the injustice. But there is also a case to be made for the incalculable inspiration sport at the highest level has to offer. As the story of the 2014 World Cup is written, I'll wager that there are thousands of seven-year-olds who might not have the best start in their lives but they'll be stirred and lifted by what they see on the screen and fulfil their potential in whatever field they choose. I wasn't aware of it at the time, but watching Pelé in his majesty made me dare to believe I could be a writer.
Alex Wheatle MBE is the author of novels including 'Island Songs', 'Brixton Rock', 'East of Acre Lane' and 'Brenton Brown'