Might 2015 be the year the hippies finally won? Five decades since the emergence of the flower-power counterculture, the hippie dream has at last gone mainstream. Admittedly, peace and love haven't quite saved the world, but when it comes to lifestyle, we've never been more right on (man).
Mindfulness, meditation, yoga and "being spiritual" are in. Everyone goes to music festivals wearing flowers in their hair. Foodie trends tend towards the DIY and emphatically wholesome – forage your own jam, brew your own beer, ferment your own kimchi, snack on nuts, seeds and berries, cook grains you can't pronounce. So-called "clean eating" has been trending hard on social media. Even the fickle world of fashion has embraced a hippie vibe: fringed suede, flared jeans, floppy-brimmed hats. This winter, you'll duly find me trailing my vintage floral-print maxi-dress hem through the drizzly streets.
Health news in pictures
Health news in pictures
1/28 Long commutes carry health risks

Hours of commuting may be mind-numbingly dull, but new research shows that it might also be having an adverse effect on both your health and performance at work. Longer commutes also appear to have a significant impact on mental wellbeing, with those commuting longer 33 per cent more likely to suffer from depression

Shutterstock

2/28 You cannot be fit and fat

It is not possible to be overweight and healthy, a major new study has concluded. The study of 3.5 million Britons found that even "metabolically healthy" obese people are still at a higher risk of heart disease or a stroke than those with a normal weight range

Getty Images/iStockphoto

3/28 Sleep deprivation

When you feel particularly exhausted, it can definitely feel like you are also lacking in brain capacity. Now, a new study has suggested this could be because chronic sleep deprivation can actually cause the brain to eat itself

Shutterstock

4/28 Exercise classes offering 45 minute naps launch

David Lloyd Gyms have launched a new health and fitness class which is essentially a bunch of people taking a nap for 45 minutes. The fitness group was spurred to launch the 'napercise' class after research revealed 86 per cent of parents said they were fatigued. The class is therefore predominantly aimed at parents but you actually do not have to have children to take part

Getty Images/iStockphoto

5/28 'Fundamental right to health' to be axed after Brexit, lawyers warn

Tobacco and alcohol companies could win more easily in court cases such as the recent battle over plain cigarette packaging if the EU Charter of Fundamental Rights is abandoned, a barrister and public health professor have said.

Getty

6/28 'Thousands dying' due to fear over non-existent statin side-effects

A major new study into the side effects of the cholesterol-lowering medicine suggests common symptoms such as muscle pain and weakness are not caused by the drugs themselves

Getty Images/iStockphoto

7/28 Babies born to fathers aged under 25 have higher risk of autism

New research has found that babies born to fathers under the age of 25 or over 51 are at higher risk of developing autism and other social disorders. The study, conducted by the Seaver Autism Center for Research and Treatment at Mount Sinai, found that these children are actually more advanced than their peers as infants, but then fall behind by the time they hit their teenage years.

Getty Images/iStockphoto

8/28 Cycling to work 'could halve risk of cancer and heart disease'

Commuters who swap their car or bus pass for a bike could cut their risk of developing heart disease and cancer by almost half, new research suggests – but campaigners have warned there is still an "urgent need" to improve road conditions for cyclists. Cycling to work is linked to a lower risk of developing cancer by 45 per cent and cardiovascular disease by 46 per cent, according to a study of a quarter of a million people. Walking to work also brought health benefits, the University of Glasgow researchers found, but not to the same degree as cycling.

Getty Images

9/28 Ketamine helps patients with severe depression 'when nothing else works' doctors say

Ketamine helps patients with severe depression 'when nothing else works' doctors say

Creative Commons/Psychonaught

10/28 Playing Tetris in hospital after a traumatic incident could prevent PTSD

Scientists conducted the research on 71 car crash victims as they were waiting for treatment at one hospital's accident and emergency department. They asked half of the patients to briefly recall the incident and then play the classic computer game, the others were given a written activity to complete. The researchers, from Karolinska Institute in Sweden and the University of Oxford, found that the patients who had played Tetris reported fewer intrusive memories, commonly known as flashbacks, in the week that followed

Rex

11/28 Measles outbreak spreads across Europe as parents shun vaccinations, WHO warns

Major measles outbreaks are spreading across Europe despite the availability of a safe, effective vaccine, the World Health Organisation has warned. Anti-vaccine movements are believed to have contributed to low rates of immunisation against the highly contagious disease in countries such as Italy and Romania, which have both seen a recent spike in infections. Zsuzsanna Jakab, the WHO's regional director for Europe, said it was "of particular concern that measles cases are climbing in Europe" when they had been dropping for years

Creative Commons

12/28 Vaping backed as healthier nicotine alternative to cigarettes after latest study

Vaping has been given an emphatic thumbs up by health experts after the first long-term study of its effects in ex-smokers. After six months, people who switched from real to e-cigarettes had far fewer toxins and cancer-causing substances in their bodies than continual smokers, scientists found

Getty Images

13/28 Common method of cooking rice can leave traces of arsenic in food, scientists warn

Millions of people are putting themselves at risk by cooking their rice incorrectly, scientists have warned. Recent experiments show a common method of cooking rice — simply boiling it in a pan until the water has steamed out — can expose those who eat it to traces of the poison arsenic, which contaminates rice while it is growing as a result of industrial toxins and pesticides

Getty Images/iStockphoto

14/28 Contraceptive gel that creates 'reversible vasectomy' shown to be effective in monkeys

An injectable contraceptive gel that acts as a 'reversible vasectomy' is a step closer to being offered to men following successful trials on monkeys. Vasalgel is injected into the vas deferens, the small duct between the testicles and the urethra. It has so far been found to prevent 100 per cent of conceptions

Vasalgel

15/28 Shift work and heavy lifting may reduce women's fertility, study finds

Women who work at night or do irregular shifts may experience a decline in fertility, a new study has found. Shift and night workers had fewer eggs capable of developing into healthy embryos than those who work regular daytime hours, according to researchers at Harvard University

Getty Images/iStockphoto

16/28 Breakfast cereals targeted at children contain 'steadily high' sugar levels since 1992 despite producer claims

A major pressure group has issued a fresh warning about perilously high amounts of sugar in breakfast cereals, specifically those designed for children, and has said that levels have barely been cut at all in the last two and a half decades

Getty Images

17/28 Fight against pancreatic cancer takes 'monumental leap forward'

Scientists have made a "monumental leap forward" in the treatment of pancreatic cancer after discovering using two drugs together dramatically improved patients' chances of living more than five years after diagnosis.

Getty Images/iStockphoto

18/28 Japanese government tells people to stop overworking

The Japanese government has announced measures to limit the amount of overtime employees can do – in an attempt to stop people literally working themselves to death. A fifth of Japan's workforce are at risk of death by overwork, known as karoshi, as they work more than 80 hours of overtime each month, according to a government survey.

Getty Images

19/28 Over-cooked potatoes and burnt toast 'could cause cancer'

The Food Standards Agency (FSA) has issued a public warning over the risks of acrylamide - a chemical compound that forms in some foods when they are cooked at high temperatures (above 120C).

Getty Images/iStockphoto

20/28 Cervical cancer screening attendance hits 19 year low

Cervical screening tests are a vital method of preventing cancer through the detection and treatment of abnormalities in the cervix, but new research shows that the number of women using this service has dropped to a 19 year low.

Getty Images/iStockphoto

21/28 High blood pressure may protect over 80s from dementia

The ConversationIt is well known that high blood pressure is a risk factor for dementia, so the results of a new study from the University of California, Irvine, are quite surprising. The researchers found that people who developed high blood pressure between the ages of 80-89 are less likely to develop Alzheimer's disease (the most common form of dementia) over the next three years than people of the same age with normal blood pressure.

Getty Images/iStockphoto

22/28 Most child antidepressants are ineffective and can lead to suicidal thoughts

The majority of antidepressants are ineffective and may be unsafe, for children and teenager with major depression, experts have warned. In what is the most comprehensive comparison of 14 commonly prescribed antidepressant drugs to date, researchers found that only one brand was more effective at relieving symptoms of depression than a placebo. Another popular drug, venlafaxine, was shown increase the risk users engaging in suicidal thoughts and attempts at suicide

Getty

23/28 'Universal cancer vaccine' breakthrough claimed by experts

Scientists have taken a "very positive step" towards creating a universal vaccine against cancer that makes the body's immune system attack tumours as if they were a virus, experts have said. Writing in Nature, an international team of researchers described how they had taken pieces of cancer's genetic RNA code, put them into tiny nanoparticles of fat and then injected the mixture into the bloodstreams of three patients in the advanced stages of the disease. The patients' immune systems responded by producing "killer" T-cells designed to attack cancer. The vaccine was also found to be effective in fighting "aggressively growing" tumours in mice, according to researchers, who were led by Professor Ugur Sahin from Johannes Gutenberg University in Germany

Rex

24/28 Green tea could be used to treat brain issues caused by Down's Syndrome

A compound found in green tea could improve the cognitive abilities of those with Down's syndrome, a team of scientists has discovered. Researchers found epigallocatechin gallate – which is especially present in green tea but can also be found in white and black teas – combined with cognitive stimulation, improved visual memory and led to more adaptive behaviour. Dr Rafael de la Torre, who led the year-long clinical trial along with Dr Mara Dierrssen, said: "The results suggest that individuals who received treatment with the green tea compound, together with the cognitive stimulation protocol, had better scores in their cognitive capacities"

25/28 Taking antidepressants in pregnancy 'could double the risk of autism in toddlers'

Taking antidepressants during pregnancy could almost double the risk of a child being diagnosed with autism in the first years of life, a major study of nearly 150,000 pregnancies has suggested. Researchers have found a link between women in the later stages of pregnancy who were prescribed one of the most common types of antidepressant drugs, and autism diagnosed in children under seven years of age

26/28 Warning over Calpol

Parents have been warned that giving children paracetamol-based medicines such as Calpol and Disprol too often could lead to serious health issues later in life. Leading paediatrician and professor of general paediatrics at University College London, Alastair Sutcliffe, said parents were overusing paracetamol to treat mild fevers. As a result, the risk of developing asthma, as well as kidney, heart and liver damage is heightened

27/28 Connections between brain cells destroyed in early stages of Alzheimer's disease

Scientists have pinpointed how connections in the brain are destroyed in the early stages of Alzheimer's disease, in a study which it is hoped will help in the development of treatments for the debilitating condition. At the early stages of the development of Alzheimer's disease the synapses – which connect the neurons in the brain – are destroyed, according to researchers at the University of New South Wales, Australia. The synapses are vital for brain function, particularly learning and forming memories

28/28 A prosthetic hand that lets people actually feel through

The technology lets paralysed people feel actual sensations when touching objects — including light taps on the mechanical finger — and could be a huge breakthrough for prosthetics, according to its makers. The tool was used to let a 28-year-old man who has been paralysed for more than a decade. While prosthetics have previously been able to be controlled directly from the brain, it is the first time that signals have been successfully sent the other way
Ah, but my hippie hipness is the original, I can announce smugly. One of my parents' favourite phrases is "We were so ahead of our time" – and it seems they actually were. They were proper hippies – year in India, sitar-playing, yoga-studying, nearly-became- monks-in-Ladakh kind of hippies. They tuned in and dropped out, moving to a caravan in the middle of nowhere in Wales in the 1970s.
Even as they grew up, had kids, got proper jobs and houses, they stayed true to their ideals: my brother and I were raised on brown rice and veg – freshly picked from the garden so that it was zinging with life-giving energy, or prana as their Hindi philosophy had it. My grandmother called their attempts at self-sufficiency "the good life": the garden was full of ducks and chickens, the back porch groaned with plaited strings of homegrown onions; they made their own stock, their own chutney, their own yoghurt. Take that, Hemsley sisters!
That current trend for mindfulness? Had that in the bag since I was kid: we had beautiful Caran d'Ache felt tips and mandala colouring-in books (super-soothing), while my mum taught me alternate nostril breathing (Google it) as a way to centre myself when "feeling wobbly". One's spiritual journey was an entirely appropriate topic of conversation round the dinner table.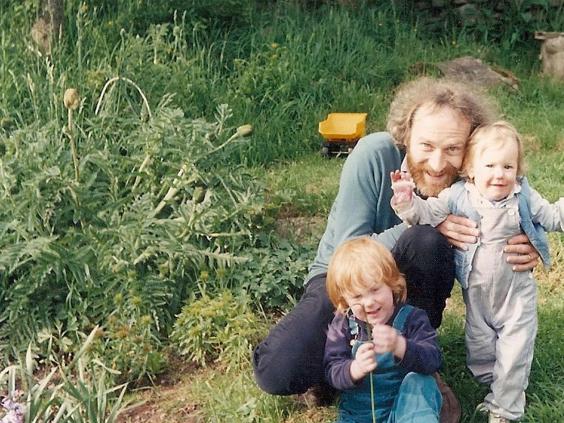 But being a hippie really wasn't the slick lifestyle choice it is today – it was a bit weirdy-beardy. I went to university in 2004 with a food box that contained tamari, Sosmix (for hand-making vegan sausages), miso paste and kombu seaweed. Everyone else brought jars of pesto and potato waffles. And while boho chic might have been having a moment a decade ago – meaning my mum's 1970s dresses, Moroccan leather bags and Afghan belts had admirers – I would have died rather than admit I did colouring-in. Being a vegetarian still often prompted mockery, most of my new friends had never been to music festivals, and mindfulness was definitely not a "thing".
So I should be celebrating the fact that hippie trends have permeated so many areas of our lives in the past decade. Pumpkin seeds are everywhere; there are 17 varieties of yoga within a half-hour of my home; cheesecloth blouses abound in Topshop.
And yet… it makes me kinda cross. Angry, actually. Because living the good life in 2015 is expensive. Alternative living has been monetised, packaged up with a fat price tag; today, a hippie lifestyle makes someone else rich in exchange for the consumer feeling smug. I can feel my blood rising when I walk around the high-minded supermarket chain Wholefoods and see hazelnut milk for £3.59, spelt penne for £4.69 and veganic sprouted ancient maize flakes (no, me neither) for £4.99.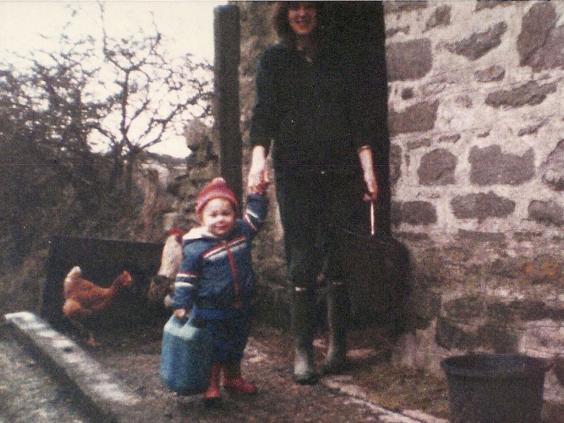 I feel myself glowering when I read about yoga and the emphasis is on Lululemon leggings that cost £82. I've unfollowed people on Instagram whose artful shots of their Lycra-clad one-legged wheel poses come with a barrage of hashtags (#fitspo #yogaeverydamnday #beagoddess). Sometimes, rather than being about shedding the ego, classes I've attended in Clapham feel like a competition in a Sweaty Betty £40 vest to be leaner, faster, tighter, sexier. My mum, incidentally, still wears the same yoga outfit she began teaching in before I was even born – a bottle-green velvet flared tracksuit which has swerved violently in and out of fashion, but still fits (itself an excellent advert for yoga's efficacy).
As for meditation and mindfulness – well, you'll be needing a pricey course, book or app. Sell that lifestyle! Share the journey! Headspace, the mindfulness app, has made its founder, Richard Pierson, famous – and is worth an estimated £25m. I get targeted adverts for it all the bloody time, but the idea of a commodified, tech version of Buddhist philosophy (yours for £7.95 a month!) does not make me feel more zen.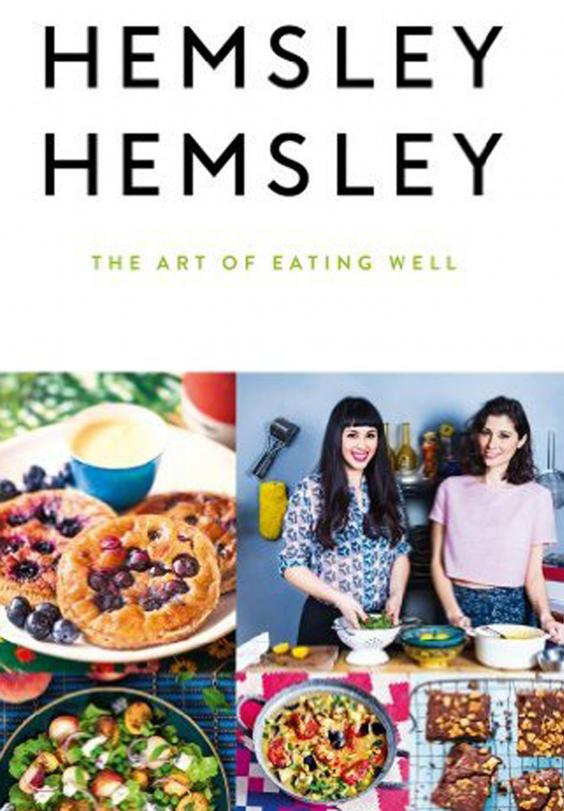 The hippie ethos was all about finding an alternative to rampant consumerism. It was about looking inward, rather than worrying about your outward appearance. It was about celebrating connection with the Earth, walking lightly, rather than valuing wealth, possessions, status symbols.
I went back to the source and this is what Earth Mama Williams had to say: "On return from our year in India in 1977, we saw clearly that there was a sliding scale, with time at one end and money at the other. We chose deliberately to go for less money, but quality of life… time to be in touch with body, mind and spirit, hence the whole self-sufficiency thing of learning how to grow stuff to feed yourself, how to live in harmony with the world and to listen to the self, others and the Earth. We rejected what was then called the rat race, with everyone working so hard for money and status."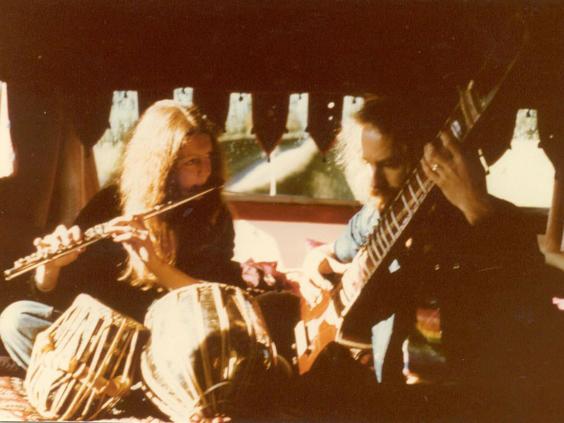 And what, I ask you, is a bulging shopping bag of artisan produce or designer exercise gear but a way of showing off? Sold as self-improvement, alternative lifestyle choices have been co-opted as a way of subtly revealing how wealthy you are. The hippies haven't converted the masses; canny businesses have just realised that with the right buzzwords and marketing, we'll be persuaded to drop £6.99 on hemp granola.
When it comes to food trends, going vegan and eating more organic veg might sound pretty damn hippie – but it's also a case of "first buy your spiraliser…" Then your glossy recipe books, and your agave syrup and chia seeds and freekeh. No wonder bestselling clean-eating guru Deliciously Ella is opening her own deli. Healthy bloggers sell a shiny, glowy lifestyle, but it's one that can be bought; how many of them roll up their sleeves in March rain to plant their own spuds?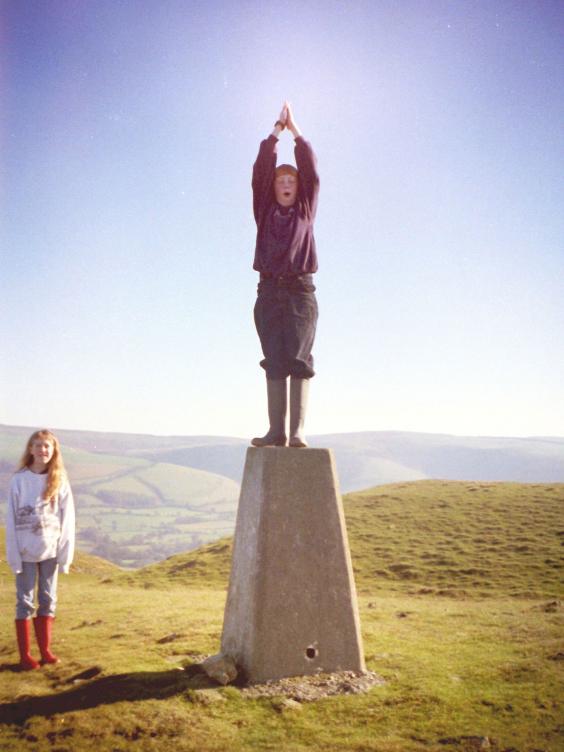 Even DIY trends are monetised, with bestselling books about wood-chopping, craft-beer brewing courses run by bearded lumbersexuals and significant bragging rights.
Not that I'm immune: I confess, dear reader, that I recently Instagrammed my sloe gin. And even if the method was taught to me by my father among the hedgerows of Wales – well, that's just the sort of claim to authenticity that makes me even more annoying than the city-dweller who splashes £65 on an urban-foraging class in Tower Hamlets and tweets about dandelion leaves.
Events that were once countercultural and inclusive, such as festivals, now cost hundreds of pounds, and feature Michelin-starred dining and champagne bars. Those flowers in everyone's hair? Plastic, and available in all good high-street stores. The second-hand dungarees well-groomed young professionals are rocking for the weekend? Yours for £65 from Urban Outfitters, to save you hunting through any smelly charity shops. Even the sodding Hunter welly boots my mum would wear to clean out the chicken coops have been bought by an American private-equity firm and now come in high-heeled – high-heeled! – versions.
Maybe it's not that the hippies haven't won – maybe it's that the hippie dream has died. It's slunk off into a corner and quietly expired, while its bastard offspring – £4 green juices! Instagram yoga accounts! The Liberty colouring book! – are thriving. I hereby call bullshit on 2015 and its capitalist quinoa.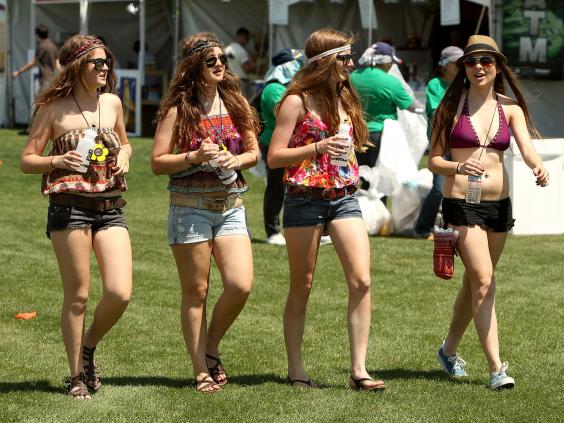 But I also have to call bulls**t on myself. I know fellow hippie-children who have grown up and gone off-grid, living in yurts and treehouses, making their own furniture. I live in zone two in London and spend all day at a computer; my house has a shared garden, which to my shame I grow precisely nothing in.
Do I want to pick my own spinach, bake my own bread? Sure, but I've no time, and it's much less effort to buy them from Sainsbury's. Do I want to drop out and embrace self-sufficiency on a wet and windy hillside? Actually, I'm a bit too comfy with central heating, the Tube, and a world of entertainment at my fingertips.
Still, a friend was telling me recently that you can get a really good organic veg box delivered in London – a reasonably priced, non-fancy one that doesn't cost the earth, but does still allow you to wash the earth off your parsnips before you cook them. It's hardly hippie idealism – but it might be the closest I'm ever going to get to the good life.
Reuse content