What sparked your journey into healthy living?
I moved to Australia when I was 18, I always wanted to live there. While there I suffered with digestive problems and IBS. I went to every doctor under the sun but nothing fixed me. Nothing helped until I started changing my diet. I started studying nutrition and moved back to the UK, sharing my recipes and doing pop-up supper clubs, which I still run.
How would you describe your eating ethos?
I don't feel like I prescribe to one particular thing. I'd say paleo with some gluten-free grains thrown in. I don't think one size fits all. I don't think veganism suits everyone, I don't think paleo suits everyone. I just try to cook clean.
What would be your number one tip for someone keen to get started on better eating?
The first thing to do is change your breakfast. Most of us are wolfing down cereal or even just coffee. Just start with some protein: eggs or salmon or some nuts and yoghurt. Protein in the morning stabilises your blood sugar levels and keeps you full until lunchtime. That makes the biggest difference.
What are your fridge staples?
In my fridge, I always have a cauliflower. I love making cauliflower rice, mash or just roasting it. I also have some leafy greens like kale or spinach to whizz up in a smoothie. There are coconuts to cook with or for making smoothies. Outside of the fridge I'll have tomatoes, sweet potatoes, avocados and eggs.
How did the 'Get the Glow' come about?
It started as an idea on a beach, when I was living in Aus. I really wanted to construct a programme that would heal your digestive system, get you off eating sugar. It's quite holistic. It took a year to make and I had such an amazing team. It's been such a pleasure to do.
What are your favourite recipes?
Slow-roasted lamb shank. I'm a slow-roast meat fiend. It's quite spicy, with a tomato sauce and chickpeas. I love the pistachio and date cookies because they're really quick to whip up for a sweet treat.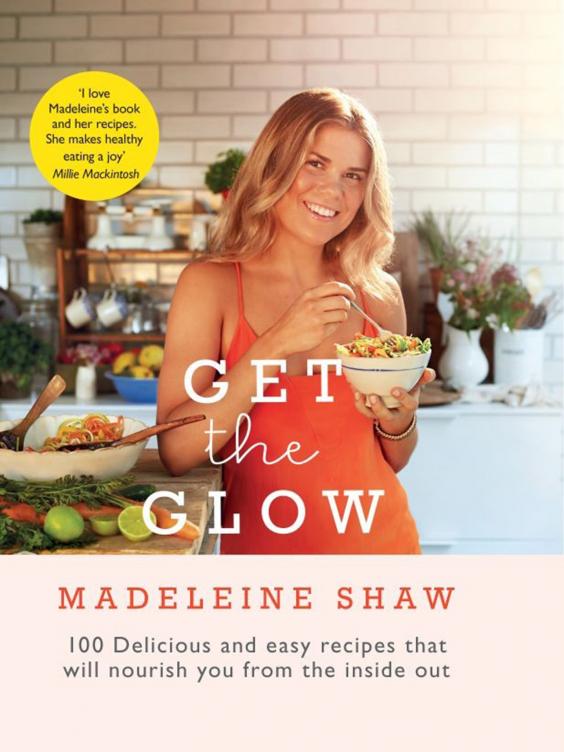 What does health mean for you?
Health for me is when you feel it deep inside of you. So you feel energised, you feel relaxed, you feel a state of peace. For me health is a feeling, not necessarily what you look like. You can look slim or whatever, but you might feel really stressed or uncomfortable.
What do you eat on a typical day?
Breakfast is eggy: poached eggs on rye bread with salmon, lemon juice, sea salt. Lunch is  homemade falafel balls with hummus and salad. Snack: raw nut and date ball, banana almond butter. Dinner is generally a steak and salad or cauliflower pizza.
How do you unwind and relax?
I have to do stuff that isn't work related. Because my life is my work it's all intertwined. It sounds silly but I like watching football or going to the pub. I try to do some meditation every day, just to calm down.
What is next for you?
I'm in the process of creating ''Alphababes'' with a friend. It'll be a movement to empower women. You get a fitness and nutrition plan, and a guide to meditation and  mindfulness. We always wanted to do  something together to make women feel good about themselves. 
Reuse content