As I mounted three flights of stairs, the highest I'd been able to climb in more than five years, the feeling of pride overwhelmed the exhaustion. My physiotherapist was by my side, providing encouragement and carrying the two surgical drains that had been inserted 10 days before, during my double lung transplant at Harefield Hospital. As I reached the top, there, pencilled on the wall in front of me, was a small "Hello". One of the thousands of transplantees that had come before me had left their mark. To me, it meant "Welcome to the gang".
Born in 1981 with cystic fibrosis, I was lucky enough to receive a double lung transplant at Harefield Hospital in Middlesex in August 2013. Celebrating its centenary this year, Harefield is a place that has long conjured everyday miracles behind its utilitarian exterior.
It was established in 1915 to nurse injured First World War soldiers from Australia and New Zealand. After the war ended, tuberculosis patients began to be treated there. By 1948, it had become part of the NHS and its major inroads into heart surgery began, culminating in its first heart transplant in 1980 and the world's first heart and lung transplant three years later.
Harefield's drab brick façade, flat roofs and white-framed windows do not do justice to the work that goes on there. Inside this building of large, glass-sided corridors and stunning artworks donated by the likes of Grayson Perry, walk nurses, receptionists, porters, cleaners, doctors and canteen staff. They go about their jobs, seemingly oblivious to how extraordinary their roles are in helping to transform the lives of people often given only a year or two to live.
Clinical nurse specialist Mandy McCurry, 60, has worked at the hospital since 1983, taking time off in between to raise a family. She helped to prepare the very first heart and lung transplant patient for surgery. Although she recognises the real impact that the hospital can make on people's lives – "we see [patients] walking out the door without any oxygen when before they came in in a wheelchair" – she says that on a "day-to-day basis" she doesn't think that what she does is "miraculous".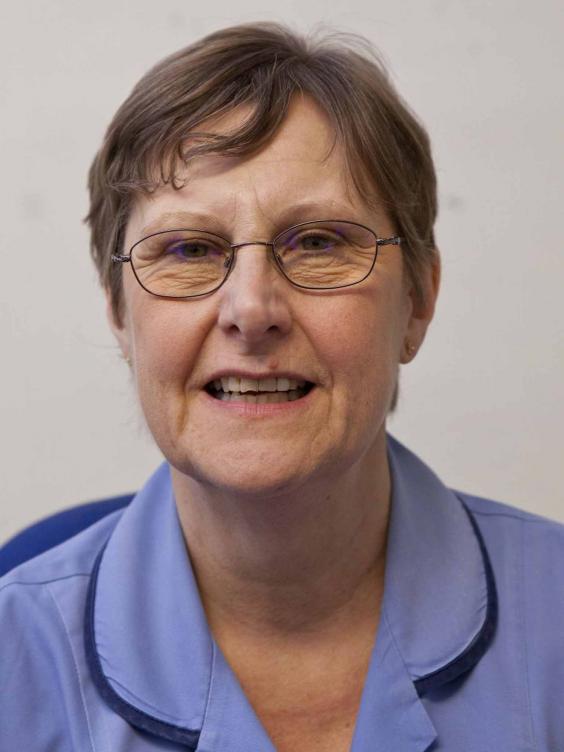 Indeed, a few hours before my own transplant, a doctor noticed my shaking hands and said, "What are you scared of?" Rather incredulous, I answered, "The transplant!" "Don't worry", he said, "we do them all the time."
This matter-of-fact attitude is perhaps fostered by the fact that Harefield is a relatively small hospital in a close village community surrounded by English countryside. It's not unusual to see badgers, owls and even deer in the hospital grounds. Fabio De Robertis, 43, the surgeon who carried out my own transplant, describes the hospital as "not very shiny", but says that when you enter, "you find an amazing team. Everybody says 'Let's get on with it, let's save lives'." If he is called in during the night to operate, he will stop by a bakery on the high street to pick up breakfast for the team. The staff greet him with, "Hey Doc, another transplant?"
De Robertis says of his job that "transplantation is the closest to motherhood I can get", and it is a sentiment I can relate to. Meeting my surgeon for the first time, 18 months after my transplant, is quite incredible. I shake his hand, fully aware that it had once held my new lungs. Neither of us recognises the other – me because I was too drugged up in intensive care to remember much, he because my health has improved so drastically that I am unrecognisable.
I feel an almost familial connection with him and it doesn't surprise me when he tells me that his four- and five-year-old children are always asking to meet his patients. There is a closeness at Harefield that is born from the dedication shown to its patients, what De Robertis calls a "vocational calling". There are at least 20 people involved in every transplant, but the respect for each other goes beyond the medical staff. De Robertis says, "You see porters here with tattoos and piercings, but we call each other by [first] names… that is how it is at Harefield."
If the hospital is a family, then the patriarch is Professor Sir Magdi Yacoub. It was his groundbreaking work that laid the foundations for Harefield to now offer one of the largest transplant programmes of its kind anywhere in the world, performing almost 3,000 transplants since Sir Magdi carried out the first one in 1980. His portrait in the transplant reception area looks down on patients such as me, who have been given hope for the future through his work. De Robertis, who learnt under Sir Magdi, says of him, "He is absolutely unique, his knowledge is amazing. There is certainly a sense of, not just respect, more than that, it's close to worshipping, at least for me."
Things have come a long way since Sir Magdi first pioneered cardiothoracic transplant. McCurry explains that the first transplant patients were kept in complete isolation for the first seven days. "It was scrubs to go in and out and you [nurses] were in there for the whole shift [without leaving]." These early patients could only eat fruit and vegetables if they were from a tin and had to have sterilised milk because of the risk of infection. Now, transplant patients are encouraged to see the operation as one that allows them to enjoy their life again without many restrictions. She points out, though, that Harefield "is not only about transplant and that mustn't be forgotten".
In the past couple of years, it has pioneered new treatments, including gene therapy trials, for those who have been surgically implanted with left-ventrical assist devices (which are aimed at restoring normal blood flow to failing hearts). In June 2014, André Simon, director of transplantation at Royal Brompton & Harefield NHS Foundation Trust, became the first UK surgeon to implant an inflatable cuff around a heart's aorta to help slow the deterioration of a patient with heart failure.
Lucy Davies, the general manager at Harefield, says that Simon's influence has made "a real difference" to the services the hospital can now offer. Under his direction, Harefield became the first hospital in the UK to adopt "beating heart" technology, which allows a heart to survive for longer outside of the body by pumping oxygenated blood through it while it is being transported from donor to recipient.
Simon says that the use of this new technology, known as the Organ Care System (OCS), has meant that patients "have had life-saving heart transplants which otherwise would not have been possible". It allows the hospital to accept organs from further away and operate on patients who have implanted ventrical assist devices that require more complex and lengthy surgery. Harefield transplanted 17 patients with such devices between February 2013 and June 2014, compared with just seven in the previous three years.
As the hospital looks to build on these successes, Davies is confident that substantial investments have ended speculation that services could be incorporated into a larger, more central hospital. She believes that the current size of Harefield has enabled it to invest in new treatments more easily. An ambitious £20m rebuilding project will start later this year to "tie down Harefield's future".
McCurry is still in touch with patients that she nursed in 1983, and for her, seeing a patient through their life journey is partly what makes Harefield unique. "We never say goodbye to them," she says. As I drive away from Harefield the day I met De Robertis, I realised that this hospital is more than just the venue for life-changing surgery. For me, it is a place in which I can feel at home. This afternoon, I've had a chance to sit down with my new transplant "gang" and pass the time over a cup of tea. It was never far from our thoughts that it was this hospital that had given us such precious time back.
Harefield Hospital is encouraging at least 100 people a month to register as organ donors during its centenary year. To register as an organ donor visit organdonation.nhs.uk
Reuse content