"My husband's jaw nearly hit the floor when we were told we were pregnant with identical twins, while I just laughed hysterically," says Clare Anderson, 36, from Bedford. "It was a shock, but a wonderful shock."
Like many women pregnant with identical twins, however, Clare didn't know quite what to expect. "By 18 weeks, I was huge, and I mean huge, but friends and family just smiled and said how lucky I was to have two in there."
Even when Clare told people that she felt so out of breath that she'd have to get on all fours at night, gasping for air, they reassured her. "It's probably a good sign – a sign that the babies are growing," they would respond. "I expected that the same thing would happen if I told them about the pain in my back and under my ribs, so I didn't even bother mentioning it."
In reality, something was wrong – very wrong – and it was only when Clare had her 20-week scan that she found out. "The sonographer took one look at the size of me and within about a minute of doing the scan, she asked if I'd heard of Twin to Twin Transfusion Syndrome (TTTS)," says Clare, who responded that she had come across it online. "But I didn't read on because I think Google searches on pregnancy conditions can just scare you," she explains.
Now, however, Clare was very scared. TTTS, she was to learn, is a condition affecting 10 to 15 per cent of identical twin pregnancies. It was explained to her that TTTS occurs when one baby takes too much fluid from the placenta, leaving the other twin short on fluid. In most cases, it's a problem for both babies, because one twin becomes smaller and anaemic, while the other becomes bigger and has a higher blood volume, which can put strain on the baby's heart and lead to heart failure. If left untreated, a staggering 90 per cent of these babies die and even with treatment, there is only a 70 per cent chance of both babies surviving.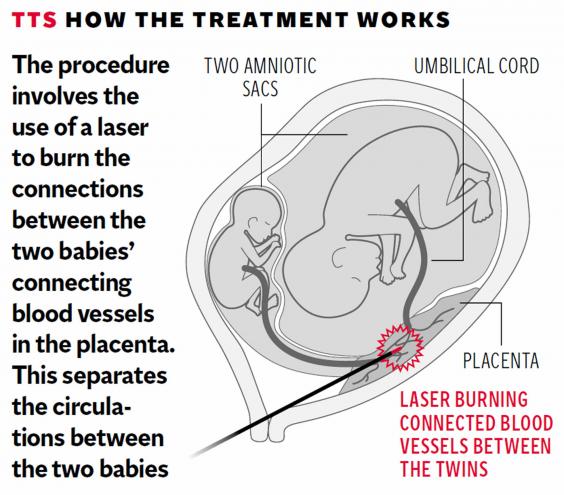 With babies that do survive, there's a chance of disability as a result of damage to the brain. What's more, Clare was to learn that, despite TTTS causing 300 deaths a year in the UK alone, it is only treated at a few hospitals due to the lack of specialists. "As the midwife rang around these hospitals, I just sat there crying in disbelief, especially as we learned from the scan that the babies were boys. Knowing their gender somehow made the thought of losing them even more distressing."
Thankfully, Clare was given an appointment in London the following morning, where the specialist explained that there are five stages of TTTS, the fifth being the most critical, and that hers was at stage three. "He told us we had a number of choices. I could do nothing, but in my case, that would end up escalating to the fifth stage. I could terminate one baby, which would mean an 80 per cent chance of survival of the other, or I could terminate both babies, which some people do if they can't cope with the risk of death and disability. Finally, I could try laser surgery, which would have a 30 per cent chance of success per baby. Fortunately, my husband and I were unanimous in wanting to go with the last option," says Clare. "Although I was only 20 weeks, I was told the TTTS had caused my tummy to be the size of a full-term twin pregnancy."
Laser surgery involves putting a telescope on the surface of the uterus to observe the connecting blood vessels in the placenta and then using a laser to burn the connections between the two babies, essentially separating the circulations between them. "It only lasted about half an hour, but it was horrendous knowing it could potentially kill my babies."
At first, Clare kept her eyes firmly shut, but she was soon persuaded to focus instead on the screen, so she could see the cause of the noises and sensations.  "It was very moving because one of the first things I noticed was a foot floating past. I don't mean that black and white grainy image you get in a scan, but like a foetus you see in documentaries, with pink, fleshy feet. Later, I even saw a face with heart shaped lips. The rest of the images were mainly blood vessels. Those, the consultant explained, were the ones that were overworking and he burned them with the laser, which made lots of bangs and pops."
By the time they had finished, they had also drained three litres of excessive amniotic fluid and a scan showed the babies had survived the ordeal. But that was just the first step, with Clare being told the next 24 hours were critical. "I hardly slept, but thankfully the 7am scan also showed that they were fine, while a later MRI scan showed that the TTTS had caused no brain damage." Eventually, Clare gave birth by caesarean section at 34 weeks to two baby boys, Maxwell, who was 5lb, and Samuel, who was 3.5lb. "They were kept in special care for 18 days to help them along with their breathing and, although I was told that's not unusual for babies who have suffered from TTTS, it was a very worrying time. Even when we got them home, I would worry about the slightest snivel."
Eight months on, the boys are doing well and Clare is also calmer. The problem is that not all outcomes are so positive. In fact, so concerned is the charity Twins and Multiple Births Association (Tamba) about inconsistency around diagnosis and treatment that it has launched a national campaign to help raise funds for the UK's first TTTS registry.
"The data from this registry will be compiled so that medical professionals can see which treatments are most effective because as it is, there hasn't been enough research to tell us," explains Dr Asma Khalil, who is leading the campaign "Parents like Clare, whose babies had TTTS, will also be able to use the registry to record their patient experience and help improve the standard of care."
There are already national standards, with NICE having produced guidance back in 2011, explains the charity. There have also been improvements in understanding TTTS. "But the first line treatment of laser surgery is invasive, complex and risky and women often have to travel some distance," says Dr Khalil.
"Even more importantly, there isn't enough research to tell us whether it is the best treatment for all women. Another, much simpler, treatment, for example, is draining some of the fluid from the greedy twin, although this is less effective and can carry risks. And in some cases, if your TTTS is mild, you may require no treatment. The registry would enable us to ask questions such as, what is the best treatment in different circumstances? If you have treatment, how often should you have scans afterwards? And when is the ideal time to deliver babies who have had TTTS?"
Greater awareness among pregnant women and medical professionals is required too, Dr Khalil says. "Everyone oohs and aahs when you tell them you're having identical twins, but this is a serious risk that most women have no idea about and many medical staff aren't knowledgeable enough about. It most commonly occurs at 16-24 weeks and we'd like to see women and medical professionals being far more mindful of common symptoms, including abdominal discomfort, sudden weight gain, breathlessness and thirst," she says.
"I'd like to see every woman pregnant with identical twins knowing the symptoms," Clare says. "If I'd known, I'd have sought help earlier. And if I'd found out about it even a few days later, it could well have meant we lost our babies. Every day, when I see my babies, I say thank you out loud to nobody in particular. But it could so easily have been different."
Visit tamba.org.uk/TTTS
Reuse content