Sir Ernest Shackleton is celebrated as the polar explorer who braved three expeditions to the Antarctic and sailed 800 miles in a tiny boat to save his crew when their ship, the Endurance, was smashed to pieces by the ice.
But it has now emerged that he may have had a secret that he kept hidden from the men who followed him to the end of the earth and back.
New medical research suggests that the Anglo-Irish adventurer who came within 97 miles of reaching the South Pole did it all while suffering from a hole in the heart.
Experts have studied diaries kept by doctors on board Shackleton's ships and have deduced that he suffered from an atrial septal defect. It could explain why a man of astounding stamina sometimes collapsed on expeditions. It is thought that Shackleton may have known he had a heart condition, but kept it secret.
But the doctors who have made the discovery insist it only adds to the wonder of Shackleton's courage and in no way tarnishes the legend.
"In our health-and-safety- conscious world, Shackleton would never have been allowed to travel," said Dr Ian Calder, a retired anaesthetist who carried out the research with Dr Jan Till, a consultant cardiologist at the Royal Brompton Hospital in London.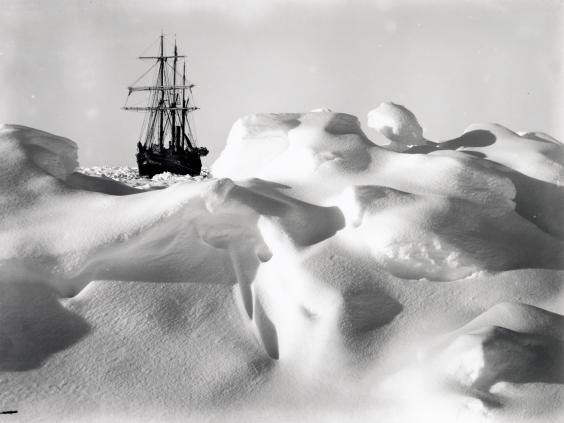 "Some people may feel that Sir Ernest was irresponsible in undertaking the leadership of Antarctic expeditions if he suspected a problem, but we cannot judge him by modern standards. Nothing was going to stop Shackleton. He was a brave man and a great leader, who kept his men together when they needed him most after the Endurance sank. It is astonishing to think that he did it all with a congenital heart condition."
Expedition documents show that Shackleton suffered a physical breakdown during his first Antarctic expedition on the Discovery in 1903, when he was unable to pull a sledge due to a weakness attributed to "a sort of asthma".
In pictures: Sir Ernest Shackleton
In pictures: Sir Ernest Shackleton
1/11

Shackleton and two members of his expedition team beside a Union Jack within 111 miles of the South Pole, 1909.

Getty Images

2/11

A dog team near the ice-bound ship Discovery, 1903. The expedition was led by Robert Falcon Scott and Shackleton was the third officer.

Getty Images

3/11

1st August 1914: Sir Ernest Shackleton's ship SS Endurance after leaving Millwall Docks, bound for the Antarctic.

Getty Images

4/11

The steering gear of SS Endurance during preparations for Shackleton's Antarctic expedition.

Getty Images

5/11

SS Nimrod in the Antarctic pack ice.

Getty Images

6/11

An icy coastline, off which the ship 'Nimrod' is moored, during one of Shackleton's expeditons

Getty Images

7/11

An Arctic dog called Fox, chosen as a team leader for one of Shackleton's Antarctic expeditions.

Getty Images

8/11

1909: Men dressed in arctic explorer's furs advertising Sir Ernest Shackleton's lantern lecture about his expeditions to Antarctica and the South Pole. Shackleton came within a record-breaking 97 miles from the Pole.

Getty Images

9/11

Members of an expedition team at work at a camp site, 1914.

Getty Images

10/11

A balloon being deflated near the Discovery after an attempted ascent.

Getty Images

11/11

1922: The grave of the explorer in South Georgia. He returned to the island on the 'Quest' a few years after his Antarctic expedition, and died there of a heart attack.

Getty Images
Concerns about his health were raised again by Dr Eric Marshall, medical officer on Shackleton's second expedition to the Antarctic. He diagnosed a heart murmur. He later wrote after Shackleton returned from his failed attempt on the Pole how he "collapsed after dinner", but just days later was the strongest in the party and performed a forced march of 30 miles.
Dr James McIlroy, the medical officer on Shackleton's third expedition on the Endurance, also described how he "changed colour very badly", but refused to let the doctor listen to his heart. It was during this expedition that Shackleton and his crew spent months stranded on the ice, which led to him sailing for 16 days through rough seas to rescue them from Elephant Island without loss of life in 1916.
Shackleton died of a heart attack aged just 47 in 1922, a few hours after arriving in South Georgia at the beginning of his fourth expedition.
Dr Calder and Dr Till reveal in a paper published today in the Journal of the Royal Society of Medicine that the evidence suggests he had an "underlying cardiac abnormality".
Shackleton regularly refused to see doctors and it is thought he kept his suspicions of a heart condition secret in case benefactors stopped funding his expeditions.
Dr Till said: "Shackleton regularly avoided doctors who may have listened to his heart, perhaps knowing they would have been able to hear there was a problem. He was a man of tremendous courage and determination. I just find him amazing."
Ernest Shackleton's granddaughter, Alexandra Shackleton, told The Independent: "I think he did suspect he had a heart condition. He never saw a doctor. He was afraid of being told he couldn't go South. The Shackleton family motto is 'By Endurance We Conquer'. His ship was called Endurance. They just got on with it in those days."
Reuse content