A&E waiting times in England have hit their worst levels in a decade, official figures have confirmed.
Hospitals in England have collectively breached the target of treating 95 per cent of patients in four hours for an entire year.
Latest data from January to March this year shows performance is now at its lowest point since targets were introduced in 2004.
Overall, 91.8 per cent of the 5.4m patients who visited A&E were seen within the target time, down from 95.1 per cent for the same period last year.
However, the full extent of the capacity pressure on hospitals is revealed in the number of 'trolley waits' – delays between a decision to admit a patient to hospital and that patient being moved on from the A&E department.
There were 113,648 trolley waits of more than four hours from January to March – more than double for the same period last year. Of these, 983 sick or injured patients had to wait more than 12 hours to be admitted – more than in the last four years combined.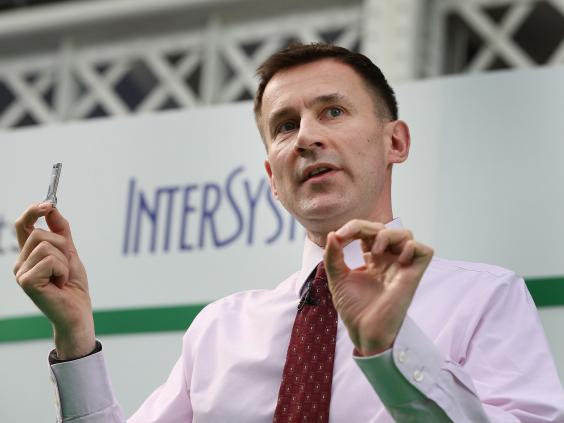 The figures were seized upon by Labour as evidence of declining NHS performance under the Coalition.
Shadow Health Secretary Andy Burnham said the Government's had made it "harder to get a GP appointment", as well as cutting council-funded social care with a knock-on effect for hospitals.
However, the Conservatives pointed out that pressures on hospitals were rising across the UK, and that performance in England was four per cent better than in SNP-led Scotland and eight per cent better than in Labour-led Wales.
The parties also clashed over NHS funding today, following the publication of a report by the Health Foundation think-tank, which claimed the £8bn annual budget increase that the NHS in England has said it needs by 2020 is an "absolute minimum" requirement.
Responding to concerns over funding, the Health Secretary Jeremy Hunt told BBC Radio 4's World at One programme that a Conservative government would give the NHS "whatever they need", even if it were more than £8bn.
Mr Burnham said the pledge was "vague" with no indication where the money would come from. Labour has pledged to increase NHS spending by £2.5bn a year, above Government spending plans, largely paid for by a mansion tax. 
Reuse content