There have been a number of outbreaks of disease - including one at Disneyland - as a result of children not being properly vaccinated. 
At the same time, there is exhaustive scientific research that concludes that vaccines such as the MMR (Measles, Mumps, & Rubella) have no association with autism.
Despite this, a new survey suggests that one in three supporters of Donald Trump believe vaccines do indeed cause autism. (Around one in five supporters of Hillary Clinton believe the same.)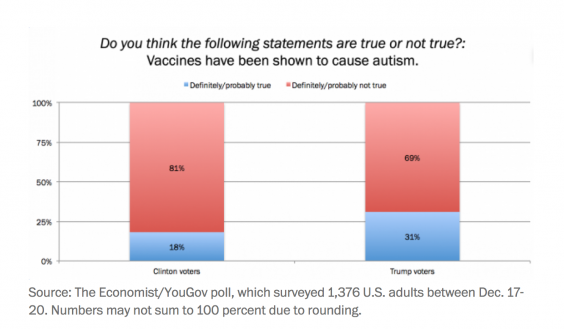 The findings are based on a survey conducted by The Economist/YouGov, which surveyed 1,376 US adults between December 17-20 and asked them a number of questions.
One reason for the high percentage of Mr Trump's supporters holding this erroneous opinion, may be the man himself.
Mr Trump has repeatedly said he believes there is a link between vaccines and autism in children.
"I've seen people where they have a perfectly healthy child, and they go for the vaccinations, and a month later the child is no longer healthy," Mr Trump told Fox News in 2012. 
"It happened to somebody that worked for me recently. I mean, they had this beautiful child, not a problem in the world. And all of a sudden, they go in, they get this monster shot. You ever see the size of it? It's like they're pumping in — you know, it's terrible, the amount. And they pump this into this little body. And then all of the sudden, the child is different a month later. And I strongly believe that's it."
Mr Trump was asked about this incident during a Republican primary debate in September 2015, and he repeated the claim. Indeed, he said the vaccines were causing an "autism epidemic".
"People that work for me, just the other day, two years old, beautiful child went to have the vaccine and came back and a week later, got a tremendous fever, got very, very sick, now is autistic," he said.
At one campaign stop, Mr Trump spoke with leading proponents of the discredited link between vaccines and autism, including disbarred British doctor Andrew Wakefield, at a fundraiser in Florida.
ScienceMag said Trump chatted with a group of donors that included four anti-vaccine activists for 45 minutes, according to accounts of the meeting, and promised to watch Vaxxed, an anti-vaccine documentary produced by Mr Wakefield.
Mr Wakefield, who is now believed to live in Austin, Texas, was the lead author of a 1998 paper published in The Lancet which claimed to show a link between children who were given the MMR with autism and bowel disease.
No other scientists were able to reproduce his results. Following an official inquiry, the British General Medical Council concluded that Mr Wakefield acted dishonestly and irresponsibly, and even performed unnecessary invasive medical procedures such as colonoscopies.
The Lancet eventually retracted the paper and Mr Wakefield was struck from the UK medical register.
Experts say the danger of not getting vaccinated is all too clear.
In December 2014 dozens of people caught Measles after visiting California's Disneyland. The outbreak, one of the worst in the last 15 years, eventually spread to Colorado, Oregon, Utah, Washington state and Mexico.
Observers pointed out that while California law requires children to get vaccinations for measles, mumps and rubella, a loophole allows parents to opt out via a "personal belief waiver" if they think there is a link between vaccines and autism.
Reports said that of the 34 patients caught up in the initial outbreak, only five were believed to be fully vaccinated.
Reuse content