A dozen babies have been born using a pioneering fertility treatment hoped to spare thousands of women from potentially life-threatening complications in early pregnancy.
Traditional IVF treatment sees mothers injected with the hormone human chorionic gonadotrohin to induce ovulation, but this is known to cause ovarian hyperstimulation syndrome (OHSS) which can lead to fatal kidney failure in around five per cent of patients.
During trials at Imperial College London since January last year, scientists have discovered that the hormone kisspeptin can instead be used to stimulate ovulation but without any threat to health.
Speaking to the Telegraph, new mother Alison Harper, 21, of Hertfordshire, who gave birth to son Owen nine months ago, said: "We took part [in the trial] because we wanted to pay it forward in return for the people who made it possible for us to have a child through IVF."
The symptoms of OHSS, which include the swelling of the ovaries often to several times their normal size, can affect even otherwise healthy women.
About a third of patients are only affected mildly, suffering nausea and vomiting.
The new method was tested on 53 healthy volunteers at Hammersmith Hospital, west London, last year and has seen 12 babies born so far.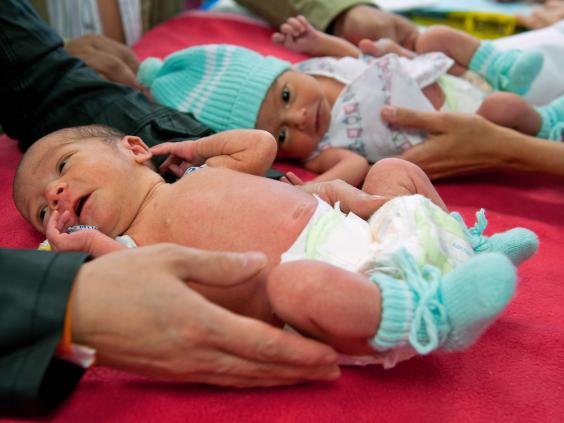 Professor Waljit Dhillo, from the Department of Medicine, told the newspaper it had been "a joy" to see "healthy babies" born using the new method.
"OHSS is a major medical problem," he said. "We really need more effective natural triggers for egg maturation during IVF treatment, and the results of this trial are very promising."
The academic community has largely welcomed the results, with calls for a larger study into the hormone kisspeptin to be carried out.
Researchers at Imperial College are already said to be planning a second trial involving women with polycystic ovary syndrome, who are at the highest risk of suffering OHSS.
They will publish the findings of their first study in the Journal of Clinical Investigation.
According to figures from the Human Fertilisation and Embryology Authority, approximately 3.5million people are affected by infertility in the UK, with more than 48,000 women undergoing IVF treatment in 2011 alone.