On Friday night on Brighton beach, the wind blowing in from the sea is so strong that road signs are rattling and the people spilling out of and into pubs, clubs and takeaways are losing their scarves and handbags. The weekend has begun, Christmas is only five days away, and for most of the city's office workers it's pay day.
"Should be a big night," says paramedic Gerry Davis, who is making the tea at the ambulance station a mile and a half up-town. Sure enough, within half an hour he and crew-mate Martin Dowle are speeding out of Brighton to a car crash on a country road near Lewes. For the South East Coast Ambulance Service (Secam), and for paramedics everywhere, Christmas is a byword for chaos. Call-outs increase by around 20 per cent in the last two weeks of December, the spike fuelled by a combination of alcohol, inclement weather and winter illness.
"Then again," says Martin, with typical sangfroid, "people do all sorts of mad things at all times of year, any day of the week."
We arrive at the car crash 20 minutes later to find two fire engines and two other ambulances on the scene. The car, driven by a man in his twenties with a female passenger, has ended up with its rear bumper halfway up a pine tree, which is bending with the weight and still swaying eerily in the flashing lights of the emergency vehicles. The fire crew and a local GP-paramedic are attending, securing the vehicle and making sure those inside are safe to move.
Incredibly, both driver and passenger walk away with minor injuries. If the car had spun off the road six feet further back it would have struck the hefty trunk of an old oak tree – of a type which "tends not to move", as Martin puts it. As it is, the pair have had an extraordinarily lucky escape by hitting the right kind of tree.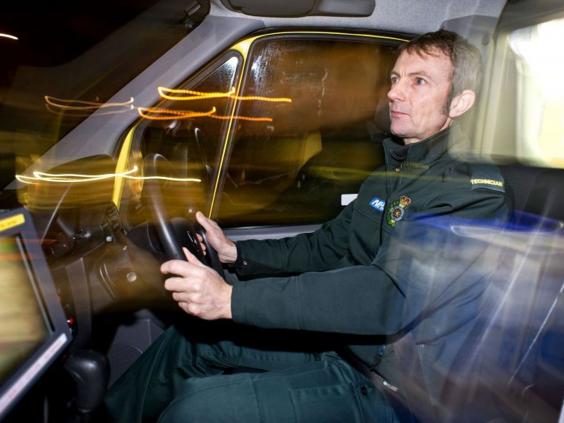 Gerry and Martin are soon off to the next call, an elderly woman reporting vomiting and throat pain in a village several miles to the east. Secam's patch covers East and West Sussex, Surrey, Kent and north-east Hampshire – so crews can clock up hundreds of miles in a single night.
Their ambulance was called to the car crash because Gerry is a critical care paramedic (CCP) – a specialist at handling serious trauma injuries and with more clinical expertise. CCPs are at the vanguard of a new vision for paramedics, who are being lined up to play a major role in relieving the chronic pressure on A&E departments. The NHS's medical director, Sir Bruce Keogh, wants paramedics to be better trained at assessing and managing patients at the scene and, where possible, avoiding a trip to hospital by working closely with community care and GPs to get patients with long-term illness the care they need, at home.
Gerry's expertise is certainly on show tonight. He is exceptionally skilled at assessing his next two patients – the elderly woman, who has had an allergic reaction, and a woman in her twenties who has had a seizure. He has 94 drugs at his disposal – some of which could have only been administered by a consultant little more than a decade ago. In these cases, however, both patients must go to hospital for further assessment, a reminder that in many cases hospital is still the best place.
Back in Brighton, we are approaching the witching hour – at 11.30pm the pubs start kicking people out, and before long the ambulance station's incidents screen starts filling up with reports of assaults, people passed out on pavements, and sundry other misadventures, including a shoulder injury that may or may not have been the result of break-dancing.
In the mess room, lit by the dim glow of Christmas lights on a plastic tree, and a television playing live coverage of Australian 20-20 cricket, paramedics snatch a few minutes rest, coming and going with the buzz of their radios.
Talk is of the ambulance service getting ever busier, and the recent phenomenon that all have encountered, of having to wait far longer for their patients to be seen at A&E – ("It hardly ever happened before, now it's commonplace"). A long wait at A&E means one less ambulance ready for the next incident.
There is enthusiasm for a bigger role for paramedics, but also frustration, particularly at the care system's "failure" to look after the elderly, who all too often end up in the back of an ambulance when they should be in a care-home bed.
"People were promised cradle to the grave care," says Gerry. "Yet we find ourselves going to see old ladies who are having to choose between heating up their tinned soup and heating up their home. Often they say they didn't want to call us because they didn't want to be a bother – and it turns out they have pneumonia or something else serious."
He and Martin are out on the road again just before 2am. The call has come from the town centre. The patient is a man in his twenties who is in a very bad way after a night on vodka and cocaine. He can't stand up and doesn't know where he is. Gerry takes his blood sugar, which is very low, and he and Martin haul him onto a stretcher where they can monitor his heart and give him glucose on the way to A&E at the Royal Sussex County Hospital. His mate rides with him, reassuring him that he won't tell anyone about it.
"For anyone who doesn't do this kind of thing," Martin tells me at one point, "I suppose it's hard to imagine how much of this stuff goes on."
Driving through the town centre, Martin has to dodge revellers apparently oblivious to the ambulance despite blue lights and siren blaring. It occurs to me that, even if you have the presence of mind to get out of the way, one rarely thinks very much of an ambulance going past.
But someone, somewhere could be fighting for their life, and for the men and women behind the wheel, every call is a journey into the unknown, which demands them to stay calm and focused for the entirety of a 12-hour night shift.
It is no wonder Sir Bruce wants to make more of the paramedics: they are astonishing people.
Reuse content