The Ebola virus spreading exponentially across Africa and killing thousands of people "will get worse", the Government has admitted, amid calls for the full involvement of the international military to contain the disease.
Justine Greening, the International Development Secretary, said that ministers had been shocked by a prediction from the US public health institute that 1.4 million people may be infected by the virus by January if it continues unchecked.
As ministers, diplomats and humanitarian organisations from 20 different countries pledged a further £79 million to control the outbreak, which has already killed more than 3,000 people, a group of 35 European security officials issued a joint declaration suggesting that Ebola should be treated in the same way as the threat posed by nuclear weapons.
The statement from the European Leadership Network, signed by five former UK defence secretaries, stated that Ebola was clearly "outstripping the ability of health care systems and workers to respond" and called for heads of state to be directly involved in efforts to eradicate it "for the long term good of humanity".
"We need urgently to elevate international cooperation on this challenge and other public health issues to European and global head-of-state-level," they wrote.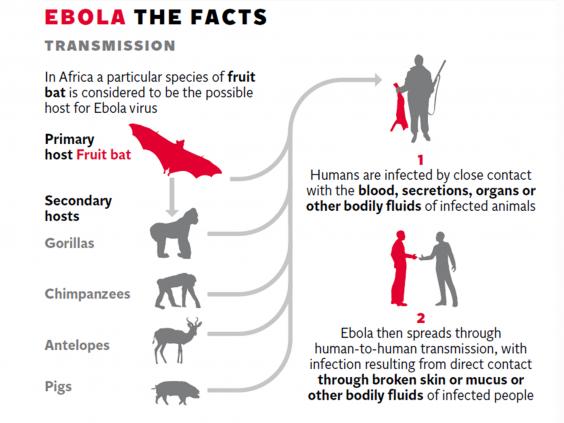 "This has been done in recent years on issues like the security of weapons using nuclear materials and it should be the response triggered now by the Ebola crisis."
Speaking during a conference in London to co-ordinate the global response to the outbreak, Ms Greening said that establishing the extent of the disease had been "challenging" for officials, but that it would be "far harder" to stop Ebola in future if action was not taken immediately.
"What we do know is that if we fail to take action to tackle Ebola, it will allow this disease – which has already proved itself fatal to so many people – to spread unchecked," she said.
"We should also be clear that this disease and the numbers of people infected will get worse before it gets better. This is about bearing down on the rate of transmission that we're currently seeing so we can bring that down, get it under control and… start to eradicate Ebola."
Ms Greening said the stark prediction by the US Centers for Disease Control and Prevention that Ebola cases could reach 1.4 million by January highlighted the need for rapid action.
The official number of people infected currently stands at 7,178 – of which 3,338 have died. But the US health institute suggested in a report last week that the true scale of the outbreak may have been hugely underestimated due to under-reporting.
After the London conference – which saw a further £70 million being pledged by Save the Children, £6.2 million by Australia and £1 million by Comic Relief, among others – Foreign Secretary Philip Hammond said the UK had so far committed £125 million and praised the "huge contribution" made by British troops in setting up treatment centres.

But Vickie Hawkins, the UK executive director of humanitarian charity Medecins Sans Frontieres, said that while extra money was "helpful", the international response to the crisis had been "late" and wider military involvement was needed to deal with a situation which was now "way beyond the humanitarian system".
"We need concrete action in the countries most affected," she told The Independent. "By that I really mean boots on the ground – people who can not only build treatment centres but also man them. You would imagine that soldiers could form a big part of that.
"We do think that military units are probably the ones that have the discipline to mobilise fast, build treatment centres fast and deliver care."
Professor Peter Piot, the director of the London School of Hygiene & Tropical Medicine who co-discovered the Ebola virus, said the risk to the UK from Ebola remained "small", and added: "Our concerns and efforts need to be focused on the very serious situation in West Africa. If we do not immediately scale up the international response to the outbreak and implement the support that has already been pledged, the devastation in those countries will be truly horrific and they will remain a potential source of infection to neighbouring countries."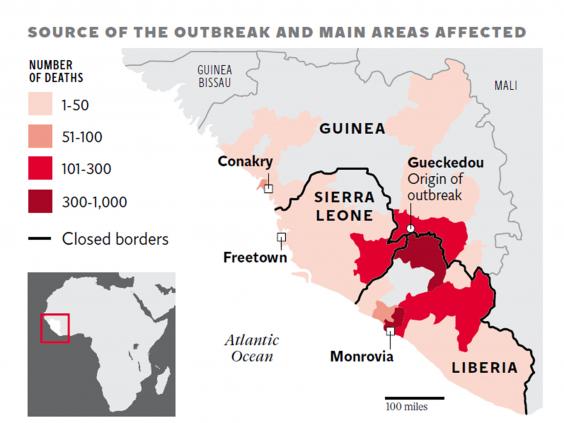 The number of people infected with Ebola is doubling every 20 to 30 days, and aid agencies said that the situation on the ground was dire.
David MacDonald, Oxfam's regional director for West Africa, said: "Ebola is consuming whole communities. We are seeing them absolutely torn apart as a result of the disease. Many areas have been forced into quarantine – the streets are completely deserted. The need to break the spread of Ebola is absolutely key.
"Right now infection rates are accelerating and we have no option but to rapidly increase our work."
Justin Forsyth, Save the Children's chief executive, added: "It's unfortunately the case that the Ebola crisis is set to get worse before it gets better. Currently, in Sierra Leone and Liberia, infection rates are doubling every three weeks. We have a small window of opportunity to contain the epidemic, which means more treatment beds and critically, more doctors and nurses, on the ground now."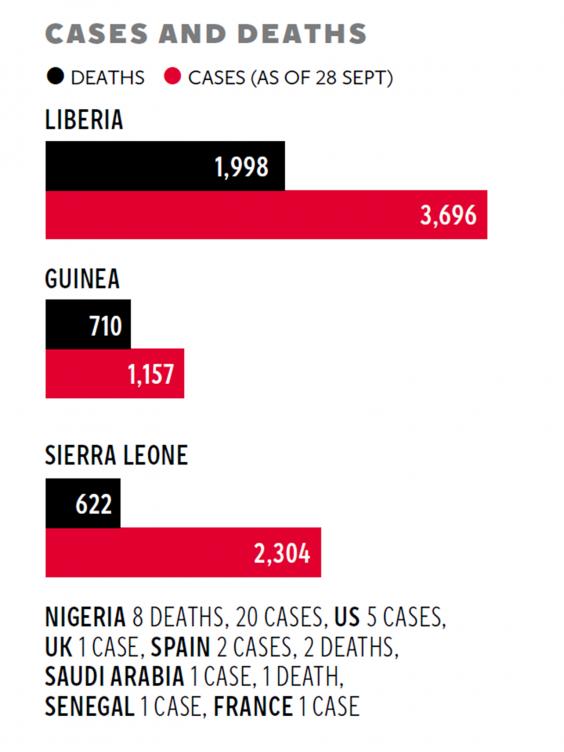 The virus is transferred through bodily fluids such as blood and saliva, but the head of the UN's Ebola mission warned that there was a "nightmare" chance it could eventually become airborne.
"The longer it moves around in human hosts in the virulent melting pot that is West Africa, the more chances increase that it could mutate," Anthony Banbury told the Daily Telegraph. "It is a nightmare scenario [that it could become airborne], and unlikely, but it can't be ruled out."
Dr Jeremy Farrar, director of the Wellcome Trust, said the chances of such a mutation occurring were "extremely small", adding: "I am not aware of any viral infection changing its mode of transmission. This is not to say it would be impossible, but it's important we retain a sense of proportion and not exaggerate the risks."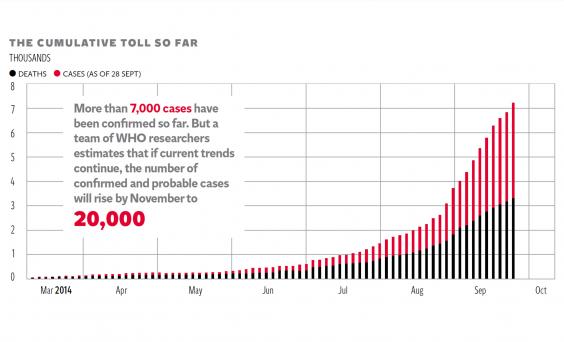 Mr Hammond also revealed that William Pooley, the British health worker who recovered from the Ebola virus, has flown to the United States to give blood in the hope that it might hold the key to a cure.
Mr Pooley, who was the first Briton to contract the deadly virus, travelled to America earlier this week as efforts to create a vaccine intensify.
Blood transfusions from Ebola survivors have been shown to be of some benefit to victims of the disease. Mr Pooley gave blood to an American Ebola victim and it will also be analysed for clues as to why his body did not succumb to the illness.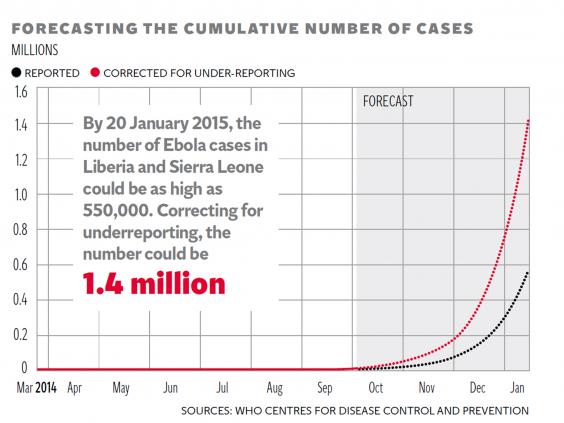 Origins
Ebola first identified in village in northern Zaire in 1976. Is named after nearby Ebola River. Several sporadic outbreaks occur in east and west Africa over next four decades.
March 2014
Guinea confirms unidentified fever which has killed more than 50 people is Ebola. Liberia reports two cases.
May 2014
WHO confirms first Ebola deaths in Sierra Leone.
June 2014
International death toll exceeds 350, making it the worst Ebola outbreak in history.
July 2014
Nigeria confirms first case. Liberia deploys troops to enforce quarantine areas.
August 2014
WHO declares an international public health emergency. Death toll reaches 1,550. Senegal reports first case.
September 2014
US promises 3,000 military personnel to sent to region. Ebola largely contained in Nigeria and Senegal but death toll in three worst-hit countries rises to more than 3,000.
See the Ebola outbreak mapped
See the Ebola outbreak mapped
1/7 25 March 2014

This outbreak of the Ebola virus first emerged in the Guéckédou region of Guinea, at a crossroads with both Liberia and Sierra Leone

2/7 31 March

On 31 March the WHO confirmed the outbreak was now international, spreading first into Liberia's northern-most Lofa region

3/7 27 May

The virus spread to Sierra Leone at the end of May - just as agencies were hoping the worst was over

4/7 27 July

In Sierra Leone the virus boomed, and then it spread to Nigeria when the Liberian diplomat Patrick Sawyer flew from Monrovia to Lagos

5/7 9 August

The Nigeria cases sparked fears around the world, and there have now been deaths in Spain and Saudi Arabia involving people who had travelled to West Africa. The numbers of cases continue to rise

6/7 17-20 September

In mid-September, Senegal confirmed its first case linked to the Ebola outbreak, a development the WHO described as a top priority emergency. Numbers of cases continued to grow exponentially in Guinea, Sierra Leone and Liberia, as experts warned they could number one million by January if not contained

7/7 8 October

Two cases of Ebola have now been reported in the US and Europe - the first times the virus has been contracted among health workers outside Africa
October 2014
Official death toll is 3,330 but experts believe true figure much higher due to under-reporting. Estimates that 1.4m could be infected by January if more is not done.