The emotional moment a colourblind man saw true colour for the first time has been caught on film.
Opie Hughes was given glasses that claim to reverse red-green colourblindness by his family for his birthday in March and they filmed his reaction as he put them on.
The footage shows him trying on the present while surrounded by his three children, his sister and nieces and nephews in the US.
He looks around, stunned and unable to speak, before looking up at the sky and then at the bright flowers his family had planted specially for the occasion.
"Holy cow," he said through tears as he drew his son in so he could look at the colour of his eyes.
Overwhelmed, the video shows Mr Hughes sitting on a step silently crying before walking around outside and inspecting everything he sees.
"I hope I don't look like an idiot though," he jokes. "That's super overwhelming."
The video, which has almost 1.3 million views on YouTube, was uploaded by his sister in March but spread after being shared on Reddit.
Writing on Facebook after his birthday, Mr Hughes said his severe colourblindness had impacted on his life since his childhood.
A recent test saw him only get one answer out of 16 correct.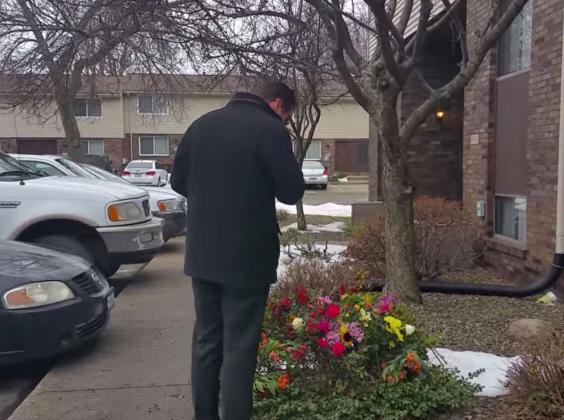 "My life has seriously been completely turned upside-down more than once because of my inability to see colours," he wrote.
"My career ambitions after high school had to change when I heard I would be wasting schooling on a career I would be near impossible to find a position in, I was forced behind a desk in the Army because I couldn't see colors."
Mr Hughes wrote that he has a "terrible time" even dressing himself, has trouble understanding road signals and is unable to do many things that others take for granted.
His family clubbed together to buy him the EnChroma glasses, which cost between $340 (£215) and $440 (£280) and claim to let people usually unable to see colour normally to experience it with lenses that change the way light is perceived by the eye.
Mr Hughes said he hopes one day to be fully cured of colourblindness but the glasses had changed his life.
He described putting them on for the first time as "incredibly emotional" and "the best thing I've ever experienced".
His girlfriend, Amanda Serafini, wrote on Facebook that the family was "overwhelmed" and overjoyed at the reaction to the video.
She added: "(It brings) tears to my eyes every time I watch the video and had tears rolling down my face witnessing first hand Opie seeing all those colors for the first time, and the beautiful blue eyes his children has.
"It was very emotional and a moment we will never forget."
Reuse content