England's A&Es have recorded their worst ever week, as health unions declared the NHS was at "breaking point" and announced a new wave of strike action for the New Year.
Winter pressures and a bed capacity crisis saw record numbers of patients waiting for more than four hours in the week to 14 December, as just six of England's 140 major A&E units met national targets to see 95 per cent in under four hours.
More than 10,000 patients endured trolley waits of up to 12 hours – up 150 per cent from the same week last year.
Overall, fewer than 85 per cent of patients were seen within four hours at hospital A&Es in England – the worst single week's performance since records began.
Demand on the NHS this winter has been unprecedented, but doctors are also concerned that Government cuts to social care have led to unsustainable levels of "bed-blocking", with thousands of patients taking up hospital beds because they cannot access care in the community.
Wales and Northern Ireland, which do not collect weekly A&E figures, are performing even worse, with just 83.8 and 80 per cent of patients seen within four hours in November.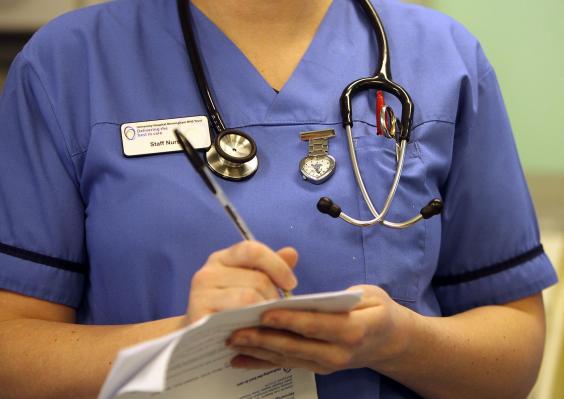 And the latest figures for Scotland, for September, show that 93.5 per cent of patients were seen in four hours – slightly fewer than in England in the same month.
The bleak A&E figures emerged as NHS unions announced a major escalation in their pay dispute with the Government. UNISON, which represents more than 450,000 NHS staff, said its members in England would take part in a 12-hour strike on 29 January, followed by a 24-hour strike on 25 February.
Unite announced similar action, while GMB said it would be consulting its members over a possible 48-hour ambulance strike.
NHS staff are striking over the Government's decision not to grant an across-the-board one per cent pay rise this year.
Christina McAnea, UNISON's head of health, said that its members' paychecks had lost 10 per cent of their value over the past four years, and that many of the 77,000 NHS staff not receiving the Living Wage were now dependent on food banks.
"We have decided not to take strike action over the Christmas period as services are already at breaking point at this time. Our members are demonstrating their concern for patient safety. I only wish the employers and Government would do the same," she said.
"Instead they are being completely irresponsible by refusing to have meaningful negotiations on how we resolve this dispute. And they are putting patients lives at risk."
The Government said it was "disappointed" by the unions' action. A Department of Health spokesperson that meeting the unions' demands would risk 10,000 frontline jobs.
Ministers have also come under fire after the NHS in England announced that weekly data on A&E figures would not be published for two weeks over the Christmas period, in what Labour described as a "news blackout".
Health Secretary Jeremy Hunt has dismissed the criticism, saying that the delay in publication is a result of data analysts taking their Christmas break. The data will be published in the New Year, but today's concerning figures have increased pressure on the NHS to keep the public informed over the festive period.
Labour's Shadow Health Secretary Andy Burnham said it had been the worst week at A&Es for many years.
"This week David Cameron told the Commons the NHS was performing well," he said. "These figures show he is completely out of touch and does not have a grip on the seriousness of the situation now unfolding in the NHS."
Dr Clifford Mann, president of the College of Emergency Medicine said that the key problem for A&Es was delays in discharging people from hospital.
"This is the biggest barrier to timely flow through the hospital and is the prime cause of four hour breaches and long trolley waits," he said.
Dr Louise Irvine, of the National Health Action Party said that "exit-blocking" was being exacerbated by "dramatic cuts to social services budgets", which meant delays in arranging care packages for patients outside of hospital.
Reuse content