A father-of-two suffering from prostate cancer posted a selfie on Facebook showing his colostomy bag and catheter to help raise awareness of the illness among men.
This photograph of Kurt Jewson from Portleven in Cornwall has been shared online over 220,000 times.
The 44-year-old said he wanted others to be aware of the symptoms as one in eight men in the UK suffer from prostate cancer at some point in their lives.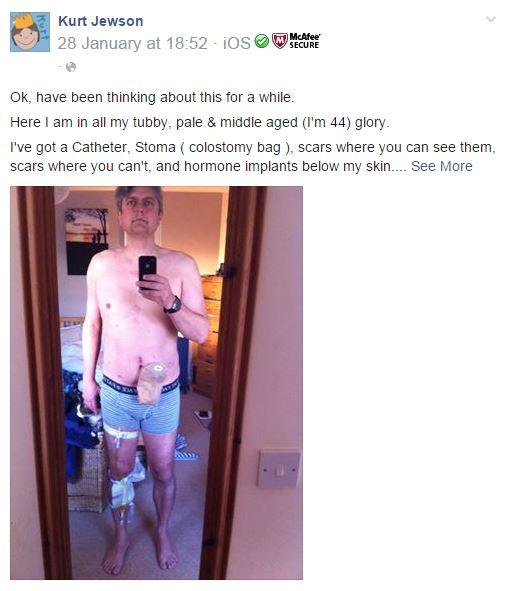 In a post alongside the image, he wrote: "Here I am in all my tubby, pale & middle aged (I'm 44) glory.
"I've got a Catheter, Stoma (colostomy bag), scars where you can see them, scars where you can't, and hormone implants below my skin.
"I have another operation to come, and then radio and/or chemotherapy."
Mr Jewson explained he had gone to his GP in the summer of 2014 after passing blood in his urine.
The doctor had told him it was only an infection and would go away.
While this cleared up, it turned out not to be an infection but a symptom of prostate cancer.
He added: "If my GP had simply taken some blood, and sent it off for a PSA test ( the test for prostate cancer...it's NOT a finger up the ass... That comes later!) then we would have caught this at an early, and much more manageable stage."
Mr Jewson said his family had been "really supportive" of his decision to speak publicly.
However, he said his wife did ask why he had not tidied the room before taking the picture.
Reuse content