Young people who identify as goths may be more likely to suffer from depression or to self-harm, according to new social research into teenage subcultures.
Among 15-year-olds, those who said they strongly identified with goth culture – associated with black clothing, and a preference for the darker side of art and music – were three times more likely to be clinically depressed and five times more likely to self-harm by the age 18.
Researchers said their findings, based on surveys of 3,700 young people, 154 of whom "very strongly" identified as goths, did not prove that being a goth leads to depression, but suggested teenagers already susceptible to depression or self-harm may be attracted to the culture.
Depression and self-harm are a growing concern among teenagers in the UK, with one World Health Organisation estimate last year suggesting as many as one in five 15-year-olds in England may have self-harmed.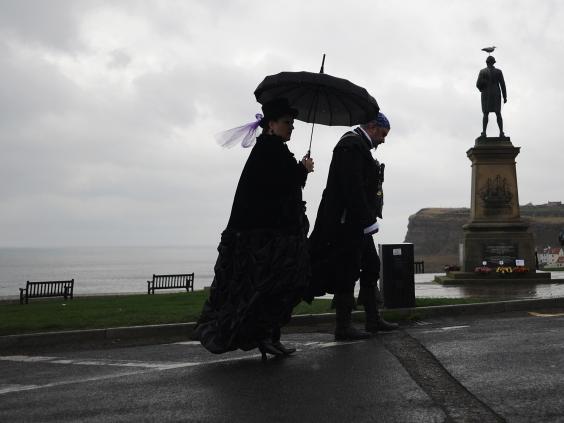 "Teenagers who are susceptible to depression or with a tendency to self-harm might be attracted to the goth subculture, which is known to embrace marginalised individuals from all backgrounds, including those with mental health problems," said the study's co-author Dr Rebecca Pearson, of the University of Bristol.
Of eight teenage subcultures identified by researchers – including 'sporty', 'skater', 'chav' and 'popular' – 15-year-olds who identified with goth culture were the most likely to go on to suffer depression or to self-harm.
Of those that said they very strongly identified with the culture, 28 out of 154 (18 per cent) had survey responses at age 18 indicating clinical depression, and 57 out of 154 (37 per cent) had self-harmed by age 18.
Compared to those who did not identify as goths, even those young people who only "somewhat" identified with the culture were 1.6 times more likely to have survey responses indicating clinical depression at 18.
The study also noted that goths have been subject to stigmatisation and aggression, which could be linked to psychological problems. Manchester police have registered attacks against goths and other subcultures as hate crimes. In 2007, 20-year-old Sophie Lancaster was murdered, after being targeted for being a goth.
Dr Paul Hodkinson, of the University of Surrey's department of sociology, whose research has focused on subcultures and the goth scene – and who considers himself a goth – said it was important to recognise most goths could be part of the culture without any problems with depression.
"There appears to be a higher prevalence of these things among goths compared to other groups. It's an important finding but we shouldn't mix it up with thinking that most people involved in the goth scene have those characteristics – they absolutely don't," he said.
His own research had indicated that many people came to the goth culture after feeling marginalised, or being bullied at school.
In pictures: Gothic festival in Germany
In pictures: Gothic festival in Germany
1/10 Germany

Sebastian (L) and Janosh (R) from Eisenach walk in their costumes during at the Wave-Gotik-Festival in Leipzig

2/10 Germany

A young woman wears a dark phantasy costume as she arrives for the Wave-Gothic-meeting in Leipzig-Markkleeberg

3/10 Germany

Forty events with around 20,000 visitors make up the festival for the gothic scene on Pentecost Weekend in Markkleeberg and Leipzig. The festival is one of the largest of its kind in the world

4/10 Germany

A Goth enthusiast waits on friends while wearing a backpack shaped like a coffin with a bat on it during the annual Wave-Gotik-Treffen music festival in Leipzig

5/10 Germany

Tim (L) and Nino enjoy the Wave-Gotik-Festival in Markkleeberg

6/10 Germany

Goth enthusiasts walk through town during the annual Wave-Gotik-Treffen music festival in Leipzig. The event began in the 1990s and has since grown into one of the biggest gatherings of the Goth scene in Europe with around 20,000 participants. Many of those attending wear elaborate outfits and makeup for which they require hours of painstaking preparation and that also show a departure from the traditional black of the Goth scene

7/10 Germany

Punk remains a strong influence in today's Goth style as witnessed in Leipzig, but newer trends, with names like Cybergoth and Steampunk, have emerged that blend bold colours, Victorian fashion elegance and 19th and 20th century factory accessories into a look reminiscent of a mutated Venetian carnival

8/10 Germany

A sign in a shopping mall advertises discounts on black clothing during the annual Wave-Gotik-Treffen music festival in Leipzig

9/10 Germany

A Goth enthusiast takes an order of French fries with black ketchup during the annual Wave-Gotik-Treffen music festival in Leipzig

10/10 Germany

The five-day Wave-Gotik-Treffen music festival includes performances by around 200 bands
"There is probably a greater than normal number of people that have had that kind of experience in the goth scene," he said. "But it's not the whole picture."
Responding to the findings, published in The Lancet Psychiatry, two psychology researchers have suggested doctors should more closely monitor goths for self-harm risk. However, Dr Hodkinson said this could be an "excessive" response.
"To assume purely from the fact that someone looks a particular way that they need to be assessed for depression or self-harm seems excessive to me, when there are presumably other indicators one could find that are far more definite," he said.