One in two community nurses feels vulnerable at work, and nearly half say that risks to their safety have worsened in the past two years, partly as a result of NHS cost-cutting, the country's biggest nursing union has reported.
The Royal College of Nursing (RCN) said the findings from its survey of more than 1,300 community nurses were "horrifying" and urged for more to be done to protect nurses working in the homes of sometimes hostile patients.
Nearly half of nurses told the survey they had been subjected to abuse while working in the past two years. In one in 10 cases, this involved physical abuse or assault.
Half said they felt vulnerable at work, and one in 10 said they felt this way all the time. The RCN said the stress of dangerous situations could put nurses "at serious risk of burnout".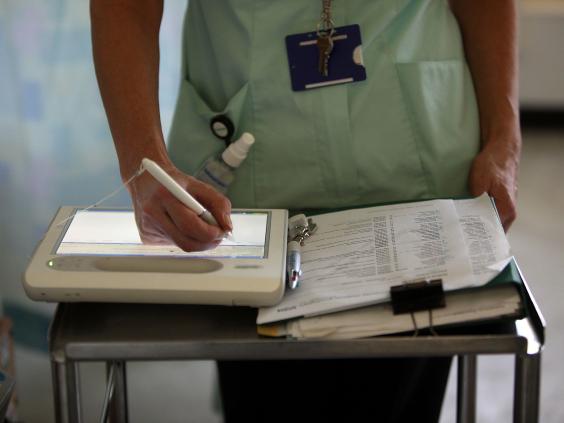 Increasing caseload and lack of staff, and increasing requirement for out-of-hours working were all identified as causes for the increase in risk. Nurses are also missing out on personal safety training, which only a third of staff interviewed for the survey said they had received. Even fewer nurses had access to 'worker protection devices' – used when working alone, to raise the alarm in the event of potential danger. Only 13 per cent they could access the devices, which were rolled out in 2009 with Government funding. However, many nurses said they had since been withdrawn by their employer as a cost-cutting measure.
Dr Peter Carter, chief executive and general secretary of the RCN, said that the risk to nurses should be of paramount concern, given the likely increase in demand for community nursing services, to cater for an ageing patient population.
"It is horrifying to hear of a worsening situation, and one where people who go to work each day to care for people end up feeling alone, afraid and under attack instead. It is hard to give the best care when you go to work in fear – and we really need all employers to take the safety of their staff seriously," he said.
"Sadly, it seems that the safety of staff is something that is subject to compromise when money is scarce. This is an utterly false cost saving – not only do staff often need time off following physical injury or assault, but the risk of stress and burnout is severe and can continue into long term absence."
Only 22 per cent of nurses said their managers always knew where they were when working alone in the community. Dr Carter said nurses should always work in pairs, or have a safety alarm, when working with potentially challenging patients.
One nurse told the RCN she had been forced to take a student with her for "backup" for a second visit to a family, after being temporarily locked in the house and not allowed to leave the first time.
"I was there some time and received no call from the office to determine my safety and after the incident there was no follow up with the family, no additional safety plan and in fact it was down to me to visit again," she said.
Another nurse told the survey: "I was verbally abused by a patients' relative. I informed the office - still had to visit and no further action was taken other than documenting it on patient notes. [I] did not feel supported, [and] was wary about visiting that patient due to the relative. But felt I had to, because I would have failed my patient by not giving them the treatment they required in their home".
Danny Mortimer, chief executive of the NHS Employers organisation, said: "Any level of violence or aggression towards NHS staff is unacceptable. We know that the safety of staff and their patients is the number one priority for NHS organisations who work hard to provide safe working environments for staff. Lone workers face particular challenges and we have produced guidance in conjunction with our staff side colleagues to support NHS organisations focus on improving safety for this group of staff."
Reuse content