Health officials have "failed brain tumour patients and their families for decades" and need to invest more in research into the condition, a damning parliamentary report has concluded.
Patients with brain tumours are let down at every stage from diagnosis to treatment, according to the Petitions Committee – which said it had little reason to believe the Department of Health had "grasped the seriousness of the issue". MPs on the committee criticised the Government for not taking the lead in identifying gaps in research and providing funding for new studies which could help save lives.
The Petitions Committee concluded that funding for brain tumour research is inadequate and not given sufficient priority. Brain Tumour Research said just 1 per cent of the national spend on cancer research is allocated to studies into brain tumours.
The report comes after a bereaved sister set up a petition calling for more research into brain tumours – it has since been signed by more than 120,000 people. Maria Lester began campaigning after her brother Stephen Realf died from a brain tumour aged just 26. "We are going to keep shouting and keep getting louder until someone in Government finally hears what we are saying and does something about it," she said.
The committee's report concludes: "There has been little improvement in the prognosis for brain tumour patients over the last 30 years." It adds: "Brain tumour research has been seriously underfunded over decades, putting it far behind many other cancers in terms of the improvement in outcomes for patients."
Helen Jones, chairwoman of the Petitions Committee, said: "We heard testimonies both from victims of this terrible disease, and from clinical specialists working in the area. The evidence was clear – something must be done to improve outcomes for patients."
The report states that funding for site-specific brain tumour research comes mostly from the voluntary sector but the MPs said the Government "must not leave charities to tackle this devastating disease alone". Ministers should also play a greater role in identifying gaps in funding by setting priorities for research, it states. The MPs also said more must be done to raise awareness of the disease.
The Petitions Committee called on the Government to give a clear statement on whether it thinks current levels of funding are adequate and, if not, what it plans to do to ensure that future funding for research increases.
George Freeman, minister for life science, said: "Early diagnosis and treatment of cancer, including brain tumours, is a priority. The Government invests more than £1bn every year into health research and works closely with patients, charities and our world-leading life sciences industry to support further research into this devastating disease."
But Sue Farrington Smith, chief executive of Brain Tumour Research, said: "This ground-breaking report makes it clear that brain tumour patients have been failed at every hurdle. The recommendations are bold and clear: implement an early diagnosis strategy for GPs and clinicians; use their influence to galvanise funding for brain tumour research and remove the systematic barriers to continuous and sustainable brain tumour research.
Sarah Lindsell, chief executive of The Brain Tumour Charity, added: "The lack of funding for research is part of the much wider issue for brain tumour patients, which includes a lack of awareness of signs and symptoms leading to late diagnosis, which in turn can mean poor outcomes and poor quality of life."
Case study: A pilot's legacy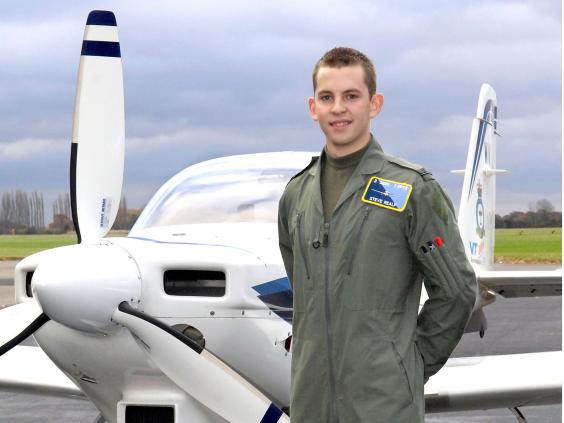 Stephen Realf was 19 when he first noticed symptoms and after his diagnosis he was forced to leave military training and move back in with his parents in Rugby, Warwickshire.
In the years following his diagnosis, the aspiring RAF pilot tried to live each day to the full, his sister said.
"As soon as he was diagnosed with the tumour we knew his life would be limited by this illness and we had to make the most of the time that we had with him," Maria Lester said. She added: "I hope that the fact that he has inspired this campaign is going to be the legacy he leaves, and I think he would be very proud of that."
Press Association
Reuse content