Doctors, nurses and hospital workers across the country are sending photos of themselves to Jeremy Hunt to prove they work over the weekend as he pushes for seven-day services.
The Health Secretary claimed a "Monday to Friday" culture existed parts of the NHS in a speech on Thursday that fuelled an ongoing row with the British Medical Association (BMA).
In the wake of his comments, enraged medical staff have been sharing pictures of themselves at work with the hashtag #ImInWorkJeremy.
Good evening @Jeremy_Hunt just to let you know #ImInWorkJeremy, as is my fiancé, we're both on nights this weekend pic.twitter.com/PNFD5QqL78

— Jon Hilton (@JonJHilton) July 17, 2015
#ImInWorkJeremy Just beginning a Friday evening OOH shift. pic.twitter.com/IVfmoNQtD2

— #hellomynameis Simon (@simonbrowes) July 17, 2015
Hi @Jeremy_Hunt just letting you know Im in tonight, oh and my consultants in too #ImInWorkJeremy @IminworkJeremy pic.twitter.com/bBpwIU2dky

— Pete (@peteturton85) July 17, 2015
@morefluids Its just after midnight. I make that 18th July - Oh and guess what @jeremy_hunt #ImInworkJeremy pic.twitter.com/O8hXSKwUE3

— Clarabel (@GlastoNurse) July 17, 2015
Well it's the early hours on saturday morning and guess what #iminworkjeremy @Jeremy_Hunt pic.twitter.com/e1P3AZoxiC

— joseph pick (@joejpick) July 17, 2015
@zeno001 @scrubsblues @Jeremy_Hunt #ImInWorkJeremy joy of being a consultant surgeon and not coming in a 2am get real pic.twitter.com/Sv92c6ZZYl

— Mike Henley (@trentconsultant) July 18, 2015
415am and in a&e working.. Just how I want to spend my Saturday morning @Jeremy_Hunt #ImInWorkJeremy pic.twitter.com/iWknOXy0Lj

— Persis bee (@persiskb) July 18, 2015
Day 5 of 7 which is odd given that we don't work weekends.. #ImInWorkJeremy @Jeremy_Hunt #fb pic.twitter.com/WNkEIuHIsY

— J Rocks (@jonnyrocks99) July 18, 2015
@Jeremy_Hunt you're probably still in bed, I'm leaving my family at home to work a 10 hour shift, #ImInWorkJeremy pic.twitter.com/bFnHriZ5dA

— Gill Reeson (@gillyred) July 18, 2015
Hello @Jeremy_Hunt. I am off to work until 20.30. That is if the hospital is open of course...#iminworkjeremy pic.twitter.com/TC4180xwul

— BecauseNursesCare (@HannekeWiltjer) July 18, 2015
@Jeremy_Hunt 2:30 am today after treating a sick child No need to change our contract #ImInWorkJeremy #professional pic.twitter.com/2VpKmKmQKt

— TajFregene (@TajFregene) July 18, 2015
#ImInWorkJeremy - have been all night. And the night before. And all of this week. Back tonight too! #NHScoasting pic.twitter.com/WwehQKk8OO

— Clovis Rau (@clovisrau) July 18, 2015
Finished night shift exhausted considered sleeping on loo @Jeremy_Hunt still tucked up in bed prob #ImInWorkJeremy pic.twitter.com/7WOxCV24bD

— Danielle Jade (@daniellejade198) July 18, 2015
7 GP's at my practice with 4 of us working today @Jeremy_Hunt #ImInWorkJeremy pic.twitter.com/xqNPDmE4jH

— Xanthe Phillips (@gogogoatarama) July 18, 2015
6th day of my 12 days in a row working hard in the NHS Mr Hunt. #ImInWorkJeremy pic.twitter.com/l31I9oPoYn

— David Bratt (@davidbratt17) July 18, 2015
teamwork 365 days a year to ensure safe delivery of babies: Xmas Day, New Years Eve & normal weekend #ImInWorkJeremy pic.twitter.com/BWaaWnQnMe

— Reena Aggarwal (@drraggarwal) July 18, 2015
The hashtag was trending on Twitter in the UK on Saturday morning, having been used more than 17,000 times.
It drew huge support from the public, with some praising medical staff as "heroes" and highlighting Mr Hunt's Parliamentary holiday time.
"Apologies, but Jeremy Hunt is out of office so won't be able to read your #ImInWorkJeremy tweets," one commenter joked. "He'll be back on Monday at 11am. Ish."
But some people argued that if doctors were working, they should not be using Twitter, while others defended the Health Secretary's comments.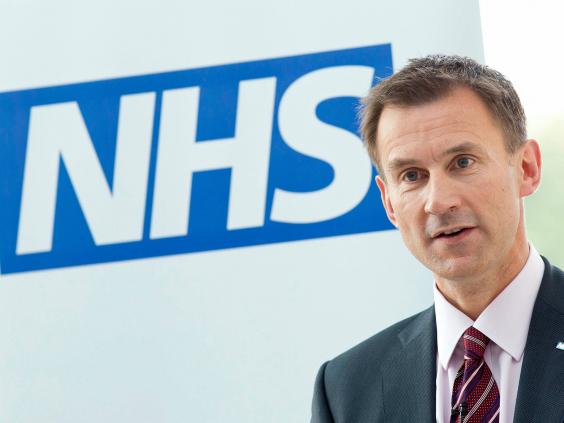 Outlining his plans for NHS reform, Mr Hunt claimed 6,000 people die every year because of the lack of a "proper seven day service" in some areas.
He has given the BMA six weeks to negotiate changes to working contracts for hospital consultants and junior doctors and threatened to force the extra hours if they do not comply.
Dr Mark Porter, chair of the BMA council, said doctors support weekend hospital services and have repeatedly called on the government to give concrete proposals on how they will fund and staff them.
In numbers: the NHS crisis
"This is a blatant attempt by the Government to distract from its refusal to invest properly in emergency care," he added.
Current consultant contracts allow senior doctors to opt out of weekend work while on call as long as it is not an emergency.