The Government's message on improving seven day services in the NHS has become "muddled" during the junior doctor contract dispute, the man appointed by Jeremy Hunt to lead negotiations has said.
Sir David Dalton, the respected chief executive of Salford Royal NHS Foundation Trust, said that junior doctors were in fact the NHS staff group that will have to do the least extra work in order to achieve the Government's ambition of improved hospital services at weekends.
Speaking in an interview with the Health Service Journal, he also acknowledged that the strike, which received significant public support, demonstrated that the British Medical Association (BMA) could "land a punch" on the Health Secretary.
However he said that a planned walkout from all hospital departments – including those providing emergency care which has so far been spared strike action – would be "disastrous" and could usher in "a long, dirty war of attrition" between doctors and the Government.
In pictures: Junior doctors protests in UK
In pictures: Junior doctors protests in UK
1/10

20,000 Junior Doctors marched through central London in protest at the new contract changes the government is trying to impose which they say will be unfair and unsafe

2/10

Junior doctors protest in London

3/10

4 year old Cassius takes part in a demonstration in Westminster, in support of junior doctors over changes to NHS contracts, London

4/10

Protest over proposed changes to junior doctors' contracts, Leeds

5/10

Junior doctors and NHS staff protesting against the health service cuts and the proposed contract changes offered by the government outside Parliament

6/10

Junior doctors and NHS staff protesting against the health service cuts and the proposed contract changes offered by the government outside Parliament

7/10

Over 5000 junior doctors rallied in Waterloo place, before marching through Whitehall and onto Parliament Square, in opposition to Jeremy Hunt's new working conditions for doctors

8/10

Demonstrators listen to speeches in Waterloo Place during the 'Let's Save the NHS' rally and protest march by junior doctors

9/10

Junior doctors marched in London to highlight their plight

10/10

A protester at a demonstration in support of junior doctors in London
Sir David, who leads one of the country's best-performing hospitals, was appointed by Mr Hunt to take charge of talks with junior doctors earlier this month. However, he suggested that junior doctors had needlessly been made to feel victimised during their drive for improved weekend services.
"My assessment is that the staff group that will have to contribute the least above that which they are providing at the moment would be our doctors in training. Our messaging on this has got muddled," he said.
"The fact that has not been made clear at the outset has been received as a criticism of the contribution that trainees make.
"We should be saying safe reliable care across seven days is our aim and not single out this as an issue that only affects medical trainees.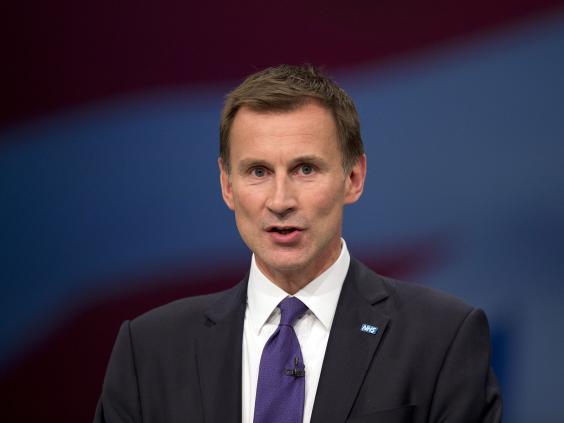 He said it was right for the NHS to address "unwarranted variation" in care at different times of the week, but said the "whole system" needed to "re-orientate itself".
Nurses and other NHS staff are also expecting their contracts to come up for renegotiation, with any proposals for cuts to out-of-hours pay – similar to those that have contributed to the junior doctor dispute – likely to cause anger. The Royal College of Nursing has already said cuts to unsocial hours pay would be a "red line" that could trigger industrial action.
Sir David said it was now time for both sides in the junior doctor dispute to allow "respectful private discussions". Several issues, including disagreement over what safeguards should be in place to protect junior doctors from being over-worked, still need to be resolved.
"What happened [on 12 January] was that the BMA has been able to demonstrate it can land a punch on the secretary of state. I think it reinforces for the BMA that they have a mandate and support to do what they have done," he said. "What we must now seek is a lowering of the temperature and a movement into private discussion. This is not the time for heroics."
He said a planned full walkout in February would be "unprecedented".
"If we arrive at that point then I can see this being a long, dirty war of attrition and nobody will come out on top of that and the government will be placed in a position where it would have to consider acting in the interests of patients to secure safe services," he warned.