Junior doctors are increasingly pessimistic a deal can be reached to avert a new year strike, after their union leader warned there were still "absolute areas of disagreement" with the Government.
The most significant industrial action by medics in 40 years could take place as early as the second week in January.
The British Medical Association, NHS Employers, and officials at the Department of Health all agree progress has been made since a strike was averted at the eleventh hour in November, with all sides agreeing to talks guided by mediation service Acas.
But in a message to junior doctors posted on an online forum on Christmas Eve, the BMA's junior doctor committee chair Dr Johann Malawana said that there were still two "absolute areas of disagreement" over the Government's new contract offer.
Talks are heading for a January deadline, with strike action highly likely if no deal is reached. Doctors are "very pessimistic" that the Government will back down, a source close to the negotiations said.
Ali Parsa: The banker bringing the market to the NHS
While the details of any new offer have not been released, Dr Malawana said that "safety and fairness" were doctors' priorities and indicated that negotiators were still not satisfied on these points.
Concerns around the safety of the new contract have centred on the removal of financial penalties for hospitals that require them to pay doctors working beyond contracted hours significantly more, which medics say have been the only reliable safeguards against unsafe hours and burnout, which has a knock-on effect for patient care.
The Government proposes to scrap the penalties, which Jeremy Hunt has described as a "perverse incentive" for doctors to work unsafe hours. Instead, hospital inspectorate the Care Quality Commission will be asked to consider junior doctor working hours in their inspections.
Doctors point out that many juniors already work well beyond their contract hours because it is necessary for the delivery of safe care on under-staffed wards.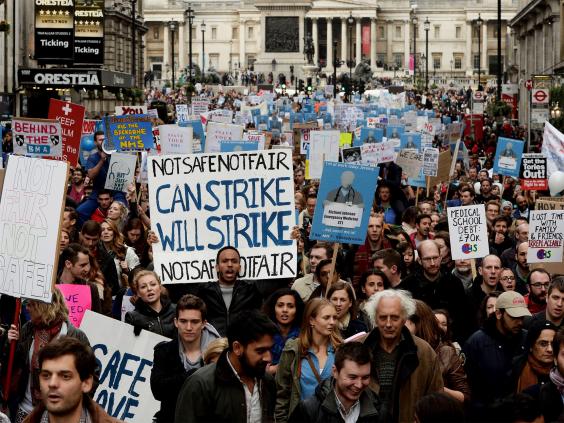 Fears that the contract offer would be unfair to some doctors are likely to centre on the removal of out-of-hours pay bonuses for working evenings and Saturdays. Doctors are also concerned about plans to remove automatic pay progression, which they say would penalise any doctor who takes time out to have a family or to do research.
In a post to 62,000 members of the junior doctor Facebook forum, Dr Malawana wrote: "Whilst significant ground has been made, and [the junior doctor committee] has worked extremely hard within certain constraints set out from the government, there are still a couple of absolute areas of disagreement."
He adds: "It is therefore absolutely clear that should we not be able to reach an acceptable outcome by 4pm on 4th January, the BMA will need to commence serving notice as per its mandate, to the NHS, for industrial action the following week."
Danny Mortimer, chief executive of NHS Employers, which is leading negotiations alongside the Department of Health, criticised the way in which the message had been posted before the completion of negotiations, and said talks had been "adjourned" until the 4th or 5th or January, but that work to "refine details" was ongoing.
"Sensitive negotiations are not a spectator sport and I still do not propose to provide a running commentary on their progress since the ACAS agreement," he said.
A Department of Health spokesperson said: "We have been making good progress with the BMA, and look forward to further discussions in the New Year.
"As we have consistently said, talks are always better than strikes and we are prepared to talk about anything within the pay envelope as long as we improve patient safety by moving towards a 7-day NHS. Our proposals offer better basic pay and safety for junior doctors, with a shorter working week."
Reuse content