Grandparents, older siblings and close friends who take on the full-time custody of children should be accorded the same rights and supports as parents who adopt, experts say.
There are more than 200,000 children living with kinship carers – guardians other than their parents who are relatives or family friends. Yet charities working with these families say they do not have the support or rights they need, despite the children often having been through similar traumas to those that are fostered or adopted.
Public support for the idea of kinship carers getting more help is overwhelming, but their legal status and support lags far behind foster parents and adoptive parents. While children who go through fostering or adoption are often given fast-tracked help with mental health problems, for example, this typically does not apply to children taken into the care of relatives for the same reasons of neglect. This can mean waiting years to help children with serious attachment issues.
Similarly, foster parents have a set amount of financial support for taking in children, whereas some kinship carers are eligible for nothing, or only get help set at a discretionary rate by their local authority.
A Populus poll for Family Rights Group, a charity that supports kinship carers, shows that 84 per cent of the public believe that both the children who are unable to live with their parents – and their carers – should have the same right to help and support as those who have been adopted.
Cathy Ashley, the chief executive of Family Rights Group, said: "The hidden army of kinship carers in the UK look after some of the most vulnerable children in society. Many begin looking after a child at a moment's notice, often forced to leave their job and make huge sacrifices.  Far too many are left to fend for themselves, without any form of support. Yet despite this, children brought up by family and friend carers tend to feel more secure, have fewer emotional and behavioural issues and do better academically than those in unrelated care."
An even greater percentage – 87 per cent – of the public believe that if a child is unable to live with their parents, the first option should be for them to live with their wider family, according to the same polling. Only 1 per cent disagree. Yet government support is still seen as lacking by many.
The Shadow Minister for Children and Families, Steve McCabe, said: "Labour recognises that the role of kinship carers is too easily overlooked. We intend to tilt the balance in favour of kinship caring for all care situations where it is appropriate and we plan to give new rights and support to kinship carers."
The Kinship Care Alliance is calling on the Government to introduce a Family and Friend Carers Passport, based on the model of the adoption passport, to guide people through the services available. It believes this would also ensure that both carers and agencies are aware of the child and carers' entitlement.
Local authorities should have a legal duty to ensure that the option of a child living with family and friend carers is explored and assessed before a child enters the care system, according to the alliance. They also want all councils to publish a model family and friend carers policy, with a designated council employee assigned responsibility for implementing the policy.
Case study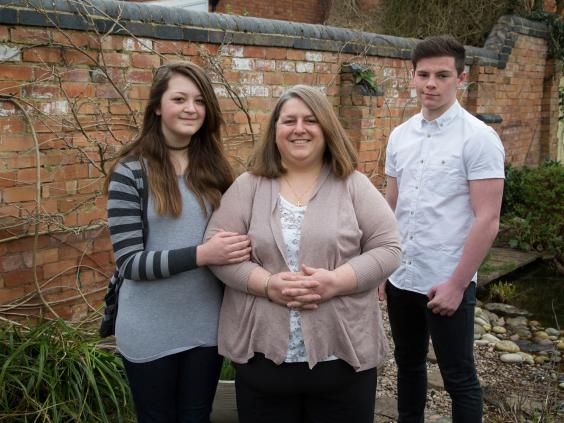 Enza Smith, 50, and her husband Dave, 52, from Worcester, look after their grandchildren Chloe, 12, and Bradley, 16
"We took in Bradley aged two and Chloe aged six. Our eldest daughter was a mum at 16 and couldn't cope. She and her partner turned to class A drugs and it became an unsafe place for the children. Our youngest child was about to leave home and we felt we'd done our bit and were looking forward to a more comfortable life, but that didn't happen. We were quite willing to take them because we love them. My husband has terminal cancer and has three to five years left, if he's lucky. He's working as a special needs teacher for as long as he can to make sure I can support the kids. I work as a supply teacher once or twice a week but I don't have the energy to do more.
"With both Bradley and Chloe there's an issue of foetal alcohol syndrome. Bradley has ADHD and he's extremely active. He's suffered a lot; he had no support during primary school. If he was taken into care or adopted, they would have done an assessment and realised this child needed help. Chloe was put in for a mental health assessment in year four but has still had no assessment in year seven.
"I established a support group called Kinship Carers UK, which supports foster carers and adoptive parents too. If your child is placed in care with social services you can see a mental health specialist within two weeks. They have extra support in schools, but kinship carers and their children haven't got a tick box. If a kinship carer has a special guardianship order that you perform yourself, then financially you don't have anything. Kinship carers can have a financial assessment but each local authority can pay what they wish."
Emily Dugan
Reuse content