Actress Lynda Bellingham has died of bowel cancer after announcing that she was stopping treatment for the disease.
She had been undergoing chemotherapy but said the time had come to "cease and desist" against the terminal illness.
Ms Bellingham, who was also known for her work as a presenter on Loose Women and other programmes, died aged 66 on Sunday.
She had been battling bowel cancer, also called colon cancer, for more than a year and it had spread to her lungs and liver.
It is one of the most common types of cancer diagnosed in the UK, with around 40,000 new cases every year, according to the NHS.
Almost one in 20 people in the country will develop it in their lifetime.
The disease predominantly affects over-60s and the early symptoms are shared with many less serious illnesses.
Risk factors include a diet high in processed meat and low in fibre, being overweight, lacking exercise, having a high alcohol intake and smoking.
Everyone between the ages of 60 and 69 in England is offered bowel cancer screening every two years, and the programme is currently being extended to those aged between 70 and 74. It can help detect bowel cancer before it causes obvious symptoms, which increases the chances of survival.
Lynda Bellingham: Life in pictures
Lynda Bellingham: Life in pictures
1/15 Lynda Bellingham

Lynda Bellingham poses holding her medal after being invested as an Officer of the Order of the British Empire (OBE) during a ceremony at Buckingham Palace in central London on 14 March 2014

2/15 Lynda Bellingham

Lynda Bellingham with (left to right) sons Michael and Robert, husband Michael and step-son Bradley arrive at Buckingham Palace in central London for an Investiture Ceremony where she received an OBE (Officer of the Order of the British Empire) on 14 March 2014 in London

3/15 Lynda Bellingham

Lynda Bellingham and Michael Pattemore attend the BAFTA Television Craft Awards at The Brewery on 27 April 2014 in London

4/15 Lynda Bellingham

Lynda Bellingham attends The Laurence Olivier Awards at the Royal Opera House on 28 April 2013 in London

5/15 Lynda Bellingham

(L-R) Carol McGiffin, Lynda Bellingham, Denise Welch, Kate Thornton, Leslie Garrett and Andrea McLean on 20 January 2010

6/15 Lynda Bellingham

Lynda Bellingham and her dance partner Darren Bennett on 2009 Strictly Come Dancing

7/15 Lynda Bellingham

(L-R) Amy Lame, Diana Moran, Ruth Lorenzo, Laila Morse and Lynda Bellingham launch the 'If I can do it...' Cancer Research Race for Life campaign on 2 March 2009 in London

8/15 Lynda Bellingham

'Loose Women' Presenters (L-R) Sherrie Hewson, Coleen Nolan, Carol McGriffin, Jackie Brambles, Lynda Bellingham and Jane McDonld arrive for the TV Quick & TV Choice awards at the Dorchester Hotel on 3 September 2007 in London

9/15 Lynda Bellingham

Britain's Queen Elizabeth II chats to guests at the ITV 50th Anniversary celebration, including (R - L) Nicholas Parsons, Lynda Bellingham and Harry Hill on 13 October 2005 in London

10/15 Lynda Bellingham

(L to R) Actors Dame Diana Rigg, Robert Bathurst, Zoe Wanamaker, Stephen Fry, Jane Asher and Lynda Bellingham attend the Stars Shine For Autism Christmas Concert on 2 December 2003 in London

11/15 Lynda Bellingham

Nickolas Grace and Lynda Bellingham on 24 February 1999

12/15 Lynda Bellingham

Lynda Bellingham with her sons in 1991

13/15 Lynda Bellingham

A scene during rehearsal for an Oxo TV advertisment which was screened in 1987, with Lynda Bellingham and her on-screen husband, Michael Redfern

14/15 Lynda Bellingham

Film producer Greg Smith (left) with his bride actress Lynda Bellingham after their marriage, accompanied by the best man actor Robin Askwith, on 7 November 1975

15/15 Lynda Bellingham

Actress Lynda Bellingham on 4 October 1972
The most common way to treat it is a combination of surgery, chemotherapy, radiotherapy and medication, depending where the cancer is and how far it has spread.
"Overall, between seven and eight in every 10 people with bowel cancer will live at least one year after diagnosis and more than half of those diagnosed will live at least another 10 years," an NHS spokesperson said.
"Every year, around 16,000 people die as a result of bowel cancer."
Charities including Bowel Cancer UK are working towards improved care and awareness of the disease.
A spokesperson for the charity said early diagnosis of the illness can be a problem because of the nature of the symptoms.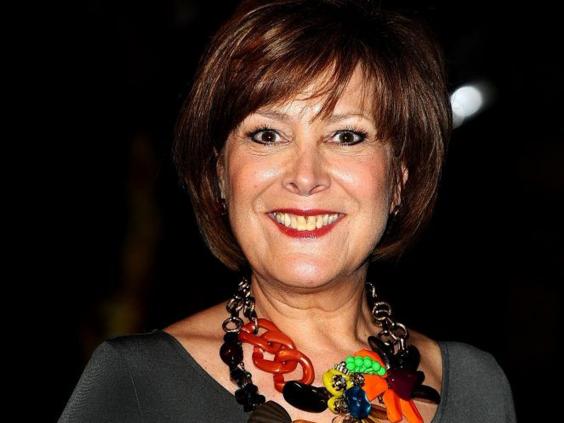 "Bowel cancer survival rates in the UK lag behind the rest of Europe, mainly because people are unaware of the symptoms of bowel cancer or are uncomfortable talking about them, so are diagnosed late," he added.
"Each year, thousands die unnecessarily."
For more information on bowel cancer and its symptoms, click here.
Reuse content