The country's leading medical union is to seek legal advice on the treatment of young doctors by their NHS employers, amid concerns that it may be in breach of the Human Rights Act.
Junior doctors say hospitals up and down the country routinely ignore their requests for leave to attend "life events", such as weddings, and often give young doctors little more than a week's notice for holidays.
At their annual conference in London, junior doctors called for their union, the British Medical Association (BMA), to determine whether the practice breaches European laws that enshrine the right to a family and a private life. Working conditions for junior doctors have become a major source of tension between medical staff and their NHS employers, and negotiations over a new contract have stalled.
Junior doctors usually have little to no say over when and where they work, or when they take their holidays. Although they work on average 46 to 47 hours a week, this can include spells in which they are contracted to work 12 days in a row.
Morale in the workforce has hit new lows, union leaders say, with doctors at yesterday's conference citing examples of colleagues given two weeks' notice to arrange a rota swap or face working on their own wedding day, despite giving prior notice. Fatigue among doctors and its effects on patient safety have become a major concern.
Negotiations over a new junior-doctor contract collapsed after 18 months in the autumn, with the BMA saying that the Government had failed to guarantee safeguards to protect doctors from working "dangerously long hours, compromising patient safety and doctor wellbeing".
With pay negotiations with the new government set to restart in the coming weeks, Dr Kitty Mohan,  co-chair of the BMA's junior-doctor committee, warned employers that the "goodwill" of NHS staff could soon run out. 
"We know the NHS relies and functions on the basis of a lot of goodwill and extra hours put in by all NHS staff," she said. "It seems like a false economy to try to chip away at junior doctors' and other NHS staff's pay.
"It seems not to grasp the really fundamental work NHS workers are doing day in, day out. There's only so much goodwill among NHS workers and at some stage it will run out."
The increasing strain on NHS resources
Union leaders said that low salaries and high costs for training, exams and insurance combine to make life difficult for many trainees. In their first two years of working, junior doctors earn, on average, £26,000 a year. Although salaries increase as doctors progress, these can be offset by the cost of paying for exams to enter the Medical Royal Colleges, which doctors must pay themselves. Depending on their speciality, the cost of training can range from £5,000 to more than £20,000 over the course of the three to five years of specialist training.
Bill McMillan, assistant director of medical pay and workforce at the NHS Employers organisation, said that the new contract offered to junior doctors was "fair and reasonable" and "balanced the needs of the patients with those of junior doctors".
"Of course, all healthcare professionals need to organise their work around the needs of patients," he said. "There is an agreed code of practice that minimises disruption to junior doctors' personal lives by providing them with relevant information before they are employed. Employers are committed to using that effectively and they do their utmost to avoid clashes with personal 'life events'."
Case study
Dr Aaron Borbora, 28, is senior house officer at a hospital in the north-west, which he asked not to be named. He regularly works 12 days in a row, followed by just two days off.
"There are times I've come into work and been utterly exhausted. It's hard to face it. You always have to be 100 per cent for your patients: you've got to show confidence to that patient. It's difficult to keep that up if you're so, so tired.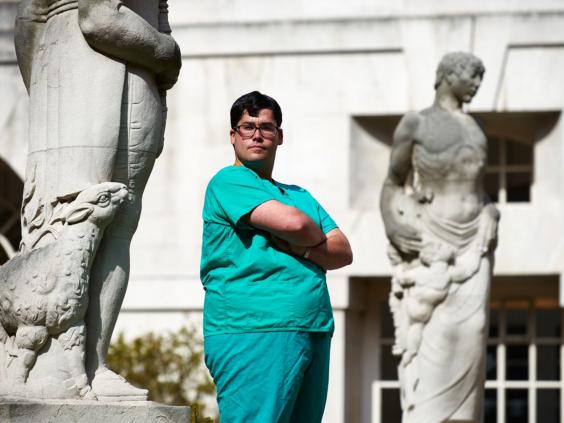 "Two colleagues had road accidents after working very intensive shift patterns. When you sign up to be a doctor you're aware it's a demanding job, that you're expected to work nights and weekends. What we find difficult is the lack of organisation and support.
"People have a right to a private and a family life, and it makes it very hard when you don't know when you're going to be working.
"We may be assigned a day off here or there to comply with the European Working Time Directive, but that's not enough to really rest.
"Morale is low and we just don't feel we're getting the support from our employers."
Charlie Cooper
Reuse content