As many as 80 bereaved families are bringing legal negligence claims in an NHS scandal that is expected to provoke a political storm this week, when an inquiry into failings at three hospitals is published.
The claims involve babies and mothers having died or babies being born with severe disabilities at maternity units run by University Hospitals of Morecambe Bay NHS Foundation Trust (UHMBT) which operates maternity units in hospitals in Cumbria and Lancashire.
On Tuesday a long-awaited investigation into the trust is expected to name staff whose actions contributed to the deaths of mothers and babies and the severe disabilities of babies born at the three hospitals.
The investigation, ordered by Jeremy Hunt, the Secretary of State for Health, has looked at dozens of cases between 2004 and 2012 and interviewed 100 people over the past 18 months. It has been chaired by Dr Bill Kirkup CBE, who previously led an inquiry into Jimmy Savile's behaviour at Broadmoor Hospital.
It is understood that as many as 35 letters have gone out to individuals facing criticism in the report, giving them the opportunity to challenge the findings.
In numbers: the NHS crisis
It is thought the Morecambe Bay units escaped attention because the babies died after being transferred across the north of England to other hospitals. This meant neo-natal death rates were misleadingly low in the UHMBT's units, and some escaped scrutiny by coroners' courts.
Carl Hendrickson, 47, lost his wife Nittaya, 35, and his newborn son Chester in 2008 at the trust's Furness General Hospital. "If it was any other industry, people would be in jail," he said. Nittaya had a heart attack after suffering a rare amniotic fluid blood clot while giving birth to Chester, who had brain damage. He died the next day.
The law firm Burnetts has advised numerous families, including James and Hoa Titcombe, whose son Joshua died in 2011.
"We're going to be reading this report in 2015, about failures dating from 2004," said Mr Titcombe. "Why are we reading about them so far down the road? The whole system at the time acted, I think, to keep bad news under wraps."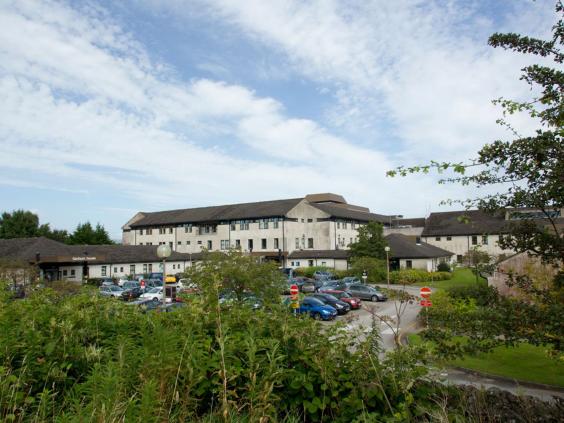 More than 40 families have contacted Burnetts with concerns about the care they have received at Furness General Hospital. A second firm, Pannones, is believed to have received a similar number of complaints.
The University Hospitals of Morecambe Bay Trust is already £30m in debt and in special measures, with the Care Quality Commission due to return for an inspection in the next few weeks.
The report is expected to find that mothers and babies were put at risk because midwives and doctors were at loggerheads. It has been claimed nursing staff failed to alert doctors quickly enough about problem births.
But midwives have told investigators they were made to feel irrelevant by doctors, who pushed them aside during difficult labours.
The report is likely to say crucial medical notes exposing substandard treatment have been lost or destroyed, and to call for reforms in the way medical staff are held to account. The report was originally due by summer 2014, but was granted two extensions.
In 2012, a Care Quality Commission report found serious problems in the Morecambe Bay Trust's A&E wards, including broken equipment and patients fainting from pain because of seven-hour waits.
Reuse content