A consultant angered by Health Secretary Jeremy Hunt's claims that a "Monday to Friday" culture exists within the NHS has published an honest account of exactly how much he earns on call and at weekends.
Karan Kapoor posted the no holds barred letter to his Facebook page, describing what he takes home as a newly-appointed NHS ENT (Ear, Nose and Throat) consultant when working outside his usual hours. 
His on-call supplement per month, he reveals, pays just £313.54 - the equivalent of £2.61 per hour and significantly less than the minimum wage.
"My on calls per month add approximately 120 hours of work in addition to my normal working week," he writes. "This is made up of being on call one day per week and one weekend in 5 - 5pm on Friday to 8am on Monday.
"Simple maths says that works out as £2.61 per hour - significantly less than the minimum wage let alone the living wage."
Mr Kapoor, whose post has been shared thousands of times, goes on to say that he has "never looked to opt out", even though financially "it would make sense".
And he expresses his shock and horror over the South West Surrey MP's push for "seven day services" that will entail changes to contracts for NHS staff.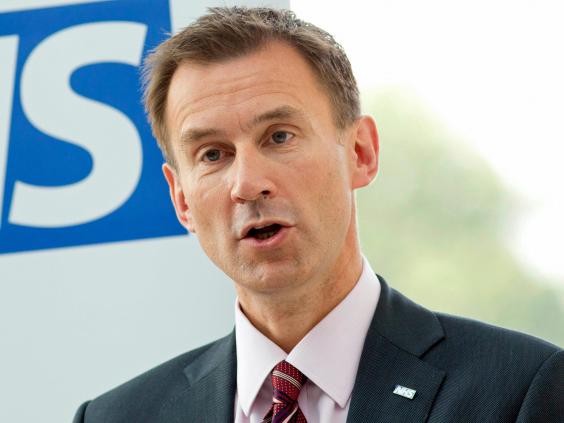 "I am genuinely offended that you have openly questioned my professionalism and vocation or that of my colleagues," Mr Kapoor writes.
"I am no different to the thousands of Consultants, Junior Doctors, Nurses, Physios, Pharmacists, Secretaries, Speech Therapists, etc.
"We don't go on strike, we don't hold the country to ransom, we don't compromise patient care because we were meant to go home 2 hours ago, instead we go above and beyond, understanding the true meaning of professionalism and being exemplar to any health service in the world.
"Without this silent and diligent commitment, the NHS would have crumbled many years ago."
Last week a petition to call a debate on a vote of no confidence in the Health Secretary hit 100,000 - the required number of signatures to be considered for debate in Parliament - in less than 24 hours.
The petition, which was started by Dr Ash Sadighi, argues that Mr Hunt has "alienated the entire workforce of the NHS" with his plans "to impose a harsh contract and conditions on first consultants and soon the rest of the NHS staff." This was accompanied by the trending Twitter hashtag #ImInWorkJeremy.
In his Facebook post, Mr Kapoor asks Mr Hunt to justify his claims - and to reveal exactly how many NHS consultants have actively opted out of weekend work.
He says that he has tried to find further information on plans for implementing a seven-day working week via the Department of Health website and NHS England - to no avail.
"It is self-evident that either your expert advisers are missing or your speech writers incompetent," he writes.
"As a workforce we are very understanding and forgiving. We are often verbally and even physically abused by people who are confused and clearly don't understand how they got into such a state; we forgive them and do our best to fix them. I would urge you to simply apologise for the language you have used, and look to engage in a conversation rather than an ultimatum."
Mr Kapoor concludes: "I, my colleagues and the Royal Colleges and agree with the principle of the NHS working efficiently every day of the week. The NHS has spoken clearly that the current proposals do not address the problem, and are not a viable solution."
Mr Kapoor received an outpouring of support for his honest post.
Aftab Malhotra commented: "Clear, succinct,candid and well crafted. Hats off to you and the entire NHS fraternity."
Shak Moh wrote: "Wow. Shocking. Regardless..Thank you for not opting out and looking after our health."
Farrah Bajwa added: "Well written, to the point and more importantly, unlike the Health Secretary, honest. Well done Karan!"
Others appear to be in similar positions to Mr Kapoor - with Neelan Das simply commenting: "Snap...."
And Vikram Dhar said: "20 years of training, 3 degrees , quietly get on with life saving surgery getting paid a third of the minimum wage. Then Mr Hunt suggests we don't work weekends and need to act professionally! I think he has helped us bring this situation to light. We must fight to KEEP our profession the wonderful profession it should be."
Reuse content