Mounting pressure on day-to-day NHS cancer services are beginning to impact on the country's ability to deliver world-leading science and life-saving medical breakthroughs, Cancer Research UK has warned.
The NHS is home to internationally-renowned cancer scientists and specialist centres such as the Royal Marsden and Imperial in London and Christie in Manchester.
But a survey of cancer clinicians, nurses and administrators has uncovered widespread concern that staff are finding less and less time to devote to research, because of their responsibilities to NHS patients.
While the report by the University of Birmingham, commissioned by Cancer Research UK, said the country was still a world-leader, with one in five cancer patients recruited to research studies, compared to one in 26 in 2000, it found that financial pressures on the NHS, which is facing a £30bn deficit by 2020, were also beginning to impact cancer research.
The NHS is treating more cancer patients than ever before. More than 331,000 were diagnosed in 2011 – a figure which has almost certainly increased since. More people are also surviving cancer. Half of those diagnosed today will live for 10 years or more, compared to one in four 40 years ago.
While this progress is testament to the huge successes of previous cancer research breakthroughs, it also means that more people require NHS cancer treatment.
The difficulty of keeping up with demand within the NHS has already begun to show. The key waiting times target for cancer patients to begin specialist treatment two months after being referred by their GP was missed throughout 2014, for the first time since the target was introduced in 2009.
Cancer specialists told the survey their research work was increasingly being "squeezed out" by patient demand.
One clinical academic told the report their research often "spills out onto the evenings and weekends".
"I would say that 20 percent of my time is spent doing clinical activities, 20 percent of my time is spent doing NHS administration…and 60 percent of my time is spent doing research of which much is undertaken in my own time," they said.
The report also found that funding pressures led many senior managers and commissioners to see cancer research "as an extra on top of existing service provision".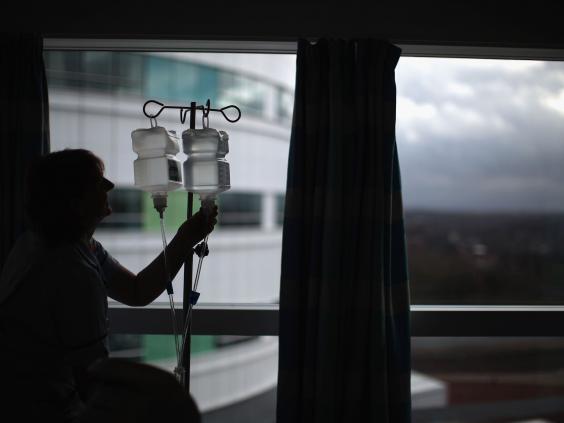 Professor Peter Johnson, Cancer Research UK's chief clinician said that the NHS' "unique capacity for research" was not being "fully exploited".
"We've made great progress in treating cancer, with survival rates doubling in the last 40 years, so it's vital our NHS doctors and nurses have enough time to continue the outstanding research that had made this possible," he said.
The report was also critical of NHS England, the new organisation body created by the last Government to provide strategic leadership for the health service in England. It said that while the importance of research in the NHS had been enshrined in law, NHS England had not yet taken "decisive leadership…leaving the NHS without a clear vision for how to achieve its legal duty".
Emma Greenwood,  Cancer Research UK's head of policy said: "We want to see NHS England make a clear commitment to championing research across the entire health system. This means putting in place a clear strategy to ensure all healthcare bodies provide the capacity and funding to allow clinical research to take place more widely, so that more cancer patients can reap the benefits of the world-class research taking place around the UK."
Professor Sir Bruce Keogh, national medical director of NHS England, said: "As this report clearly highlights, we have more people taking part in clinical trials for cancer than any other comparable country, which has undoubtedly contributed to improving survival. We are absolutely committed to helping create the right environment for research to continue to flourish in the NHS, ensuring evidence is translated into patient care.
"We are working closely with the Department of Health to develop a plan for doing this and we are also investing £100m in Academic Health Science Networks to further improve patient outcomes across the board by bringing scientific research from bench to bedside."
Reuse content