Public satisfaction with the NHS is at its second highest level ever, according to a new survey, in surprise findings that suggest soaring waiting times and severe pressures on A&E have not shaken people's faith in the health service.
The British Social Attitudes survey, carried out by the highly-respected King's Fund think-tank, found that satisfaction rose to 65 per cent in 2014, while dissatisfaction was down to just 15 per cent – its lowest level since the survey began in 1983.
Satisfaction was up five per cent on 2013 – despite deteriorating NHS performance against key waiting times for A&E treatment, routine operations and cancer care, and a major funding crisis in the health service.
The findings will come as a blow to Labour, which has said the NHS is facing "its most perilous moment" ahead of May's election, and staked its campaign around a 10-year plan to revive the health service.
Health Secretary Jeremy Hunt welcomed the findings, calling them "a tribute to hardworking NHS staff".
Experts at the King's Fund said that the rise in satisfaction levels may in part "reflect a desire among the public to show support for the NHS as an institution".
"Public satisfaction with the NHS is high and has risen significantly, despite a year in which the service hit the headlines for financial pressures and difficulties in A&E waiting times," said Professor John Appleby, chief economist at the King's Fund.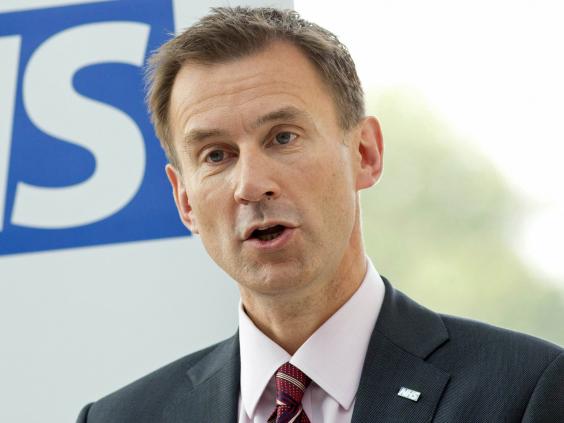 However, satisfaction with GP services is at its lowest ever level. Despite still being the most popular NHS service, the satisfaction rating dipped to 71 per cent in 2014.
The parties clashed over the NHS yet again yesterday, after it emerged health bosses in the West Midlands had received new guidance that appeared to make it harder for them to declare a major incident.
At least 14 hospitals declared major incidents earlier this month as pressures on A&E reached new extremes, leading to serious concerns about the NHS' capacity to cope with winter pressure.
The new guidance, issued by NHS England to Clinical Commissioning Groups in the region, provided a checklist of 17 actions for hospitals and other health services to consider before declaring a major incident.
In a leaked email exchange, the head of operations at a local hospital said the guidelines would "effectively stop trusts from calling a major incident", adding it should be shared with A&E doctors because "our hands will be tied in most cases if they wish to call a major incident for capacity reasons".
The increasing strain on NHS resources
Responding, an A&E consultant at the hospital said that the guidance appeared to be "an attempt to dampen down the heat and the media attention on the EDs [emergency departments] and their major incidents".
In a letter to Mr Hunt, Labour's Shadow Health Secretary Andy Burnham said it was a "highly unusual move for new guidance to be issued in the middle of a difficult winter" and challenged the Health Secretary to confirm that it had not been issued "to keep A&E pressures out of the news".
However, Mr Hunt said that he was neither aware of nor approved the new guidance, adding that decisions on major incidents were "local operational decisions taken by NHS managers".
Mr Burnham said that questions remained over the guidance.
"With the NHS remaining under severe pressure, there is no room for confusion between what the Health Secretary says in the House of Commons and the guidance to trusts," he said. "Doctors on the ground do not share Hunt's interpretation of the current guidance. He must clear up this confusion without delay."
Reuse content