A film which could help save infants is to be shown to thousands of new parents across Britain this month in a bid to prevent the violent abuse of crying babies.
Each year nearly 200 babies suffer "non-accidental head injuries" – the leading cause of death and long-term disability in infants who are abused. Medically termed as "abusive head trauma", the injuries are often caused by adults shaking or hitting a baby. One in four children will die as a result of such injuries, and most – between 50 and 80 per cent – of those who survive suffer disabilities such as cerebral palsy and blindness.
But showing new parents a film devised by doctors, midwives and child protection experts can prevent such tragedies, according to a new report by the NSPCC to be released this week.
It presents the results of a two-and-a-half-year pilot programme in which tens of thousands of parents at 24 hospitals and birthing units have been shown a Coping With Crying film aimed at preventing them losing control when faced with screaming infants.
For some families, crying can be a very serious problem which can "disrupt parents' developing bonds with their babies, and in extreme cases, can cause parents to get angry and harm their babies", warns the report.
But a 10-minute DVD, developed by experts at the NSPCC, Warwick Medical School, and Great Ormond Street children's hospital, has changed attitudes for the better and reduced injuries, according to the study. Featuring parents talking about their own experiences, the film prepares people for their baby's crying, provides advice on soothing a baby and managing their own stress, and warns of the dangers of shaking a baby – which can rupture blood vessels in the brain and result in blindness, deafness, fits, learning difficulties, brain damage and death.
The report states: "Parents with 'difficult' babies (those with feeding, sleeping or crying difficulties), reported a lower rate of injuries that had resulted in their baby seeing a doctor or nurse, when compared with parents who hadn't watched the film."
It adds: "Although this finding relates to all injuries rather than just non-accidental ones, it indicates that babies of parents who watched the DVD were indeed safer."
Parents who had viewed the DVD were also more likely to agree that it is all right to leave your baby to cry for a few minutes when you are stressed and finding it hard to cope.
Those who watched the film were more than three times less likely to report an injury to their child.
Sally Hogg, one of the authors of the report, told The Independent on Sunday: "Two per cent of those who had seen the DVD said that their baby had had an injury compared to 7 per cent of the comparison group." She added: "Those who had watched the film used more soothing techniques and were more likely to take action to calm down if they felt themselves getting frustrated."
And Cathy Warwick, head of the Royal College of Midwives, said: "We're delighted to see such promising results … Everyone looking after a baby needs to know shaking can have very serious consequences."
The film is being offered to parents during pregnancy or after they have returned home with a new baby, in 19 areas of the country. It is set to be available nationwide next year.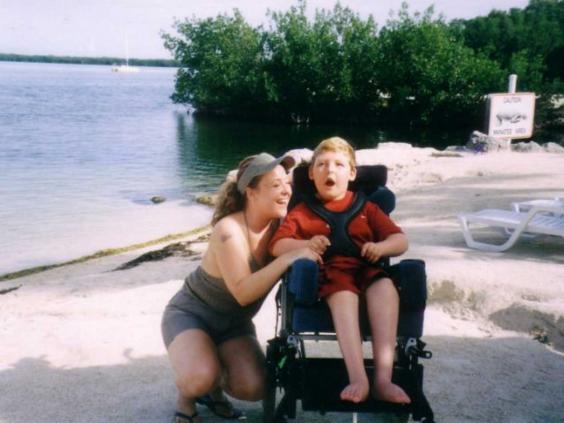 Cast study: 'Ellis's injuries were consistent with being in a 70mph car crash'
Mae Pleydell-Pearce loved her "beautiful" son, Ellis. But her world changed for ever when he was just three months old: her ex-partner shook her baby boy so violently that he stopped breathing.
"Both of Ellis's eyes haemorrhaged, he had three broken ribs, a broken leg, and his brain was severely damaged. His brain was torn, and the damage caused it to swell. Ellis was on a life-support machine for six days." Her son was left permanently brain damaged and his injuries were "consistent with being in a 70mph car crash unrestrained, or being dropped from a seventh-storey window on to his head. "Ellis's world was now one of darkness, pain and the inability to move."
He spent the rest of his short life in and out of hospital and died when he was just 14 years old. "As I sat cradling him I knew that it had taken Ellis 13 years 11 months and 13 days to die, but that now he was free."
Reuse content