A critically ill student has taken to social media to try and track down a stem-cell donor in a last ditch attempt to save her life. 
Medical student Vithiya Alphons, 24, was in a lecture at Cardiff University when she began to feel unwell.
Little did she know her body was in fact fighting a deadly disease.
In her final year of ophthalmologist studies, Vithiya was diagnosed with aggressive leukaemia,
Doctors gravely admitted she has only two months to find a donor or will die. 
The blow came after there were initial positive signs following intensive courses of chemotherapy over four weeks. 
After immediately starting the treatment, she said: "I was in so much pain, vomiting six or seven times every day, and had every side effect possible, but I tried to stay positive.
"I felt normal again, I'd been home for three weeks and my hair was growing back. I felt so positive. 
"My nurses, consultant, everyone, thought we'd beaten it.
"But unfortunately, further tests showed the leukaemia was still there in my blood and I'd definitely relapse in under a year unless I had a stem cell transplant. 
"It was so upsetting and unexpected."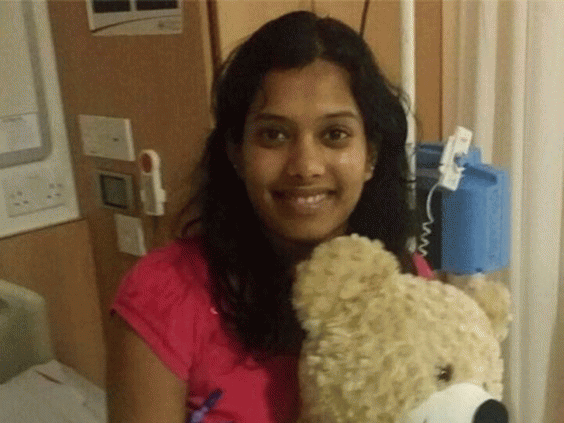 Doctors told her that had it lain undiscovered for any longer, there was a real chance she would not have seen another day. 
Vithiya recalled: "I asked if I could go back to uni, and I remember the doctors looking at me and saying no way. 
"They explained, 'If you'd left it a few more days, your parents would have been organising your funeral this week.' It was a shock. 
"I just thought, 'thank God I'm still alive."
Her only hope now is a stem-cell transplant, and she is desperately searching for a match.
But she is in a critical race against time, made all the more difficult by her Sri Lankan heritage.  
'We are together, we'll be OK' – portraits of daily life with cancer
Her 22-year-old brother Clime, who immediately quit his job as a network engineer to be his sister, was only 50 per cent compatible. 
She has launched appeals on social media in a bid to encourage people from a south Asian background to join the world's register, set up by charity Anthony Nolan. 
Despite being faced with the limited options, she remains optimistic. 
She added: "I knew it was going to be difficult because there aren't many people from South Asian backgrounds who are signed up as donors. 
"I'm a big believer that everything happens for a reason. 
"Maybe it will make sense one day. In the meantime I'm determined to raise awareness in my community. 
"Even if it doesn't help me, it could help someone else."
Ann O'Leary, Head of Register Development at Anthony Nolan, said: "Vithiya is a bright and inspirational young woman and somewhere out there, there's a potential lifesaver who could give her a lifeline by donating their stem cells."
Reuse content