France has the highest number of teenagers who smoke cannabis, according to a global survey.
In the Health Behaviour in School-aged Children study from the World Health Organization, which examined the effect of gender and socioeconomic differences in young people's health in 42 countries in Europe as well as Canada and Israel, 16 per cent of 15-year-old boys in France admitted that they had used cannabis in the last 30 days.
Among the girls, the figure stood at 14 per cent.
In England, nine per cent of boys and eight per cent of girls said they had used cannabis in the last month, according to data from 2013/14. In Wales, it was seven per cent of boys and eight per cent of girls.
Cannabis around the world
Cannabis around the world
1/13 Morocco

Farmers destroy cannabis plantations under Moroccan police supervision in the northern Moroccan Larache region, pictured here in 2006

AFP/Getty images

2/13 Colorado

Growing business: Cannabis on sale at River Rock Wellness

Sam Adams

3/13 Oakland

Oaksterdam in Oakland, California, is the world's only university dedicated to the study and cultivation of cannabis

Alain Jocard/AFP/Getty Images

4/13 Seattle

A cannabis smoker marks the start of the new law by the Space Needle in Seattle

Getty Images

5/13 China

Cannabis growing wild in China, where it has been used to treat conditions such as gout and malaria

6/13 Uruguay

Uruguay has voted to make the country the first to legalize marijuana

AFP/Getty

7/13 Colorado

A groundswell of support from the public led to full legalisation in Colorado

Getty Images

8/13 Berlin

A man smokes licenced medicinal marijuana prior to participating in the annual Hemp Parade, or 'Hanfparade', in support of the legalization of marijuana in Germany on August 7, 2010 in Berlin, Germany. The consumption of cannabis in Germany is legal, though all other aspects, including growing, importing or selling it, are not. However, since the introduction of a new law in 2009, the sale and possession of marijuana for licenced medicinal use is legal.

Sean Gallup/Getty Images

9/13 UK

The UK latest figures show 2.3 million people used cannabis in the last year

AP

10/13 Amsterdam

Tourists visiting Amsterdam will not be banned from using the city's famous cannabis cafes

Getty Images

11/13 Merseyside

These 25 cannabis plants, seized in Merseyside police, could have generated a turnover of £40,000 a year

12/13 San Francisco

April 20, 2012: People smoke marijuana joints at 4:20 p.m. as thousands of marijuana advocates gathered at Golden Gate Park in San Francisco, California. The event was held on April 20, a date corresponding with a numerical 4/20 code widely known within the cannabis subculture as a symbol for all things marijuana.

Reuters

13/13 Spain

A cannabis users' association will pay the town of Rasquera more than €600,000 a year for the lease of the land
For the Netherlands, where possessing up to 5g of cannabis is legal and where the substance is allowed to be sold in "coffee shops", nine per cent of boys said they had smoked it in the last 30 days.
The general pattern across the 42 countries was that cannabis use was higher among boys than girls.
Here are the seven charts that show the countries with the highest number of teenage cannabis smokers: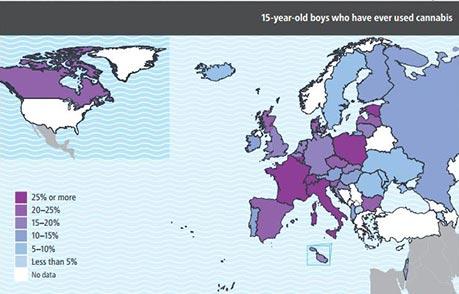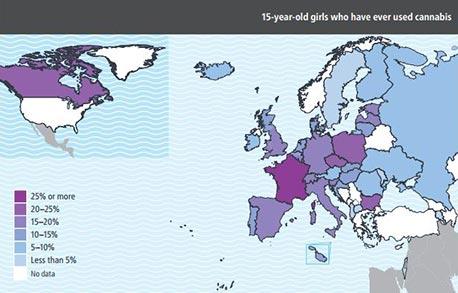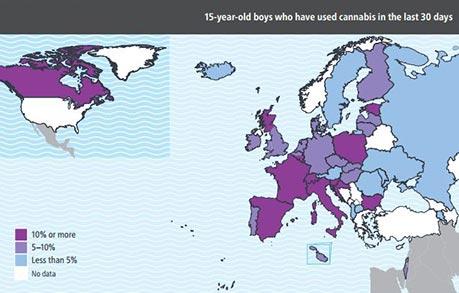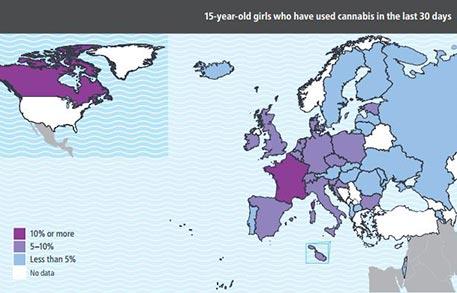 The study suggested that teenagers were more likely to use the substance if they had friends and older siblings who did so. Another reason behind usage was "if [the teenagers] experience either low parental involvement".
With 14.6 million young adults using cannabis in 2014, it is the most popular drug in Europe, according to the report.
And across the continent, the substance - at 37 per cent - was most commonly reported for new admissions to drug treatment facilities in 2014. Heroin was second 28 per cent, followed by cocaine at 21 per cent.