Google has chosen to honour the Indian guru BKS Iyengar - who is credited with bringing yoga to the West - to mark what would have been his 97th birthday. 
BKS Iyengar - whose birth name was Bellur Krishnamachar Sundararaja Iyengar - died last year after an eight-decade career popularising his version of "Iyengar yoga" in India and across the world. 
But here are some of the things you may not know about the great yogi: 
1.His brother-in-law was known as the "father of modern yoga"
In 1934, Tirumalai Krishnamacharya first invited his young, sickly brother-in-law to train with him in what was then the kingdom of Mysore (now Karnataka state) in southern India to improve his health.
Krishnamacharya was one of the key figures behind the revival of "hatha yoga" - from which Iyengar yoga developed - in the early 20th century which focused on the correct alignment of the body.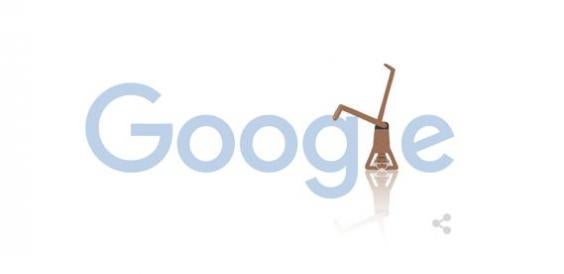 2.  He owed his international success to an American violinist
In 1952, Yehudi Menuhin befriended BKS Iyengar. Menuhin believed doing yoga improved his playing and invited him to Switzerland with him in 1954. 
After that visit, Iyengar travelled frequently to the west to demonstrate his special technique and hundreds of Iyengar yoga centres sprang up around the world. 
Google Doodles
Google Doodles
1/30 Nettie Stevens

Google celebrates Nettie Stevens 155th birthday

2/30 Father's Day 2016

Google celebrates Father's Day 2016

3/30 Elizabeth Garrett Anderson birthday

Google celebrates Elizabeth Garrett Anderson 180th birthday

4/30 Earth Day

Google celebrates Earth Day 2016

5/30 Ravi Shankar

Google marks Pandit Ravi Shankar's 96th birthday

6/30 Olympic Games in 1896

Google are celebrates the 120th anniversary of the modern Olympic Games in 1896

7/30 World Twenty20 final

Google celebrates the 2016 World Twenty20 cricket final between the West Indies and England with a doodle

Google

8/30 William Morris

Google celebrates William Morris' 182 birthday with a doodle showcasing his most famous designs

Google

9/30 St Patrick's Day

17 March 2016: St Patrick's Day

10/30 Caroline Herschel's 266th birthday

Caroline Herschel discovered eight comets and comprehensively catalogued the stars

Google

11/30 Clara Rockmore's 105th birthday

Clara Rockmore was a pioneer of the Theremin musical instrument

12/30 International Women's Day

#OneDayIWill video marks International Woman's Day on 8 March, 2016

13/30 St David's Day 2016

Google marks St David's Day 2016 with a doodle

Google

14/30 Leap Year

Google celebrates Leap Day 2016, February 28

Google

15/30 Lantern Festival 2016

Google celebrates the last day of the Chinese New Year celebrations with a doodle of the Lantern Festival

Google

16/30 Stethoscope Inventor, René Laennec

Google celebrate's René Laennec's 235th birthday

17/30 Valentine's Day 2016

Google celebrates Valentine's Day with a romantic Doodle

18/30 Dmitri Mendeleev

Google celebrate Dmitri Mendeleev's 182nd birthday

19/30 "The televisor" demonstartion

Google Doodle celebrates 90 years since the first demonstration of television or "the televisor" to the public

20/30 Professor Scoville

Google marks Professor Scoville's 151st birthday

21/30 Sophie Taeuber-Arp

Google marks Sophie Taeuber-Arp's 127th birthday

22/30 Charles Perrault

Google celebrates author Charles Perrault's 388th birthday

23/30 Mountain of Butterflies discovery

Google celebrates the 41st anniversary of the discovery of the Mountain of Butterflies

24/30 Winter Solstice

Google celebrate the Winter Solstice 2015

25/30 St Andrew's Day 2015

Google marks St Andrew's Day 2015 with doodle featuring Scotland's flag and Loch Ness monster

26/30 41st anniversary of the discovery of 'Lucy'

Google marks the 41st anniversary of the discovery of 'Lucy', the name given to a collection of fossilised bones that once made up the skeleton of a hominid from the Australopithecus afarensis species, who lived in Ethiopia 3.2 million years ago

27/30 George Boole's 200th birthday

The Google Doodle on 2nd November to mark George Boole's contribution to science

28/30 Halloween 2015

Google celebrates Halloween 2015 using an interactive doodle game "Global Candy Cup"

29/30 Prague Astronomical Clock

Google celebrates the 605th anniversary of the Prague Astronomical Clock, one of the oldest functioning timepieces in the world

30/30 Autumnal Equinox

Google marks the autumnal equinox on 23 September 2015
3. He taught the 85-year-old Queen Elisabeth of Belgium how to do a headstand
Iyengar was first introduced to the dowager Queen in 1958 and she told him she wanted to learn how to do his signature sirasana headstand. 
She gave him a bust of his head which she had sculpted herself. In 1965, he visited her again to help her regain some control of her movements after she suffered a stroke at 92. 
Iyengar was a favourite of main celebrities such as writer Aldous Huxley and cricketer Sachin Tendulkar. 
4. His children became celebrated yoga teachers as well 
His eldest daughter Geeta and his son Prashant have become internationally renowned yoga practitioners and now run the Ramamani Iyengar Memorial Yoga Institute - which BKS Iyengar founded in 1975 in honour of his late wife. 
He also trained his granddaughter, Abhijata Sridhar Iyengar as a yoga teacher for many years and she now teaches at the institute and abroad.
Reuse content