When Sue Cook was diagnosed with an aggressive form of breast cancer, doctors warned her she was unlikely to survive. So when a double-mastectomy saved her life but left her with an enormous scar, the 62-year-old knew a tattoo would help her regain control over her body. 
Cook, who is from Wrightington near Wigan and works in the arts, was told she had breast cancer in 2008. In the year and a half that followed, she endured six months of chemotherapy and a mastectomy, followed by five weeks of daily radiotherapy and another operation which cut away all of her breast tissue. 
Deciding her body had been through enough, Cook opted against reconstructive surgery and breast implants. Instead, she decided to mark five years of remission by having at tattoo over the scar to "reclaim her body." 
"Before I had the mastectomies I was a D cup, and I was so poorly I lost two and a half stone. When you go from a size 16 to eight it takes a while to reassess your body." Reconstructive surgery that involved taking fat from her back was a "step too far", she said. 
"People who know me really well know I'm a control freak," Cook told The Independent. But the disease stripped that away. As her cancer was so aggressive, she could only choose between having a mastectomy or dying. 
"During the treatment you have to do what everyone tells you to. You are told where you stand, sit, lie. It just goes on and on. Getting a tattoo was me making a decision to myself about my body. It felt empowering."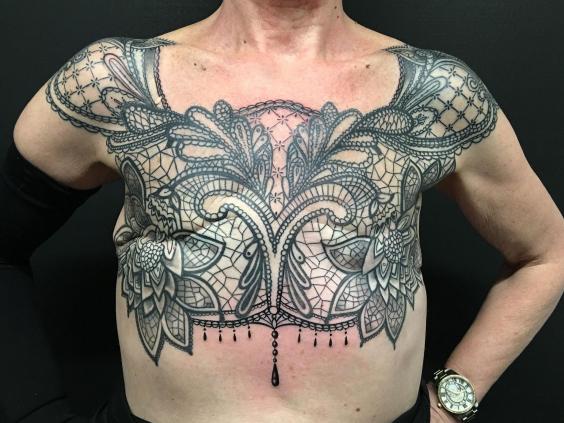 Cook, who is the chief examiner for the University of the Arts London's Foundation in Art & Design course, chose a Mandala-style pattern for the tattoo. The intricate monochrome pattern reminded her of delicate lingerie that makes her feel beautiful "even if it's a hidden secret". 
"I thought 'I can transform my scars into something beautiful to symbolise the next step in my life'."
Her tattooist Greg Hall at Holy Trinity in Wigan spent 30 hours over six months etching the design across her chest and onto her shoulders. It was completed in June. 
To celebrate eight years in remission, the art examiner has organised the Curating for a Cure auction between 16 to 23 October where she will sell dozens of artworks by former students in aid of Cancer Research.
It will feature work by Conor McDonnell, who previously held the title for the 'most liked photo ever on Instagram' - a snap of Kim and Kayne's wedding which got 2.5m likes.
Cook added that not every cancer patient will want to have a tattoo, but encouraged others to "listen to their hearts" and do what helps them to heal. 
"Don't forget to celebrate and rejoice," she said. "Cancer doesn't have to leave the last mark."
You can take part in the Curating For a Cure auction by visiting the website or Facebook page.
Reuse content