The Arndale shopping centre in Manchester is an impractical place to take a nap. Shoppers hurry through its drafty, off-white interior. People stop on curvy benches to eat Greggs pasties. Workers rush back to their desks before the end of their lunch break. No one notices the low throbbing sound emanating from a big black tent right in the middle of the building, opposite Starbucks. Then from the buzzing big top a line of people emerge, yawning: they've just had 15 minutes of top quality sleep.
The Chronarium Sleep Lab landed at the Arndale shopping centre as part of the Manchester Science Festival, an 11-day long event taking in more than 100 installations and activities across the city.
From periscope making to mushroom growing, much of the schedule is dedicated to stimulating people with the wonders of science. This is perhaps the only one designed to to put them to sleep. But it could be the most important.
"Sleep deprivation is a massive future health hazard, " says Dr Caroline Horton, senior lecturer in cognitive psychology at Bishop Grosseteste University in Lincoln. Research shows that people in the UK are sleeping several minutes a night less than they did 10 years ago. Many of us waste time awake in bed, our faces illuminated by blue smartphone light.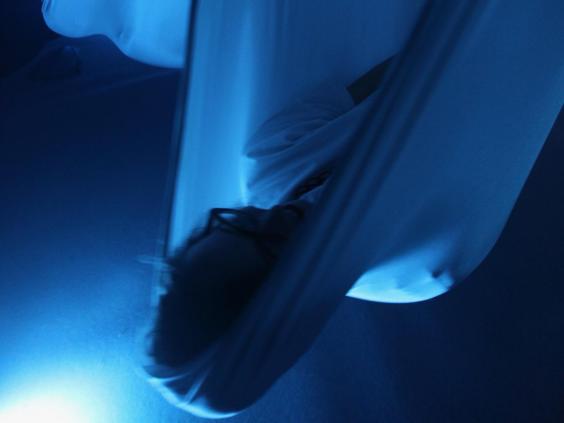 The scientific community is yet to build a long-term body of evidence of the consequences, but lack of sleep has been associated with the rise of Alzheimer's, dementia, mental health disorders and slower recovery times from cancer treatments. 
Each day, the waiting list for spaces at the Chronarium fills up quickly. At their allotted time, volunteers gather excitedly at the mouth of the curtained enclosure and remove their shoes. Inside, white slings hang like pupae in a circle, bathed in soothing blue and purple light. There is much squealing as an assistant tries to help people climb inside the fabric, an aerial silk normally used for a kind of gravity-defying yoga.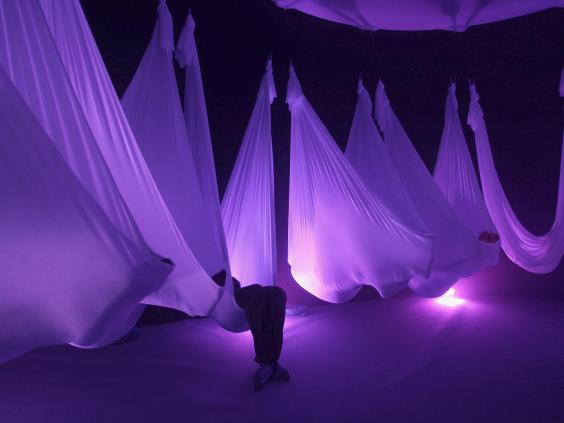 A voiceover explains how to sit in the sling and stretch the fabric over the feet and head so that everyone is lying with their feet towards the centre of the tent. The voice instructs people to concentrate on the heaviness of their bodies against the soft fabric. As the tent grows dark, silence falls and a low humming starts.
Nothing replaces a good night's sleep. But scientists say you only need a few minutes of nap time regulate your emotions, allow you to cognitively retain information for longer, to consolidate your memories and improve your ability to concentrate. Companies like Nike, Google and Facebook, hoping to harness better employee productivity, have installed sleep pods in offices.
Health news in pictures
Health news in pictures
1/19 Vaping backed as healthier nicotine alternative to cigarettes after latest study

Vaping has been given an emphatic thumbs up by health experts after the first long-term study of its effects in ex-smokers. After six months, people who switched from real to e-cigarettes had far fewer toxins and cancer-causing substances in their bodies than continual smokers, scientists found

Getty Images

2/19 Common method of cooking rice can leave traces of arsenic in food, scientists warn

Millions of people are putting themselves at risk by cooking their rice incorrectly, scientists have warned. Recent experiments show a common method of cooking rice — simply boiling it in a pan until the water has steamed out — can expose those who eat it to traces of the poison arsenic, which contaminates rice while it is growing as a result of industrial toxins and pesticides

Getty Images/iStockphoto

3/19 Contraceptive gel that creates 'reversible vasectomy' shown to be effective in monkeys

An injectable contraceptive gel that acts as a 'reversible vasectomy' is a step closer to being offered to men following successful trials on monkeys. Vasalgel is injected into the vas deferens, the small duct between the testicles and the urethra. It has so far been found to prevent 100 per cent of conceptions

Vasalgel

4/19 Shift work and heavy lifting may reduce women's fertility, study finds

Women who work at night or do irregular shifts may experience a decline in fertility, a new study has found. Shift and night workers had fewer eggs capable of developing into healthy embryos than those who work regular daytime hours, according to researchers at Harvard University

Getty Images/iStockphoto

5/19 Breakfast cereals targeted at children contain 'steadily high' sugar levels since 1992 despite producer claims

A major pressure group has issued a fresh warning about perilously high amounts of sugar in breakfast cereals, specifically those designed for children, and has said that levels have barely been cut at all in the last two and a half decades

Getty Images

6/19 Fight against pancreatic cancer takes 'monumental leap forward'

Scientists have made a "monumental leap forward" in the treatment of pancreatic cancer after discovering using two drugs together dramatically improved patients' chances of living more than five years after diagnosis.

Getty Images/iStockphoto

7/19 Japanese government tells people to stop overworking

The Japanese government has announced measures to limit the amount of overtime employees can do – in an attempt to stop people literally working themselves to death. A fifth of Japan's workforce are at risk of death by overwork, known as karoshi, as they work more than 80 hours of overtime each month, according to a government survey.

Getty Images

8/19 Over-cooked potatoes and burnt toast 'could cause cancer'

The Food Standards Agency (FSA) has issued a public warning over the risks of acrylamide - a chemical compound that forms in some foods when they are cooked at high temperatures (above 120C).

Getty Images/iStockphoto

9/19 Cervical cancer screening attendance hits 19 year low

Cervical screening tests are a vital method of preventing cancer through the detection and treatment of abnormalities in the cervix, but new research shows that the number of women using this service has dropped to a 19 year low.

Getty Images/iStockphoto

10/19 High blood pressure may protect over 80s from dementia

The ConversationIt is well known that high blood pressure is a risk factor for dementia, so the results of a new study from the University of California, Irvine, are quite surprising. The researchers found that people who developed high blood pressure between the ages of 80-89 are less likely to develop Alzheimer's disease (the most common form of dementia) over the next three years than people of the same age with normal blood pressure.

Getty Images/iStockphoto

11/19 Most child antidepressants are ineffective and can lead to suicidal thoughts

The majority of antidepressants are ineffective and may be unsafe, for children and teenager with major depression, experts have warned. In what is the most comprehensive comparison of 14 commonly prescribed antidepressant drugs to date, researchers found that only one brand was more effective at relieving symptoms of depression than a placebo. Another popular drug, venlafaxine, was shown increase the risk users engaging in suicidal thoughts and attempts at suicide

Getty

12/19 'Universal cancer vaccine' breakthrough claimed by experts

Scientists have taken a "very positive step" towards creating a universal vaccine against cancer that makes the body's immune system attack tumours as if they were a virus, experts have said. Writing in Nature, an international team of researchers described how they had taken pieces of cancer's genetic RNA code, put them into tiny nanoparticles of fat and then injected the mixture into the bloodstreams of three patients in the advanced stages of the disease. The patients' immune systems responded by producing "killer" T-cells designed to attack cancer. The vaccine was also found to be effective in fighting "aggressively growing" tumours in mice, according to researchers, who were led by Professor Ugur Sahin from Johannes Gutenberg University in Germany

Rex

13/19 Green tea could be used to treat brain issues caused by Down's Syndrome

A compound found in green tea could improve the cognitive abilities of those with Down's syndrome, a team of scientists has discovered. Researchers found epigallocatechin gallate – which is especially present in green tea but can also be found in white and black teas – combined with cognitive stimulation, improved visual memory and led to more adaptive behaviour. Dr Rafael de la Torre, who led the year-long clinical trial along with Dr Mara Dierrssen, said: "The results suggest that individuals who received treatment with the green tea compound, together with the cognitive stimulation protocol, had better scores in their cognitive capacities"

14/19 Taking antidepressants in pregnancy 'could double the risk of autism in toddlers'

Taking antidepressants during pregnancy could almost double the risk of a child being diagnosed with autism in the first years of life, a major study of nearly 150,000 pregnancies has suggested. Researchers have found a link between women in the later stages of pregnancy who were prescribed one of the most common types of antidepressant drugs, and autism diagnosed in children under seven years of age

15/19 Warning over Calpol

Parents have been warned that giving children paracetamol-based medicines such as Calpol and Disprol too often could lead to serious health issues later in life. Leading paediatrician and professor of general paediatrics at University College London, Alastair Sutcliffe, said parents were overusing paracetamol to treat mild fevers. As a result, the risk of developing asthma, as well as kidney, heart and liver damage is heightened

16/19 Connections between brain cells destroyed in early stages of Alzheimer's disease

Scientists have pinpointed how connections in the brain are destroyed in the early stages of Alzheimer's disease, in a study which it is hoped will help in the development of treatments for the debilitating condition. At the early stages of the development of Alzheimer's disease the synapses – which connect the neurons in the brain – are destroyed, according to researchers at the University of New South Wales, Australia. The synapses are vital for brain function, particularly learning and forming memories

17/19 A prosthetic hand that lets people actually feel through

The technology lets paralysed people feel actual sensations when touching objects — including light taps on the mechanical finger — and could be a huge breakthrough for prosthetics, according to its makers. The tool was used to let a 28-year-old man who has been paralysed for more than a decade. While prosthetics have previously been able to be controlled directly from the brain, it is the first time that signals have been successfully sent the other way

18/19 Aspirin could help boost therapies that fight cancer

The latest therapies that fight cancer could work better when combined with aspirin, research has suggested. Scientists from the Francis Crick Institute in London say the anti-inflammatory pain killer suppresses a cancer molecule that allows tumours to evade the body's immune defences. Laboratory tests have shown that skin, breast and bowel cancer cells often generate large amounts of this molecule, called prostaglandin E2 (PGE2). But Aspirin is one of a family of drugs that sends messages to the brain to block production of PGE2 and this means cancer cells can be attacked by the body's natural defences

19/19 Potatoes reduce risk of stomach cancer

Scientists have found people who eat large amounts of white vegetables were a third less likely to contract stomach cancer. The study, undertaken by Chinese scientists at Zhejiang University, found eating cauliflower, potatoes and onions reduces the chance of contracting stomach cancer but that beer, spirits, salt and preserved foods increased a person's risk of the cancer
They defy cultural stigma in countries like the US and the UK, where sleeping on the job as a sign of weakness. "It would be wonderful if people could have a nap at work, but culturally we're a long way from that, and if it's just associated with the workplace that's bad too, " Dr Horton says. 
Dr Horton's tips for sleep hygiene
1. Identify your ideal bedtime 
2. Switch off the TV and other electronic devices 30 minutes before
3. Try a relaxing activity like reading 
4. Use a dimmer switch
5. Avoid caffeine and alcohol in the evening
6. Invest in blackout curtains or blinds to block out light
7. Leave your smart phone in another room
The Chronarium was designed for an event in Singapore, where napping is a part of daily life. "We didn't have people raising their eyebrows and finding the idea to sleep in the day unusual, " says Mathias Gmachl, co-director of Loop.pH, the design agency behind the idea. Creative producer Carole Keating says her team asked Loop.pH to be a part of the festival to try change attitudes in the UK by demonstrating the importance of sleep in a pleasurable and restorative way.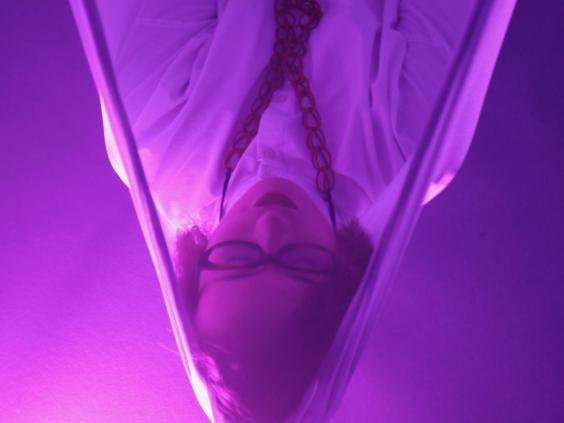 Together, they picked Arndale as a deliberately counterintuitive location. "We were interested in creating an experience that is social but about wellbeing and looking after yourself, to contrast social activities like shopping and drinking that aren't necessarily good for you, " Mathias says.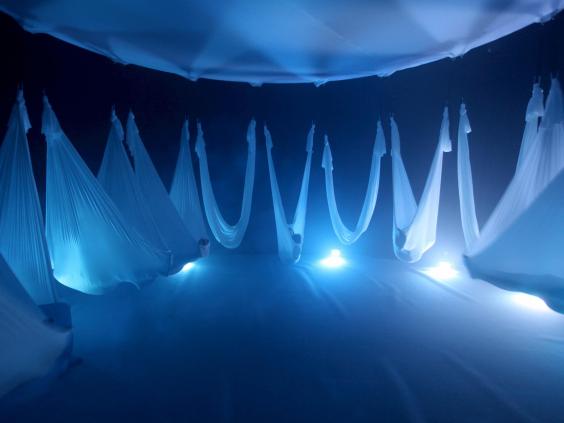 Rather than using technology to simply mirror the low electromagnetic frequencies of the brain during sleep, Loop.pH commissioned Anna Meredith, a classically-trained electronic artist, to compose a beguiling mixture of alien-like throbbing and gentle electronic sounds that help the brain slow down. As the music plays, the purple and blue lights lull the body into believing it's night time, even though the noise of the shopping centre can still be heard outside the curtained walls.
At first, bodies fidget in the slings, sending small vibrations through the structure. But as the time advances a stillness descends as people fall asleep.
A few minutes later, the meditative voice coaxes everyone back to consciousness and people emerge, stretching from their cocoons to continue with the day. Some report feeling calmer and more energised as they leave the tent.
While we might be some way off sleep pods in the bedroom, Dr Horton says we need to cosy up to nap time to stop us sleep-walking into a major public health hazard.
"People need to accept that napping in the day is not a sign of weakness, " she says. So next time you're feeling sleepy, go for a guilt-free nap. Science says it's good for you. 
Reuse content