Working parents are struggling to find childcare because there are insufficient places in nearly six out of 10 local authority areas, new figures show.
The statistics call into question the viability of the Government's pledge to increase the number of free childcare hours available to parents of three and four years old, campaigners say. 
In total, 57 per cent local authorities in England do not currently have enough childcare places to meet the needs of working parents - up from 54 per cent in 2012. The situation is even worse in Wales, where 82 of council areas do not have enough childcare places - up from 50 per cent in 2012, the study by the Family and Childcare Trust found.
In addition, the report found that one in four local authorities is failing to monitor the number of childcare places available in their region - despite being required to do so every year by law.
The report – Access Denied – names the 38 English local authorities that have failed to carry out and publish assessments of local childcare since 2012. They include Harrow, Bristol, Torbay and Tower Hamlets, all of which have high childcare costs due to lack of supply, and acute shortages of places for under-fives, after-school and holiday childcare.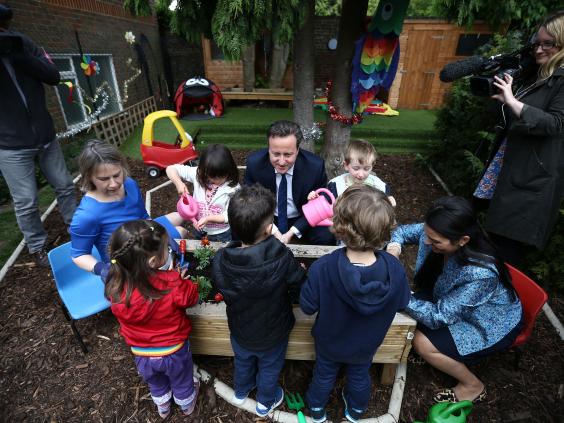 But the study praises Bolton, South Gloucestershire, Buckinghamshire and Bracknell Forest where there are no significant childcare gaps or shortages, the councils monitor local childcare places, and have action plans in place to make sure they meet the needs of families.
Stephen Dunmore, chief executive at the Family and Childcare Trust said: "These are worrying findings at a time when the Government is pushing through its ambitious and welcome plans to make childcare more affordable for parents.
"Demand for extra hours of free childcare is likely to be high and we are concerned that a significant number of local authorities in England will not be able to meet this demand.
"We are calling on central Government to hold local authorities to account if they fail to monitor and publish childcare data by making it a requirement in order to receive funding for the extended free childcare offer."
The report coincided with the publication of the Government's latest childcare figures showing that 99 per cent of four-year-olds and 94 per cent of three-year-olds took up the 15 hours of Government-funding early education this year.
The Childcare Bill, which was introduced to Parliament earlier this month, will increase the amount of childcare provided to three and four-year-olds from working families to 30 hours for 38 weeks of the year.
The amily and Childcare Trust is also calling for the Department for Education to provide guidance to local authorities to help them monitor childcare effectively, and provide funding to help close the gaps.
A Department for Education spokesperson said: "We want every family to have access to flexible and affordable high quality childcare. The latest figures show that 99 per cent of four-year-olds and 94 per cent of three-year olds are accessing the Government's free childcare offer. And we are doubling the amount of hours on offer to working parents, helping them back into employment if they want to work.
What does five more years of the Tories mean for Britain?
What does five more years of the Tories mean for Britain?
1/8 Welfare payments will be slashed

One of the most controversial parts of the Conservative manifesto was to cut benefits for the working age poor by £12 bn over the next three years. But during the campaign they only said where £2 bn of these savings would come from. That leaves £10 bn still to find. Some experts think the only way they can close that gap is by means testing child benefit – with millions of families losing out

Getty

2/8 There will be tax cuts for those in work and those who die

The Tories will increase the threshold at which the 40p rate of tax becomes payable to £50,000 by 2020. They haven't said so but it is also likely that at some point in the next five years they will abolish that 45p rate of tax altogether for the highest earners. They also want to increase the effective inheritance tax threshold for married couples and civil partners to £1m

Getty

3/8 There will be an in/out EU referendum in 2017

The next two years are going to be dominated by the prospect of a referendum on Britain's membership of the EU. First off David Cameron has the daunting task of negotiating a deal with other EU leaders an acceptable deal that he can sell to his party so he can go into the referendum campaigning for a 'yes' vote. This may be unachievable and it is possible that the Tories may end up arguing to leave. Opinion polls show Britain is divided on EU membership, one poll this year showed 51% said they would opt to leave compared to 49% who would vote to stay in

Getty

4/8 There will be more privatisation of the NHS

Having won the election the Tories now have a mandate to go further and faster reforming the NHS. In order to make cost savings there is likely to be greater private involvement in running services, while some smaller hospitals may lose services they currently provide like A&E and maternity units

Getty

5/8 There will be many more free schools – and traditional state schools will become a thing of the past

The Tories plans to create 500 new free schools and make 3,000 state schools become academies. They will also carry on reforming the Department of Education and remove more powers from local authorities over how schools are run

Getty

6/8 On shore wind farms will be a thing of the past and fracking will be the future

Government spending on renewable energy is under real threat now the Lib Dems are no longer in power with the Tories. Subsidies are likely to be slashed for off-shore wind farm and other green energy supplies. Meanwhile there will be generous tax break for fracking as ministers try and incentivise the industry to drill for onshore oil and gas

Getty

7/8 There maybe more free childcare – but not necessarily

In the campaign the Tories pledged to double the amount of free early education for three- and four-year-olds from 15 hours a week to 30. The extra hours would only be offered to working families where parents are employed for at least eight hours a week. However they have not said where the money will come from to fund the pledge

Getty

8/8 Workers' rights could be reduced

The Tories want to slash business regulation, merge regulator and cut costs. The Lib Dems stopped them from reducing the employment rights of workers in power – but these are now under threat

Getty
"In addition, for the first time, more than one million children are now receiving provision in good and outstanding settings.  This means they are receiving expert care while their parents return to work, should they choose to do so.
"With more families than ever accessing childcare, new businesses can enter the market and existing ones can expand. We are crystal clear that councils should pass our funding in full to local childcare providers, and we have also committed to a funding review that will increase the amount providers receive."
Childcare Minister Sam Gyimah said: "No parent should be denied the childcare option that works best for their family, but costs have historically been a burden on family finances that prevented them from working if they wanted to. We are removing these barriers and giving parents the chance to return to work."
Cllr David Simmonds CBE, Chairman of the LGA's Children and Young People Board, said: "Across the country, councils are working with local, private, charitable and voluntary organisations to ensure there are as many high quality and affordable nursery places as possible, but with funding wrapped up in the red tape of the wider schools budget, the current system is stifling councils' ability to deliver the level of childcare that we all know we need."
Reuse content