Yvette Cooper has called to ban pro-life protests outside of abortion centres.
The Labour leadership hopeful announced the policy, proposing "protest-free buffer zones" to put an end to the intimidation and harassment some women face by anti-abortion campaigners directly outside of clinics.
Cooper said in a statement: "Women should never be intimidated or threatened on their way to a healthcare appointment or on their way to work. No matter how strongly protesters feel about abortion themselves, they don't have the right to harass, intimidate or film women who need to make their own very personal decision with their doctors. Everyone has the right to access legal healthcare, medical advice and support and to have some privacy and space to do so – and that includes abortion services."
Labour leadership: The Contenders
Labour leadership: The Contenders
1/4 Jeremy Corbyn

Jeremy Corbyn readily admits he is only standing to ensure the left of the party is given a voice in a contest dominated by candidates promising to move the party towards the centre-ground of British politics

Profiles by Matt Dathan

BBC

2/4 Andy Burnham

Andy Burnham is the current front-runner to win the leadership election according to bookmakers, but the fact that the Conservative party leadership hopes he wins shows the task that awaits if he is Ed Miliband's successor. He will have to find a way of distancing himself from both the last five years under Mr Miliband and the Blair and Brown years, during which he served in the Cabinet

Jon Super

3/4 Yvette Cooper

Yvette Cooper will also face a battle in convincing voters she offers a sufficient break with the past, having served in Gordon Brown's Cabinet and she played a key role in Mr Miliband's team as shadow home secretary. The fact that her husband is Ed Balls will not have a negative impact internally but voters are not likely to look favourably on the prospect of Mr Miliband's ousted shadow chancellor entering Downing Street if Ms Cooper wins in 2020

Getty Images

4/4 Liz Kendall

Liz Kendall faces criticism over her lack of experience – she was only elected in 2010 and has no experience of serving in government and wasn't even in Ed Miliband's shadow cabinet. But that very lack of experience means she can make a pitch as the only candidate offering real change and a real break from the Blair/Brown/Miliband years

Getty Images
Last month it was reported that plans to open an abortion clinic were stopped allegedly "as a direct result of protest activity" although the location of the planned clinic was never given.
As a result, Dianne Abbott, Caroline Lucas and Jeremy Corbyn were amongst 29 MPs to sign an early day motion sharing their "deep concern that anti-abortion clinic protests are escalating and having a significant impact on women's ability to access safe, legal reproductive healthcare services and advice".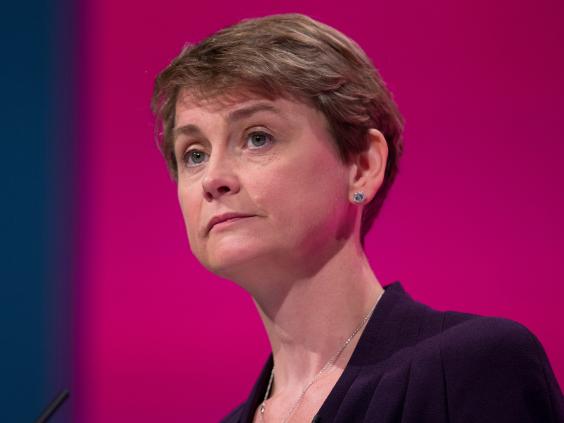 Cooper said: "It is not right for women to find themselves being filmed entering or leaving a clinic, being bombarded with distressing images or having their entrance blocked altogether. Neither is it right for staff at these medical centres to face abuse or be targeted by protesters on their way to and from work."
Cooper added: "We don't want US-style abortion wars here".
Clare Murphy, Director of External Affairs at the British Pregnancy Advisory Service welcomed Cooper's proposal saying, "Over recent years, we have seen protest activity increase, with women and staff now routinely filmed, confronted with large, graphic banners, and even followed as they leave clinics. This campaign of intimidation has gone on long enough. We are a pro-choice country in which the vast majority of us support women's access to abortion services. However for the small number who oppose women's right to choose, there are plenty of spaces to demonstrate and ways to campaign against the law - the space immediately outside a clinic should not be one of them."
Buffer zones are currently in place in countries including as Canada, France , South Africa and the US.