A Florida plastic surgeon is using Instagram to show the world how he recycles people's unwanted fat to build a better bum.
Dr Siamak Agha specialises in "extreme makeovers and body lifts" at his Orange County surgery, including the procedure known as the Brazilian Butt Lift.
It typically involves extracting fat from other parts of the body using liposuction, processing it, then injecting it back into the buttocks to create a peachier derriere.
Dr Agha's feed showcases how his patients' bodies are transformed, as their buttocks take on drastically new shapes.
Alongside the eye-opening images are surgery-themed hashtags including "#buttockslift".
Almost 320,000 buttock augmentation or buttock lift procedures were carried out worldwide in 2015, according to the International Society of Aesthetic and Cosmetic Surgery. That amounts to a 30 per cent increase since 2014.
Last year, buttock augmentation with fat grafting was up by 28 per cent, while buttock lifts and buttock implants were both up by 36 per cent in the US.
Its popularity, and that of similar operations, recently caused the American Society of Plastic Surgery to declare 2015 another "year of the rear".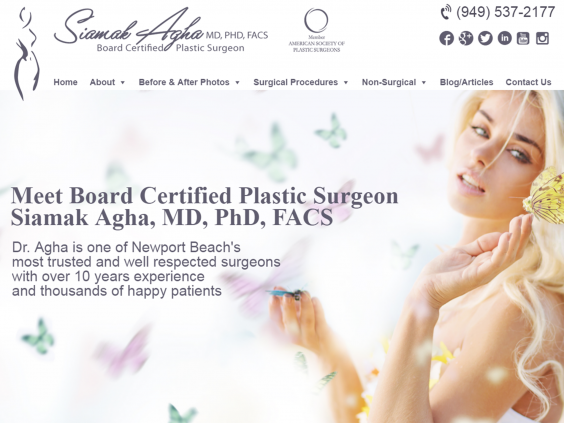 The procedure was developed by the late cosmetic surgery pioneer Ivo Pitanguy, who died earlier this year.
According to Dr Ricardo L Rodriguez, the fat extracted is processed and purified using decanting and centrifugation, and only the best donor fat cells are reinjected.
Popular? You nose it: Duchess of Cambridge's nose is the most requested plastic surgery procedure
Popular? You nose it: Duchess of Cambridge's nose is the most requested plastic surgery procedure
1/8

Kate's nose was the most requested surgery this year

Reuters

2/8

Myleene Klass's chin has often been requested too

Getty Images

3/8

Women have been desperate to possess dimples like Cheryl Cole's

Getty Images

4/8

Nicole Scherzinger: Her pout is one of the most requested surgeries

Getty Images

5/8

Robert Pattinson's jaw line is the most requested surgery for men

Getty Images

6/8

Men have been requesting Ryan Gosling's lips

Getty Images

7/8

Ashton Kutcher's chiseled cheeks have been highly requested by men wanting surgery this year

AP

8/8

Who knew? Jude Law's nose has been in high demand for men wanting surgery

Getty Images
The demand may be linked to the popularity of celebrities including Kim Kardashian and Nicki Minaj.
However, a recent survey by Harley Street Clinic surgeon Dr Julian De Silva found that Kate Middleton's nose topped his list of celebrity-themed operations.
Reuse content