A new dating app, specifically for gay men, has been launched with the aim to give users a choice between relationships or more casual hook ups. 
Chappy, a fusion of 'choice' and 'happy' is the brainchild of Ollie Locke – of Made in Chelsea fame – and Jack Rogers. 
Locke's venture comes after a very public coming out after viewers of the reality television programme saw him date women including Topshop heiress Chloe Green and model Ashley James, come out as bisexual and then say he was a gay man last year.
Locke told The Independent it is partly through his experiences of using dating apps to come to terms with his own sexuality which is why he co-founded Chappy.
"I have had a really struggling coming out session in the last 10 years, it has obviously been quite well-documented but I didn't really know what I was doing and I struggled. For me there was no platform for me to meet gay men," he says.
The main distinguishing feature is the 'Chappy scale' which allows users to slide between 'Mr Right' to 'Mr Right Now' depending on whether they are looking for a relationship or something more casual.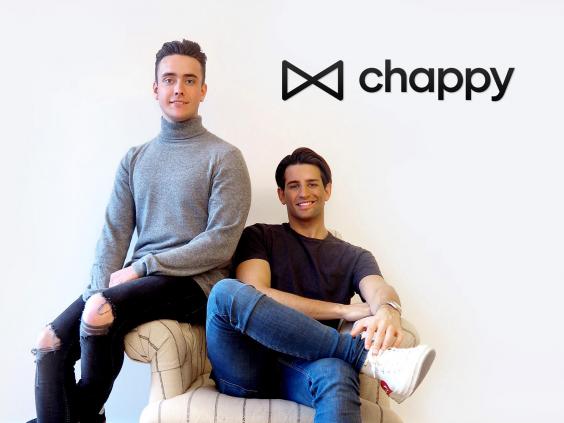 "It avoids the first awkward 10 minutes of chatting where you are trying to figure out what someone wants or those first three dates before one of you just wants to hook up and the other is looking for something more serious," co-founder Jack Rogers said.
Locke also stresses that you can change the scale as and when you please depending on your mood. 
The app, which can be downloaded from the app store is being rolled out in London, New York City and Los Angeles and has been backed by Whitney Wolfe, the co-founder of Tinder and CEO of Bumble – the dating app where women have to initiate the conversation. Last year she praised the shared values between Bumble and Chappy saying: "Bumble has made great strides for women in the dating scene and we believe Chappy will do the same for gay men."
Locke echoed this praising Bumble's responsible, feminist and quality values saying they have been incorporated into Chappy. 
One thing both men are determined to distance Chappy from is "hook-up culture". Grindr, the most well-known existing app for gay men, and Tinder, where users can search for dates by gender, have long been associated with casual sex and hook-ups, although both apps have also been the foundation for many new millennial relationships. 
Locke says that while he was coming out, the existing gay dating platforms left him "utterly terrified". 
"I didn't want a d*** pic to be quite honest, I did not want someone sending me a picture of their penis immediately. I wanted to be able to find someone who I could bring to my friends who I had fallen for."
"Both of us identified that all the apps out there at the moment are very much casual dating apps which focus on facilitating hook-ups," Rogers adds.
He claims that these apps only further fuelled existing negative stereotypes and long-standing myths surrounding the gay dating scene.
"The stigma around gay dating is actually perpetuated by these apps… for us there is a chance to give a fresh face to gay dating and bring it into the 21st century," Rogers says.
The best, worst, and most unusual dating sites
The best, worst, and most unusual dating sites
1/18 Clown Dating

"It's no fun looking for love when you're a clown, behind all the make-up and the red nose is a lonely heart. Clowns are unique entertainers loved by some yet feared and hated by others. Luckily Clown Dating is here to help."

2/18 Dead Meet

"A dating networking site for death industry professionals"

3/18 Tinder

"Tinder is the fun way to connect with new and interesting people around you. Swipe right to like or left to pass. If someone likes you back, it's a match!"

4/18 Plenty of Fish

The largest dating site has over 90 million users

5/18 Ashley Madison

Ashley Madison "offers services to married folks looking for something on the side". It already has over a million members, as chief executive Noel Biderman said that British adults were most likely to have an affair than in other comparable countries

6/18 Sea Captain Date

Sea Captain Date website claims to be the only place for Sea Captains to connect with men and women who share a love of the ocean

7/18 E-harmony

Those on a more serious quest for love tend to choose the UK's largest dating site for professionals such as E-Harmony, which has a huge list of compatibility criteria on which it pairs its users

8/18 Feet Dating

The cybersphere also boasts a plethora of dating sites for those who want to tailor their sexual fetishes like Feet Dating ("to please everyone who has a foot fetish")

9/18 Guardian Soulmates

"Soulmates community features thousands of smart, modern, independent people who are worth getting to know"

10/18 Singles with Food Allergies

The founder claims that dating can be a nightmare for those who suffer severe reactions, since popular venue choices so often include food and drink

11/18 Herpes Dating Service

"Living with HSV is something that initially may take some psychological adjustment for some patients. It does not mean the end of your sex life or that you will need to remain unmarried for the rest of your life."

12/18 Match

Probably one of the most popular choices for tech-dating newbies

13/18 Miss Travel

Miss Travel website asks users to select from two options "attractive" and "generous", and pairs wealthy globe-trotters with hot companions

14/18 Pensioner Dating

Pensioner Dating offers a forum for "older people who want to meet new friends and companions"

15/18 Singleparents.ie

Singleparents.ie is "Ireland's number one dating site for single moms and dads"

16/18 S&M Dating

S&M Dating describes itself as a site for "beginners to the S&M and BDSM devotee"

17/18 Sugar Daddie

On the site, it says: "Sugardaddie.com is a high quality dating site for successful men who have financial security and confidence and attractive single women."

18/18 Uniform Dating

With more than 135,000 active users, Uniform Dating says each of their users receives an average of 22 winks and flirts each month
Similar to Tinder, the app also verifies people's accounts through Facebook which Locke says was key to avoid those unwanted pornographic pictures. Additionally, users cannot display photos unless their faces are in it – another way in which it is priding itself on being safe for users. 
"For someone who might be 20-years-old coming out, I don't want a 45-year-old man to send me a picture of their d***. It's not responsible, it doesn't feel like something be happening to a young community in 2017 and we are trying to break that," Locke says firmly.
Rogers goes even further to say the existing apps can be "dehumanising" and "archaic" and that they do not feel safe or responsible while Locke brands them "slightly vulgar".
While Rogers is straight so will not be on the app, Locke certainly will be and is setting his preference to Mr Right.
"I'm 30 next month and I think it is time for Mr Right," he says.
Reuse content