The amount of information released by the Ashley Madison hackers is really quite staggering: Tens of millions of emails, locations, pick-up lines and even more personal data. And, of course, birthdates.
You'd expect Ashley Madison to ask for a birthdate. After all, it needs to know that everyone participating is over the age of 18 and probably wants to get a sense for how old people actually are. And, as you'd also expect, people gave Ashley Madison tons and tons of fake birthdates.
There are over 36 million different birthdates registered with the site. And, if everyone is telling the truth, one out of every 12 Ashley Madison members was born on New Year's Day.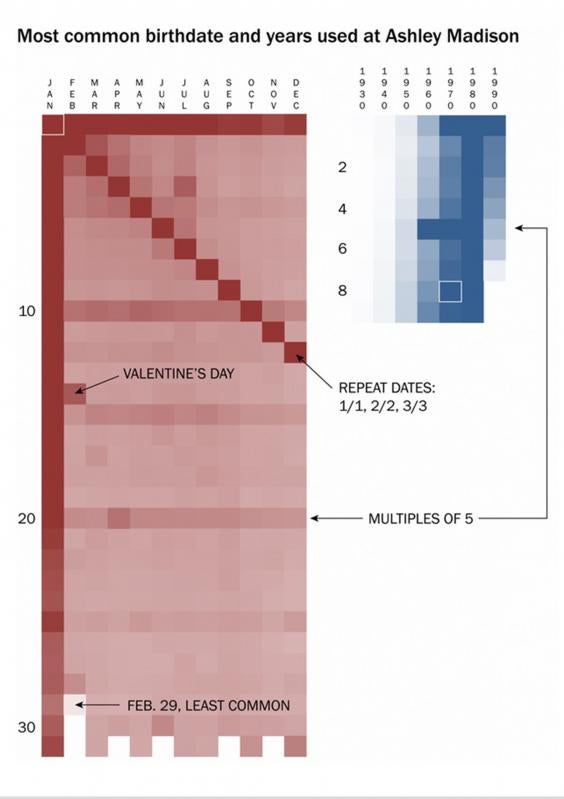 1 January is by far the most popular day that members said they were born, presumably because the site asked visitors to pick month, day and year and people only bothered to change the year. Those who did change the month and day, though, often picked the same number for each: 2 February, 3 March, 4 April. After all, it's as easy as hitting 6-tab-6 on most computers.
Oh, but some of the truly romantic people looking to cheat on their wives got a little more creative: 124,000 said they were born on Valentine's Day. (Update: And, as someone on Twitter pointed out, on April 20. Ahem.)
The best, worst, and most unusual dating sites
The best, worst, and most unusual dating sites
1/18 Clown Dating

"It's no fun looking for love when you're a clown, behind all the make-up and the red nose is a lonely heart. Clowns are unique entertainers loved by some yet feared and hated by others. Luckily Clown Dating is here to help."

2/18 Dead Meet

"A dating networking site for death industry professionals"

3/18 Tinder

"Tinder is the fun way to connect with new and interesting people around you. Swipe right to like or left to pass. If someone likes you back, it's a match!"

4/18 Plenty of Fish

The largest dating site has over 90 million users

5/18 Ashley Madison

Ashley Madison "offers services to married folks looking for something on the side". It already has over a million members, as chief executive Noel Biderman said that British adults were most likely to have an affair than in other comparable countries

6/18 Sea Captain Date

Sea Captain Date website claims to be the only place for Sea Captains to connect with men and women who share a love of the ocean

7/18 E-harmony

Those on a more serious quest for love tend to choose the UK's largest dating site for professionals such as E-Harmony, which has a huge list of compatibility criteria on which it pairs its users

8/18 Feet Dating

The cybersphere also boasts a plethora of dating sites for those who want to tailor their sexual fetishes like Feet Dating ("to please everyone who has a foot fetish")

9/18 Guardian Soulmates

"Soulmates community features thousands of smart, modern, independent people who are worth getting to know"

10/18 Singles with Food Allergies

The founder claims that dating can be a nightmare for those who suffer severe reactions, since popular venue choices so often include food and drink

11/18 Herpes Dating Service

"Living with HSV is something that initially may take some psychological adjustment for some patients. It does not mean the end of your sex life or that you will need to remain unmarried for the rest of your life."

12/18 Match

Probably one of the most popular choices for tech-dating newbies

13/18 Miss Travel

Miss Travel website asks users to select from two options "attractive" and "generous", and pairs wealthy globe-trotters with hot companions

14/18 Pensioner Dating

Pensioner Dating offers a forum for "older people who want to meet new friends and companions"

15/18 Singleparents.ie

Singleparents.ie is "Ireland's number one dating site for single moms and dads"

16/18 S&M Dating

S&M Dating describes itself as a site for "beginners to the S&M and BDSM devotee"

17/18 Sugar Daddie

On the site, it says: "Sugardaddie.com is a high quality dating site for successful men who have financial security and confidence and attractive single women."

18/18 Uniform Dating

With more than 135,000 active users, Uniform Dating says each of their users receives an average of 22 winks and flirts each month
More evidence that people simply made dates up? Every day in January and the first of every month were disproportionately popular as people who were not quite lazy enough to leave the birthday selector at January 1 changed either the month or day.
Other patterns hold in both the dates and the years that people offered up. Multiples of five were common -- 1965, 20 May. The most common year that people gave was 1978, by a wide margin. More people said they were born in 1978 than said they were born on 1 January. The most common decade for people to say they were born was the 1980s, the children of the "Me Generation." Or, at least, older people that want people to think they're that young.
We'll add an important caveat. We can't necessarily extrapolate from this data to web users on the whole. After all, the entire site is predicated on deceit.
Copyright: Washington Post
Reuse content