Martin & Antonio
Martin Cutillo-Rigby, aged 31, is a software developer, and 27-year-old Antonio Cutillo-Rigby is a nurse. They live together in Blackpool.
Martin: We actually met online. I was 22 and at university in Preston studying software engineering; Antonio was 18. We met up and went for a walk and then to the local pub. This was back in 2005. We got engaged pretty soon after but didn't want to get married until we'd both finished uni and bought a house. You'll have to ask him about the engagement – he proposed to me.
Antonio: I knew after about three or four months. I'd never met anyone I got on with as well as Martin. I could tell it was something important. After six months, I asked for his mum and dad's permission and they said they were happy to have me in the family. They're lovely, the Rigbys.
M: We weren't waiting for the legislation. We'd decided two years ago that we'd get married this year because our anniversary – 3 May – fell on a Saturday. But the law changed just in time: we were ecstatic. I was following it on the live broadcasts from the debating rooms, during the committee stage. When I actually found out the date, I texted Antonio straight away and said "We're getting married!". I think he got the hint.
A: We went for a movie theme. All the music for the ceremony was from different films. Going in we had music from About Time and coming out it was Jackie Wilson from Ghostbusters.
M: It was at the De Vere hotel in Blackpool. We had about 90 to 100 guests. It was a straightforward ceremony, no bells or whistles. Just us in suits. We walked down the aisle together. It was incredibly nerve-racking. The ceremony was at 1pm but I was up at 6am, pacing around.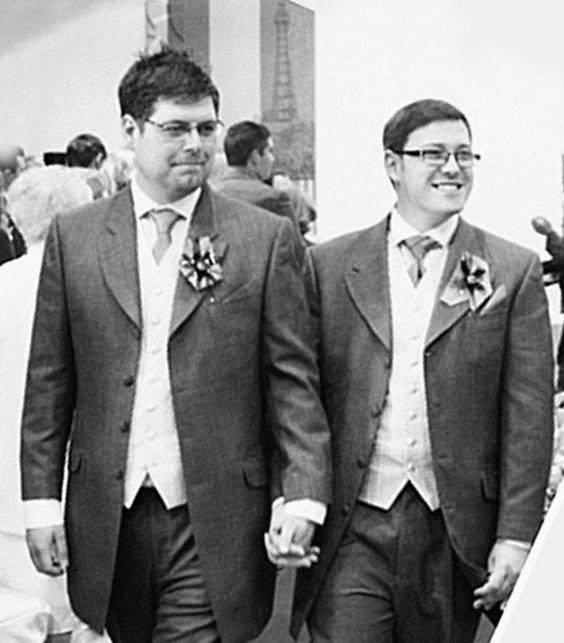 A: My maid of honour was my best friend from school and I had a lot of friends there from work. I think we both shed a tear when we saw each other at the top of the aisle – and then I got quite hysterical during our vows. My older brother got quite teary: he's a blokey bloke and doesn't usually do emotion.
M: It definitely meant a lot to us that our family and friends came. In terms of the number of guests, it did feel great to have so much support on the day.
A: When we met, relatively recently, we didn't even have civil partnerships. It's amazing how fast it progressed.
M: I've introduced him as my husband a few times and nobody's batted an eyelid. It definitely does feel like we're married.
A: And we just found out that we've been approved as adoptive parents. We couldn't believe it. It can take up to two years but we're hoping in the next six months that we'll have our first child.
M: It was a bit of a shock, but we're absolutely elated – we're now looking forward to finding 'the one'.

Teresa & Helen
Teresa Millward, aged 37, and 50-year-old Helen Brearley, met in 2003 and married on 29 March this year, the day the Same Sex Couples Act came into force. They live in Meltham, West Yorkshire and together run a business selling LGBT gifts in the nearby town of Holmfirth.
Teresa: I had taken over running a women's group. At the second meeting, I was going through the rules, telling everyone that it wasn't ideal to get into relationships with each other because it could cause friction. The door opened and I felt this person walk in. It was like an anticipation: I felt excited but nervous. Helen walked around the corner and held out her hand and I just couldn't speak.
Helen: I didn't usually go to the group. Someone said, "Oh, you should come along; it's a lot better now that they've got this new person". When I walked through the door, I thought, "Oh yes". She took my hand and there was this weird sensation. We do describe it as love at first sight.
T: We didn't act on anything for about three months. We skirted around each other without really saying anything. Then she texted and asked if I wanted to go for a picnic.
H: I liked the sound of her voice, to be honest. She's not really from anywhere: she grew up in Shrewsbury then moved to school, then Derby, then Florida for a while. And I liked her hair: it's like Sandra Bullock's.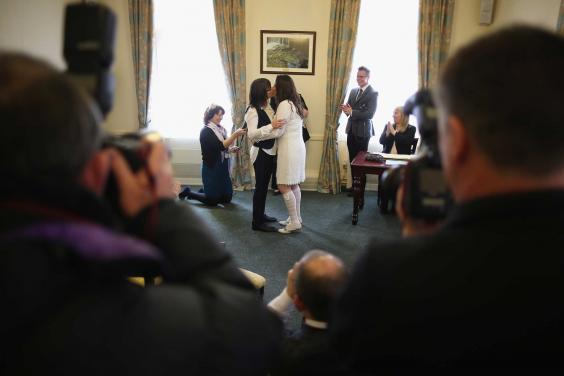 T: We got engaged in 2004. Civil partnerships came into force in December and we attended a few of our friends'. They were lovely but there was something missing. The words weren't the ones we wanted to express: "We are now civilly partnered". We wanted it to be like our parents': the same as everybody else.
H: When I introduced her to my family, my mum was extremely uncomfortable. She hadn't met any of my previous partners. But they went to the park and had an ice-cream together and got talking. She's fine now: the whole family are.
T: As soon as we registered at Halifax, there was a lot of media interest. It hadn't occurred to us that we were making history. We had two ceremonies: a legal one at the registry office for the media and a humanist ceremony for 50 of our family and closest friends: gay, lesbian, straight, 80-year-olds and babies, all there to support us. It was traditional, but different: a 1940s theme. We had sponge cake and scones and scoured the charity shops for floral teapots like your grandparents might have had, and had wildflowers on every table.
H: We'd been having jive lessons and after the first wedding, we did a little dance to "In The Mood" by Glenn Miller.
T: I have to say that it was one of the greatest days of my life. Since then, if I introduce her as my wife, it immediately takes me out of any closet I thought I might have been in. When I said "my partner", she could have been my business partner. In saying "my wife", it leaves nothing to the imagination – there's no ambiguity.
Reuse content