The most adulterous town in the UK is Beeston in Nottinghamshire, according to a new survey.
The town has the highest percentage of people having an affair, with 2.54 per cent, or 941 affairs recorded. The survey, put together by Illicit Encounters, looked at the number of affairs versus town population.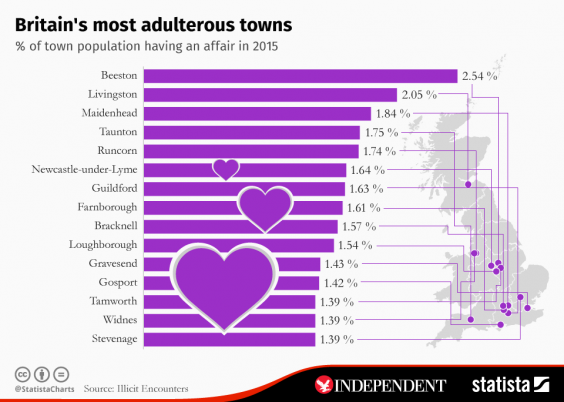 As you can see in the chart above created by Statista, the East Midlands held their own in the ratings, with Loughborough, Bracknell all joining Beeston in the top 15.
Wales came out favourably in the list, with no Welsh towns featuring in the top set of the affair map. 
Both Gravesend and Maidenhead in Kent appeared in the cheating charts, with 1.43% and 1.84% of affairs respectively. 
Reuse content