The world's first gay rugby union team turns twenty this season. From six men gathering at a gay bar in North London two decades ago, The Kings Cross Steelers RFC  has transformed into a 120-strong membership featuring over twenty nationalities.
Rob Hayward, OBE and Founding Club Member said: "It's honestly incredible to think how far this club, and the LGBT community at large, has come since we got together at Central Station [bar] 20 years ago.
Steelers highlights
1995: formed in Central Station pub in Kings Cross
1999: became full members of the English Rugby Football Union
2001: membership grows large enough to field a second squad
2007: celebrates its first "gay marriage" between two Steelers; club wins The Bingham Cup in Copenhagen
2015: promoted to Essex League 1 and win their fifth Union Cup
"We've always taken great pride in the fact that this club has evolved with the country's changing attitudes towards the LGBT community: back then it was simply about starting a team where gay men could play the game they love and getting the rugby community to accept our relevance and seriousness."
"Now our players can legally marry if they want, there are over 56 gay rugby clubs around the world and the Steelers have firmly established ourselves as competing force in the rugby community. I could have never imagined it."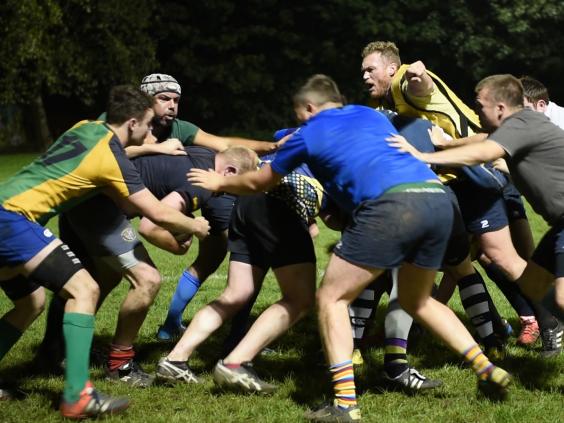 Alex Smith, club chairman and current coach, shares this view. The 43-year-old told The Independent "I personally didn't feel I could be an out man in the club. If you were to tell me as a 23-year old that I would be an out gay rugby player as I have been and an out gay rugby coach, I would've told you it was unbelievable".
[on Soho] it can be a bit shallow, and you make lots of acquaintances but you don't get to know that many people...
"Partly it's about myself – I excluded myself, I stopped playing rugby in my mid-twenties for that reason, I didn't feel I could be myself and I'm delighted I've got back into it."
For others, the club provided a forum to meet like-minded individuals in an environment where there is a strong community spirit.
Mark Bithell, a veteran player, told us that although he enjoyed going out in Soho, "it can be a bit shallow, and you make lots of acquaintances but you don't get to know that many people."
"Whereas, when you join a rugby club, you really get to know each other so well and the level of friendship becomes deeper because you're in those action situations in matches."
What is the Bingham Cup?
The Bingham Cup is aglobal sporting event that promotes rugby union as an inclusive non-discriminatory sport.
It is named in honour of Mark Bingham, a former University of California, Berkeley rugby star. He died in the September 11 attacks on board United Airlines Flight 93.
He was one of a group of passengers who stopped hijackers from crashing the plane into its target of Washington, D.C.
"After the match, everybody comes together and spends most of the evening together as well."
The media attention surrounding sportspeople coming out as gay is an issue that concerns some members of the club.
The chairman told us, "I'd like it one day to be no more news than say a soap star coming out or businessperson coming out."
One of the youngest players at the club, 20-year-old, Casper Swanston believes that it will continue gain attention.
"I think the important thing is that it continues to be a positive story which gives inspiration to people; but I must add… nobody has a responsibility to come out."
There are several events planned to mark the club's twentieth anniversary. The biggest will be their participation in the Bingham Cup that takes place in Nashville, Tennessee next year. The tournament is a global sporting event that promotes rugby union as an inclusive non-discriminatory sport.
Reuse content