BMW wants to mount a serious assault on the Mercedes S-Class at the top of the luxury saloon market.
That's the clear message from the new 7 Series, which will arrive on UK forecourts in November following a global unveiling at Frankfurt later this month.
Looking sharper than the model it replaces, the new 7 Series is almost exactly the same size, both in standard and long-wheelbase form. But any similarities are coincidental – it's completely new under the skin.
Leading the way is the 3.0-litre six-pot diesel in the 730d model we're driving here. Helped along by two turbos, it sends 261bhp and 457lb ft through the standard eight-speed auto box – returning an outstanding  62.8mpg and 119g/km in the process.
It'll smooth your way to 62mph in 6.1 seconds, too.
Assisting here are aluminium and carbon-fibre design techniques which help bring kerb weight down to 1755kg. And the 7 Series does feel noticeably lighter on its feet – though this comes through mainly in a new emphasis on greater comfort.
The 7 Series was always at the sporty end of its class and it continues to demonstrate crisp handling, with spot-on balance, masterful body control and enough grip to be both reassuring and entertaining. But BMW has put its all into making it more cossetting – something that's seen in features ranging from deeper seat cushions to all-round air-suspension.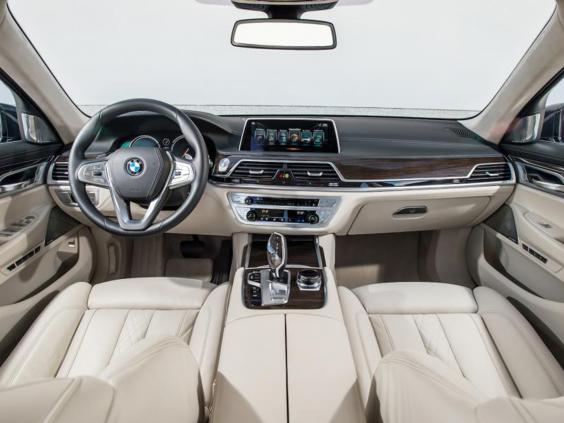 As a result, while it's better on B-roads than something this big has a right to be, it's in its element on a cruise. Tall gearing helps here, as do a lower centre of gravity and the new option of rear-wheel steer, which counters the front wheels in town and mimics them at speed.
Further new options include electro-hydraulic anti-roll bars, which BMW says help ride comfort and body control alike, and a Driver Experience Control with a Comfort Plus setting. With this engaged, you're in the smoothest, quietest 7 Series yet.
Adding to the feeling of serenity is a cabin which feels more spacious all round – as well as being trimmed to within an inch of its life in luxury materials. The instrument display, steering wheel and iDrive interface are all revised, and latest-generation speech and gesture control functions are both on the options list.
We've mentioned options a lot, and we're not finished yet. The 7 Series also offers four-wheel drive and autonomous parking for (quite) a few dollars more, as well as a new smart key with which you can remotely set the temperature inside the car.
All these options add up to one thing, which is a far higher price than the £64,530 on the ticket. But so long as you don't get carried away, the new 7 Series weighs in as an extremely attractive prospect.
Much more comfortable but still just as entertaining, this BMW gives you a bigger, better cabin and a level of fuel economy that takes your breath away. If you had stopped thinking of the 7 Series as a rival to the A8, XJ, LS and S-Class, it's time to think again.
BMW 730d
On sale: November
Price: £64,530
Engine: 6 cyl, 2993cc, diesel
Power: 261bhp at 4000rpm
Torque: 457lb ft at 2000-2500rpm
Gearbox: 8-spd automatic
Kerb weight: 1755kg
0-62mph: 6.1sec
Top speed: 155mph
Economy: 62.8mpg (combined)
CO2/tax band: 119g/km, 21%
Reuse content