Turning a van into a people carrier can be a risky business. For all the leather and electro-toys in the world, if it still feels like a van underneath then that's what it will always be.
But Mercedes has really gone to town with the new V-Class. This has seven seats, in an unusual 2+2+3 layout, and all are leather-clad as standard. Ahead of them, there are elements to the dashboard that wouldn't look out of place in an E or S-Class, and throughout the cabin it's trimmed in the manner of a premium product.
We're testing the SE model here. It has a 7" touch screen with a clear, easy interface that won't distract you from the road – your view of which is pretty supreme from your lofty seating position.
The second row of seats is excellent, too, with loads of adjustment and, as seems to be the norm in this class of vehicle, a folding picnic table. You can slide them forward to create good legroom in the third tow, allowing the V-Class to carry seven adults with ease, though the less spacious final row isn't such a nice place to be.
It's not nice to lift out, either, but this is what you'll have to do to make the most of the V's potentially epic cargo space. Not the lightest of jobs, you'll find, and with the vehicle in seven-seat trim there's less luggage room than you might expect.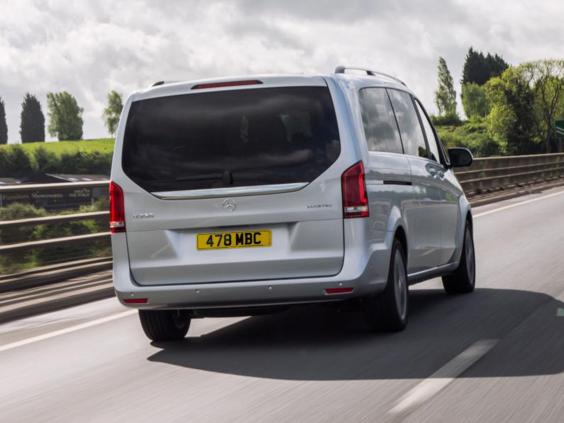 Something else there'll be less of than you might expect is visits to the fuel station, as the 2.1-litre turbo-diesel in our test vehicle returns 44.8mph combined and puts out 166g/km of CO2.
That's with a seven-speed dual-clutch automatic behind the engine, and both get on and do their jobs without kicking up a fuss. The diesel needs to warm up to shut up, but once past those first few cold minutes it calms down nicely – even when pushed.
This lack of noise from the drivetrain means you're more likely to be disturbed if anything in the cabin pipes up, and in our test vehicle that came courtesy of a rattle from the parcel shelf.
Dynamically, the engine leads with its torque, shifting the vehicle confidently without any need for excess revs. Always bearing in mind that this is a van at heart, we found the steering a bit on the vague side and the ride less than composed over uneven roads, should that be an issue to you.
More likely to be of concern is a ticket price which outstrips obvious rivals like the Ford Tourneo Custom. If you place a value on Mercedes' build quality, however, not to mention an extensive kit list and the indefinable feeling of class in its cabin, this is a vehicle that delivers the goods.
Reuse content